Get ready to dress to impress no matter where you are! Disney Dapper Day At Home is happening, and the hosts are trying to make it as magical as possible! We talked a little bit about the event not too long ago, and now we have more details!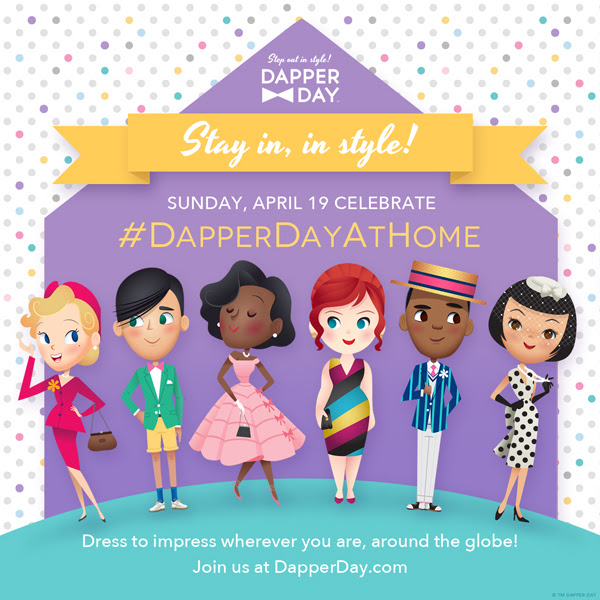 On April 19 (today!), you can post your look with #DapperDayAtHome and tag @DapperDay to join the party at home! This way they can share their favorites on their Instagram stories. Dapper Day is all about celebrating the fun, and refined style from yesterday and today!
They are planning a full day of activities and promotions for all to enjoy around the world – together, while apart.
LIVE INSTAGRAM VIDEO CHATS
Tune in on your phone/pad April 19 @DapperDay on IG:
12 noon PST (3p EST, 21:00 Paris, 5am Sydney) – Dapper Day founder Justin J.  is joined by producer Doris Mayday as they launch our new Spring 2020 designs, and take questions. Expect surprise visits and technical difficulties. They might even have you join the broadcast!
3pm PST (6p EST, Midnight Paris, 8am Sydney) – Justin J. visits with Dita Von Teese author of Your Beauty Mark: The Ultimate Guide to Eccentric Glamour, and Marcellas Reynolds, author of the new book SUPREME MODELS: Iconic Black Women Who Revolutionized Fashion, with additional delightful guests.
5pm PST (8p EST, 02:00 Paris, 10am Sydney) – Justin J. talks menswear with I Am Dandy author Natty Adams, and probably others with strong opinions on the subject.
7pm PST (10p EST, 04:00 Paris, 12 noon Sydney) – Doris Mayday is joined by Mo Herms (co-owner of The Mermaid bar in LA, and our Expo entertainment director) to discuss women-owned booze businesses, a visit from Bobbi De Carlo owner of Immorally Yours with a unique cosmetics demo, and probably more shenanigans.
SO MUCH SOUND
On Sunday they are also releasing over 10 Spotify playlists assembled with tunes for almost any elegant mood. Seriously, the level of care they are putting into this is amazing!
SPECIAL OFFERS FROM EXHIBITORS & PARTNERS:
Not only can you look forward to new Spring DAPPER DAY designs to go live there will also be new products and special offers from partners throughout the community! That even includes a promo code from Loungefly!  For a complete list check out the Dapper Day website here!
How exciting is all of this!? Will you be celebrating Disney Dapper Day At Home too?
Disclaimer - As an Amazon Associate, I earn from qualifying purchases.
---
Thank you for visiting the Disney Fashionista website. Be sure to sign up for our Daily Newsletter where we deliver the best in Disney Fashion, Travel, Makeup and More to your inbox! You can find us all over the internet at Twitter, Facebook, Instagram, and even Pinterest!