I once knew a girl in college who was all sorts Zooey Deschanel in that she never wore, let alone owned pants of any kind. Even on a cold day, she'd be seen across campus with tights and a cutesy vintage shift dress or midi skirt.
To me, that sounds so difficult to accomplish. I mean, really, just how many skirts and dresses can one own!? I myself had to do a closet detox when I realized most of what I owned were skirts and dresses (and let's be real, you can't really shuffle your closet of items worn that often) and separates were a necessity.
Some women are all about their femininity and while I love a beautiful dress and/or skirt, denim blues are where it's at on those "off" days. But I imagine if Minnie were real-life human she, too, would be like this gal from college (or the Disney Fashionista herself). Minnie would never give up her heels and flats, skirts and dresses, for anything drab like pants or dare-I-even-say romper!
All that said, fashionistas – embrace your girly Minnie!
Today's Disney Discovery is the Polka Dot Minnie-inspired skirt.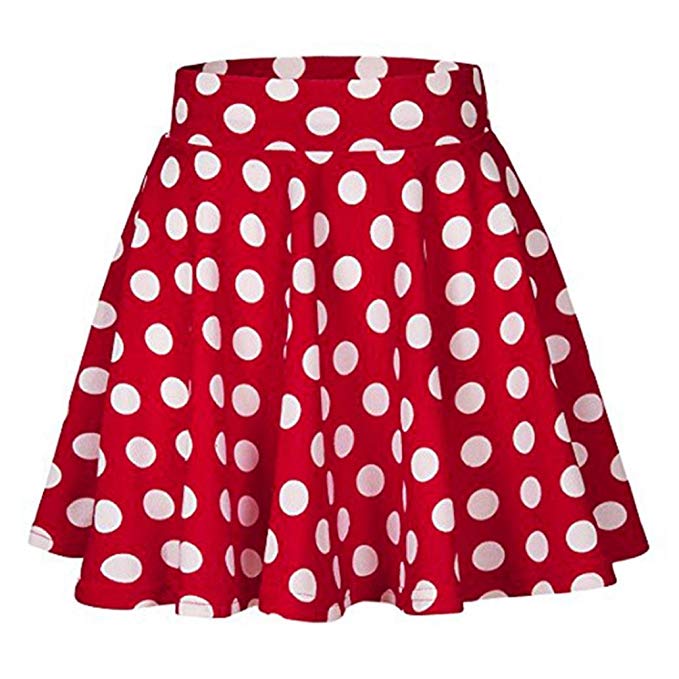 This skater skirt is cherry red with white polka dots all over. Slide it on and you'll unmistakably transform into our favorite mouse pal Minnie, no gloves or ears required (but always encouraged!).
If you love the Polka Dot Minnie-inspired skirt as much as we do, shop for it HERE for $8.99+ shipping. Happy shopping, fashionistas!
Disclaimer - As an Amazon Associate, I earn from qualifying purchases.
---
Thank you for visiting the Disney Fashionista website. Be sure to sign up for our Daily Newsletter where we deliver the best in Disney Fashion, Travel, Makeup and More to your inbox! You can find us all over the internet at Twitter, Facebook, Instagram, and even Pinterest!
Latest posts by Jacqueline S
(see all)