Disney Villains are such great characters! They have personality, style, amazing musical numbers, and they don't care what anyone thinks of them. I like a character who breaks the rules, don't you agree? These Disney Villain inspired earrings are perfect for showing just how much fun it can be when you're a villain.
Each set of these fabric button earrings measure 3/4″ but they can be made smaller or larger upon request. Let's check out how good it looks to be bad!
The Evil Queen Villain Earrings
Who is the fairest of them all? You! You'll be the fairest in all the land (or at least in your office) when you wear these Evil Queen inspired earrings.
Captain Hook Villain Earrings
Captain Hook is one of those characters who has absolutely no chill. But you'll be looking cool, calm, and chic when you wear these Villain inspired earrings. Walk the plank to find them HERE.
Cruella de Vil Villain Earrings
Cruella has a passion for fashion and she doesn't care what the cost is. We also have a passion for fashion, but these earrings are cruelty-free! Check them out HERE.
Lady Tremaine Villain Earrings
Lady Tremaine gives stepmothers a bad name. But there is nothing bad about these fabulous earrings. Show your love for Lady Tremaine and check them out HERE.
Evil Stepsisters Villain Earrings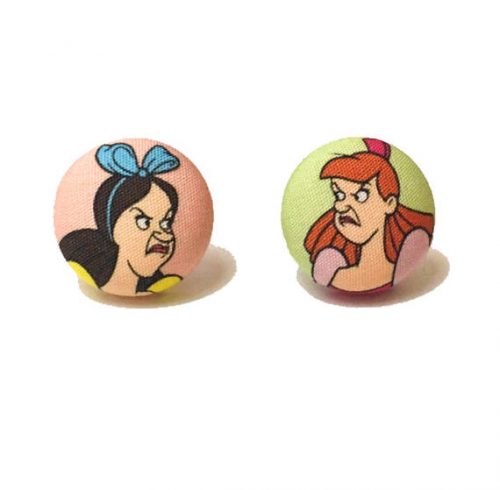 Anastasia and Drizella shine in all their evil glory on this wonderful mismatched earrings. Choose your favorite sister or pick them both when you check them out HERE.
Flotsam & Jetsam Villain Earrings
Ursula's slippery sidekicks are always sliding into trouble! Make sure you check them HERE out before they slither away from you.
All of these deliciously bad Villain inspired earrings are available on Etsy from FemmeDeBloom. What do you think of these "evil" earrings? Which Disney Villain is your personal favorite? Let me know your thoughts in the comment section below.
Disclaimer - As an Amazon Associate, I earn from qualifying purchases.
---
Thank you for visiting the Disney Fashionista website. Be sure to sign up for our Daily Newsletter where we deliver the best in Disney Fashion, Travel, Makeup and More to your inbox! You can find us all over the internet at Twitter, Facebook, Instagram, and even Pinterest!