You Are Here Starbucks Mugs are great keepsakes for all of your adventures–including magical adventures in Disneyland Paris!  It seems like there's a Starbucks everywhere now, which is great for coffee lovers and mug collectors alike!  Since all of these You Are Here Collection Mugs have images of iconic parts of whatever city or Disney Park you are visiting, you'll never forget your magical experiences!  Since so many people collect these mugs, they would even be great gifts to bring back home to your loved ones!
I love that there are Disney Park You Are Here Mugs because they are super cute to display, but they are also a great size!  No matter whether you want to use them or sit them on a shelf, they're perfect!  These mugs from Disneyland Paris are no different!  There is one for each of the two parks at Disneyland Paris–Disneyland Park and Walt Disney Studios Park.
This Walt Disney Studios Park mug is fabulous and features attractions from the park like the Toy Soldiers Parachute Drop, the "Earffel" Tower that you can still see there, Ratatouille: The Adventure, and so much more!  This mug has a lovely blue and yellow theme that feels really cool and unique!  It also has the words "Parc Walt Disney Studios" on it, so you'll always remember where you got it!
The Disneyland Park mug features the words "Disneyland Paris," Sleeping Beauty Castle, and attractions that can be found there like "it's a small world," Big Thunder Mountain, and Star Wars Hyperspace Mountain!  This mug is a bit more colorful, but it has a mostly pink and blue theme, which I love!  It reminds me of Sleeping Beauty Castle!
Which one of these Disneyland Paris You Are Here Starbucks Mugs is your favorite?  Would you be like me and have to buy them both?  Let us know in the comments below!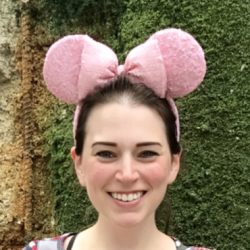 Lindsey N. is a proud military wife and dog mom to an adorable Chihuahua named Jack Sparrow… Captain Jack Sparrow, that is! She is obsessed with all things Disney, and two of her favorite hobbies are shopping and visiting the Walt Disney World Resort. It is especially magical when she gets to do both at the same time!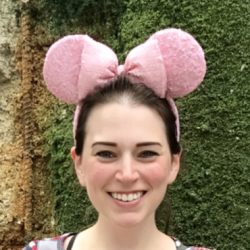 Latest posts by Lindsey N (see all)