Let's all admit it, in the past year we've worn more sweatpants and hoodies than we've worn dresses. I've even started identifying "fancy" lounge wear for days when I can't avoid using my camera on Zoom. Just in the nick of time, a new Disney Style Collection has been seen at Disney Springs. This collection is just what we need to finish up (hopefully) the last bit of this working from home era.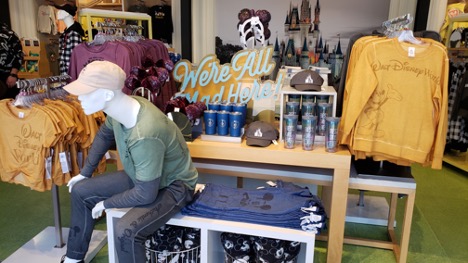 The first item in the collection is a comfy pair of gray sweatpants. These sweatpants are tight at the ankles. This is great for a short and clumsy girl like me who tends to trip on pants when they are too long. These sweatpants have Mickey Mouse faces on the bottom of the leg right above the ankle.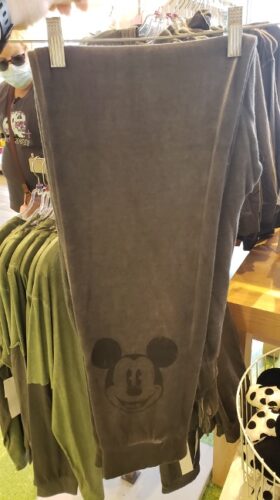 There is a matching pea green and gray long-sleeved jersey shirt. The front of the shirt has a three-dimensional Disney "D" on its top left-hand side.  The back of the shirt has the words Walt Disney World written over and over again in a swirl pattern.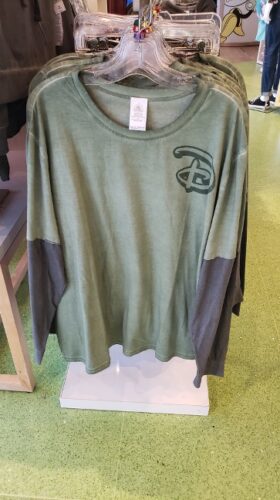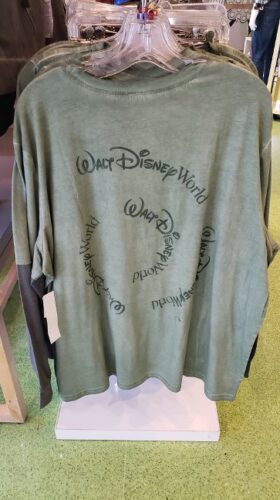 To complete the look, there is a matching gray hoodie. This hoodie has the words Walt Disney World written on the front. It looks super cozy and it would pair nicely with a fire and a large cup of hot cocoa.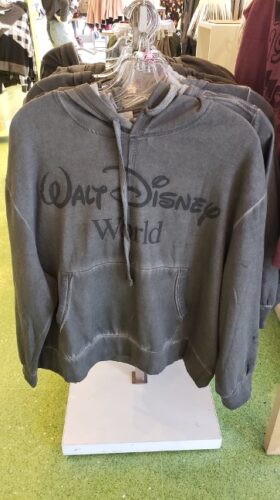 If you are looking for something a little bit fancier, there is a mustard-colored crop-top that says Walt Disney World on the left side of the shirt. This tee is tied in a cute knot on the front of the shirt. Tied up shirts have been all the rage in recent years and I couldn't be happier! I own more shirts in this style than I would like to admit.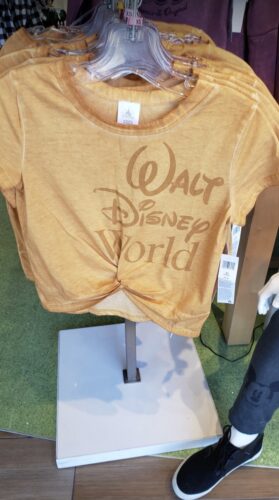 If crop-tops aren't your thing, there is a sweatshirt also available in the same mustard color. This shirt has Mickey on the front pointing to the words Walt Disney World.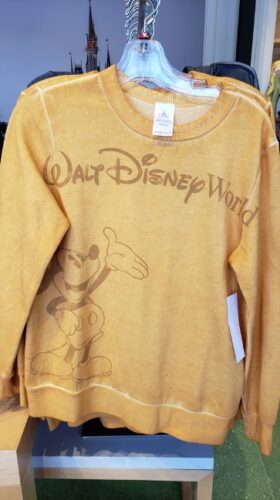 I love the purple sweatshirt that is also in this collection. This sweatshirt has a retro vibe. It features Mickey Mouse front and center on the shirt.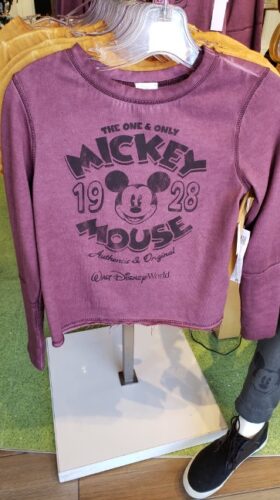 There is also a blue-gray short-sleeved t-shirt available. This shirt has Mickey Mouse standing with his hands on his hips and wearing a huge grin.
Finally, there is a hat that would be wonderful to wear while touring the Disney Parks. It also is a great way to hide your head when you are just too lazy to do your hair. The gray hat has Cinderella's castle on the front. Walt Disney himself stands in front of the castle holding Mickey's hand.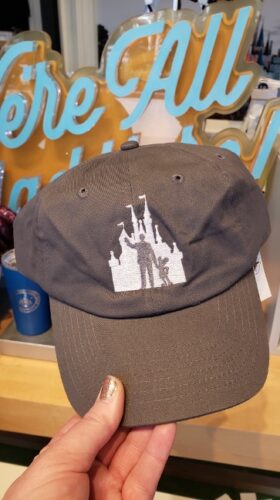 What do you think of this new Disney Style Collection? Where could you see yourself wearing it? Be sure to let us know in the comments section below!
Disclaimer - As an Amazon Associate, I earn from qualifying purchases.
---
Thank you for visiting the Disney Fashionista website. Be sure to sign up for our Daily Newsletter where we deliver the best in Disney Fashion, Travel, Makeup and More to your inbox! You can find us all over the internet at Twitter, Facebook, Instagram, and even Pinterest!