With everyone learning (and teaching) from home right now, it may seem difficult to be creative.  The Lion King Experience from Disney on Broadway is here to help!
This incredible program was designed to help families learn about theater without having to leave the home!  Activities include designing your own masks, creating your own choreography, and getting the inside scoop on all of the magical elements that come together to make The Lion King such an amazing show!
There is a Kids Experience for ages 8-11 and a Jr. Experience for ages 12-15!  Since this immersive program is normally presented in a classroom, they have even provided instructions so that you will have everything you need to make the most of this fabulous theater experience at home!  You can download the Kids Experience instructions HERE and the Jr. Experience instructions HERE!  These experiences cover everything from acting, directing, and stage managing to dancing, writing, and more!
The Kids Experience is 11 sessions which take about 45 minutes each, and the Jr. Experience is 18 sessions which take about 45 minutes each.  Within each session, there will be 5 different sections that include Watch, Explore, Create, Share, and Reflect.   Watch is where you will watch an awesome video.  Explore helps you explore the topic covered in a fun at-home activity.  Create asks you to create a theatrical project that relates to the topic covered in the session.  Share will ask you to show off your work to people in your home or by writing in your journal.  Reflect will ask you to think about what you learned and jot it down in your journal!  I really love all of the Pride Journal prompts for both the Kids and Jr. Experiences!
If you would like to begin this fabulous program with your family, you can start HERE!  There is so much fun to explore, so it will definitely help you fight off boredom!  You can also learn choreography from the show HERE or download video chat backgrounds HERE!
Do you know someone who would love to incorporate The Lion King Experience into their daily at-home learning?  Let us know in the comments below!
Disclaimer - As an Amazon Associate, I earn from qualifying purchases.
---
Thank you for visiting the Disney Fashionista website. Be sure to sign up for our Daily Newsletter where we deliver the best in Disney Fashion, Travel, Makeup and More to your inbox! You can find us all over the internet at Twitter, Facebook, Instagram, and even Pinterest!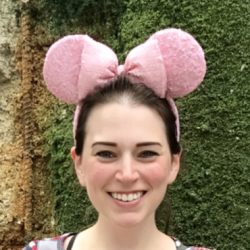 Latest posts by Lindsey N
(see all)