If you have not made it out to see Mary Poppins Returns, I just have one question for you. What are you waiting for? The iconic nanny is back on the big screen and costume designer Sandy Powell had a lot to say about working on the film.
It's the job of the costume designer to bring the characters to life through fashion and styling. Powell was definitely able to capture the iconic look of Mary Poppins while showing off new designs. Powell turned to the original Mary Poppins films for inspiration. She wanted the costumes to honor the original film while still being unique.
Taking a look at one of Mary Poppins's iconic accessories – her hat – Powell had a fresh take. Instead of using berries and daisies like the original, she went with a whimsical feather detail.
I think Powell was able to capture the right balance between new and old with Mary Poppins's hat. What do you think?
Because the film is set sometime in the Edwardian period of history, the clothing, shoes, and accessories had to represent that time period. After all, Mary Poppins would never be seen out wearing a crop top and joggers!
When I first met Emily (Blunt), I tried lots of different 1930s clothes on her to arrive at a silhouette and color scheme that works … For Jack, lamplighters are working folks. They wouldn't have had particular work clothes, these guys just wore their older clothes. So 1930s working men just wore old clothes, even suits, said Powell to Disney Style.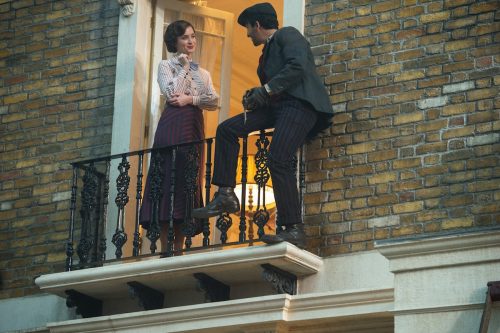 Powell also asked the star of the film what her thoughts for the character were.
I really like collaborating and working with the actors because the actors also have an idea about their characters. I might have an idea about the character and I might hear what Rob [Marshall] has to say about the character, but it's really the actors themselves who think mostly about their characters, Powell said to Disney Style.
And of course, it wouldn't be a Mary Poppins film without taking a journey to the 2D world of animation! In the scene where Mary, Jack and the children journey into the Royal Doulton Bowl, Powell wanted to get just the right look.
Powell wanted the costumes to look like they fit in with the animation, so she experimented with tons of different styles and looks to make the costumes look like watercolor on paper. How do you think it turned out?
If you were looking for just one more reason to go see Mary Poppins Returns, I have one for you: fashion! Let me know what you think of all the costumes in Mary Poppins Returns in the comment section below.
Disclaimer - As an Amazon Associate, I earn from qualifying purchases.
---
Thank you for visiting the Disney Fashionista website. Be sure to sign up for our Daily Newsletter where we deliver the best in Disney Fashion, Travel, Makeup and More to your inbox! You can find us all over the internet at Twitter, Facebook, Instagram, and even Pinterest!