My wallet is still recovering from the Disney Wish shopping I did a couple of weeks ago on the Maiden Voyage! Disney Fashionistas of all ages are going to love the opportunity to shop until you drop onboard the Disney Wish. From classic souvenirs to exclusive collections to high-end, luxury goods – there is something for everyone waiting to be purchased!
There are several different stores to shop at when you are onboard. Personally, I love that they were a little spread out. It made it feel like there was always something to discover around every corner of the ship. Here, I will take you through all of the shops so that you will know what to expect (and what to budget for) on your next Disney Wish cruise.
Mickey's Mainsail
Mickey's Mainsail is the largest store onboard. This is where you will all of your classic souvenirs like mugs, magnets, keychains, ornaments, and t-shirts. Mickey's Mainsail has something for everyone! This is where we found the Disney Wish Loungefly mini backpacks, souvenirs for my toddler, the Make a Wish collection, the Little Mermaid collection, and so much more! Mickey's Mainsail is so large, that I did an entire video walk-through of the space in order to show it all.
Treasures Untold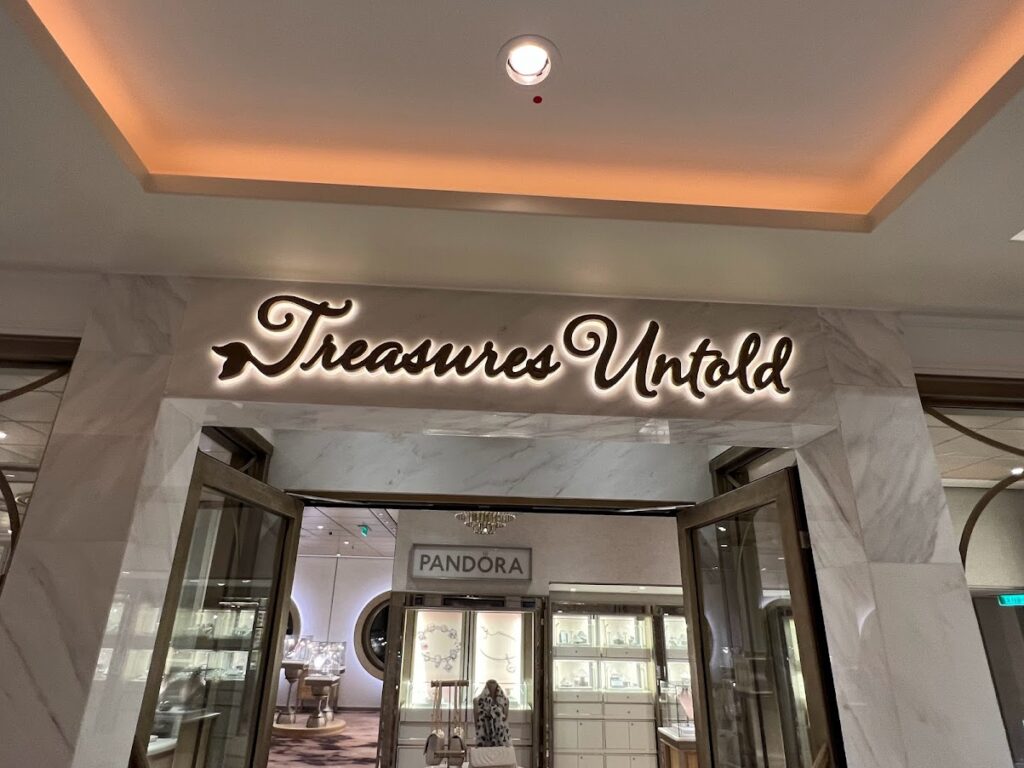 I'm not kidding when I tell you that we visited this store daily on the Maiden Voyage! While the stock did not change, we still found something new and sparkly each time we entered. This store is a Disney Fashionista's dream! Here, you can find Pandora, Alex & Ani, Dooney & Bourke, Rebecca Hook, and more! The Ashley Taylor Cinderella collection was also housed here, along with the Disney Parks leather collection.
Here is a look at all the sparkly-goodness inside of Treasures Untold! Seriously though, I could live in this store!
We also had a great time getting to know some of the Cast Members in the store. In particular, Brian knew us by name by the end of the trip because we were there so often. Of course, we had to get a picture with him since he helped us spend so much money.
Luxury Disney Wish Shopping
For those who are looking to buy some high-end and luxury goods while sailing, the Disney Wish has plenty to offer. Make sure to check out 3 Wishes, Once Upon a Time, Royal Regalia, and Enchanted Castle Jewelry – even if you are just window shopping!
3 Wishes & Once Upon a Time
You'll never be late for dinner when you shop at 3 Wishes and Once Upon a Time. These luxury timepiece shops have brand-name watches and amazing ocean views.
Royal Regalia
If you are looking for something other than Dooney & Bourke and Disney designs, head to Royal Regalia. Here, you can find luxury handbags of all shapes and sizes.
Enchanted Castle Jewelry
If you want to sparkle like the ocean, make sure to check out Enchanted Castle Jewelry. You'll find diamonds, jewels, and everything in between to make you feel like a Disney Princess. This is not where you will find your Disney jewelry. This is where you will find Crown of Light and Diamonds International!
Dory's Forget Me Knots
You won't forget your Disney Cruise when you purchase a fabulous t-shirt from Dory's Forget me Knots. This little shop is a bit tucked away, but well worth seeking out! We found so many awesome t-shirts for both adults and children. You can also find swimwear, beach towels, and other goodies here as well!
Shutters
By the end of your Disney Cruise, chances are you have had some amazing photographs taken by the onboard photographers. Head over to Shutters to get your snapshots turned into works of art! Or, for a more formal photo, you can book time in the portrait studio as well.
With all the Disney Wish shopping opportunities available, you are sure to find something you love while onboard. The Disney Fashionistas came home with quite a bit of merchandise, and I'm sure when we head back onboard, we are sure to find even more! Which store are you most excited to check out on the Disney Wish? Let us know in the comment section below!
Are you ready to book your next Disney Cruise? Make sure to reach out to Small World Vacations. They are the preferred travel agent of Disney Fashionista. Let them know we sent you, and you will receive a special gift from us!
Disclaimer - As an Amazon Associate, I earn from qualifying purchases.
---
Thank you for visiting the Disney Fashionista website. Be sure to sign up for our Daily Newsletter where we deliver the best in Disney Fashion, Travel, Makeup and More to your inbox! You can find us all over the internet at Twitter, Facebook, Instagram, and even Pinterest!