I'm not only a Disney Fashionista, but I'm also a huge DisNerd! According to Urban Dictionary, Disney refers to someone who is obsessed with anything to do with Disney. Yeah, that about sums it up. With that being said, I'm totally in love with this new Disney Merchandise. Disney100 Fantasyland collection rocks the nostalgia!
Womens Collection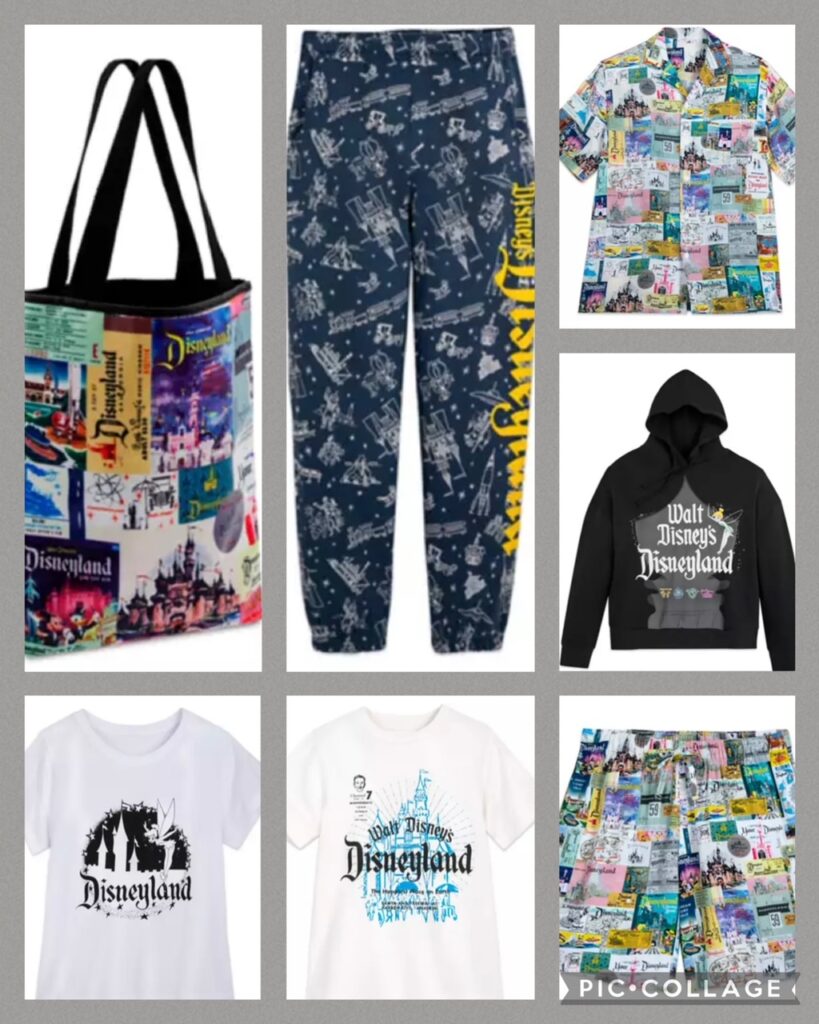 Alright ladies, I know you probably put everyone else first, so I'll start with you. Here is the adult ladies collection. We shared with you the Disney Springs dress made out of the poster fabric last week. While it was a little controversial in the design, we now see other pieces created with the fabulous vintage fabric including tote, shorts and button-down shirt.
Continuing clockwise from the top leg you'll find a navy pair of leggings. With bold yellow lettering declaring Walt Disney's Fantasyland, and white sketch designs of the attractions, you'll find Space Mountain, the railroad, and the Fantasyland Castle. The next three tops consist of a hoodie and two t-shirts. The black hoodie displays "Walt Disney's Disneyland" with Tinkerbell and pastel icons representing the various lands. I would have to say this next t-shirt with the blue printing is my favorite. Patterned after advertising art for both the park and TV series, the nostalgia reigns supreme on it. Lastly, the original TV hostess Tinker Bell, returns to share her magic on a scoop neck top.
Pin Trading Collection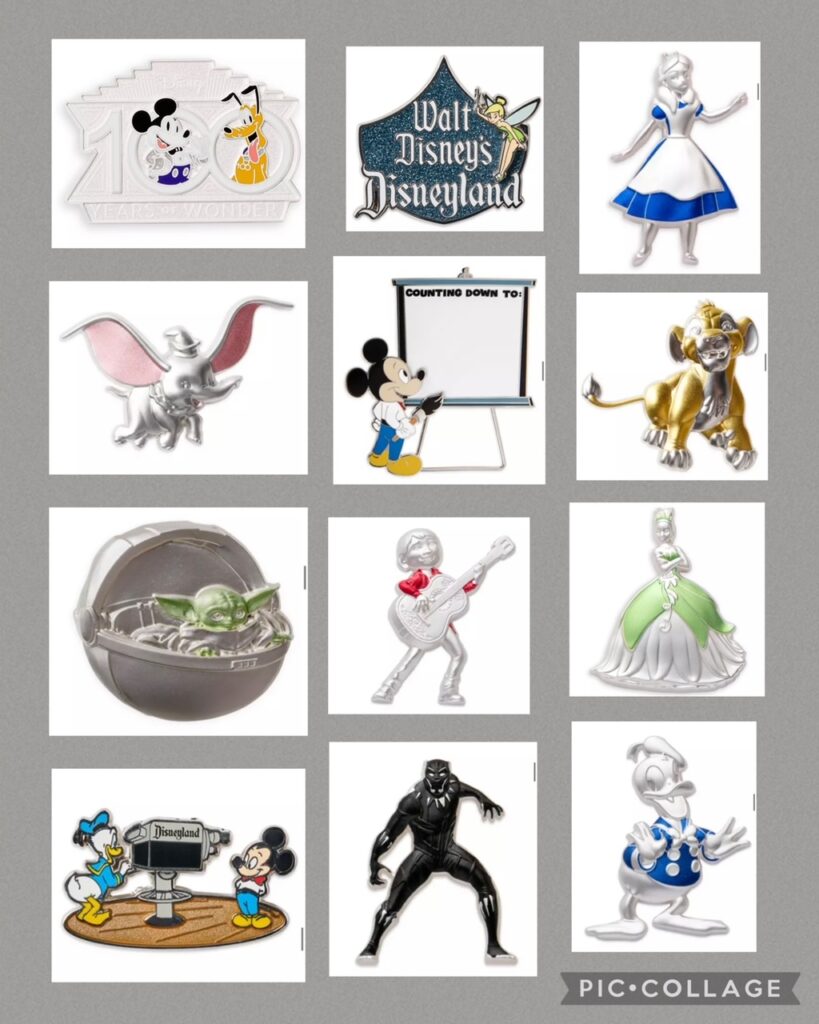 For those who collect pins, you have a plethora to choose from in this new release. The pins follow one of three designs: either nostalgic Disneyland, Pewter with a splash of color or the art deco style of the Disney100.
Accessories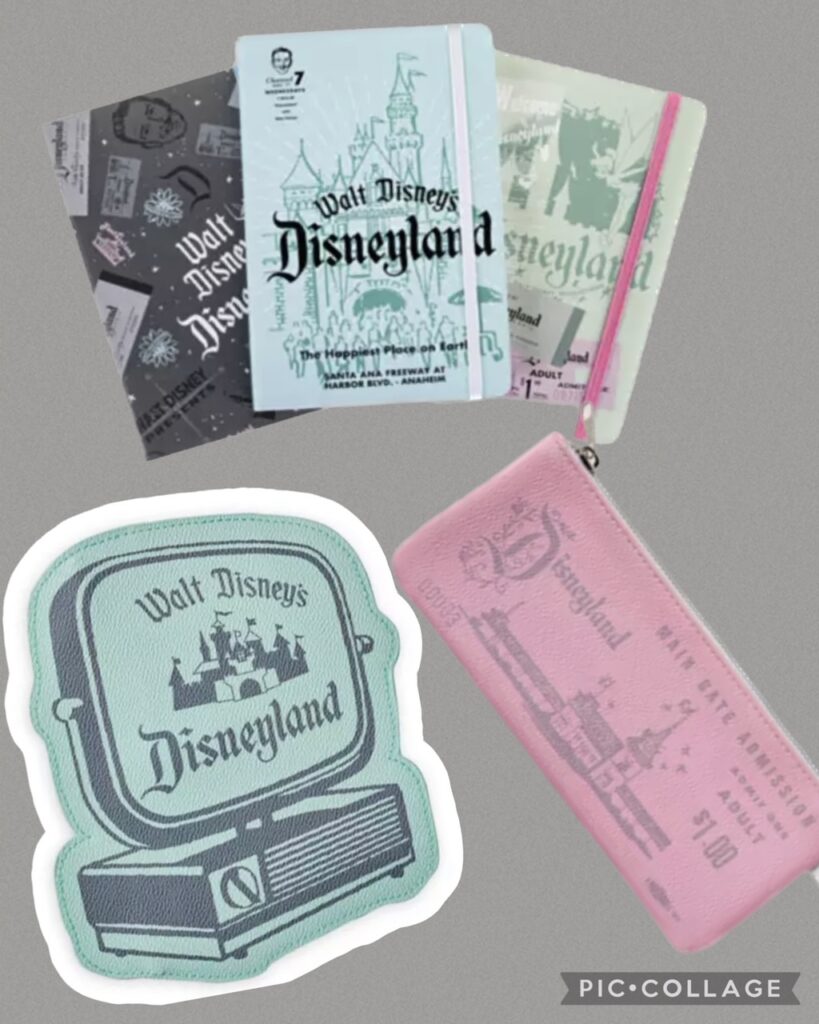 Not gonna lie, I love these coin purses and journal set! I want them all! Check out the admission price on the pink ticket coin purse. $1!?! The combination of pastels and vintage designs speaks right to my heart!
Kids Clothing Collection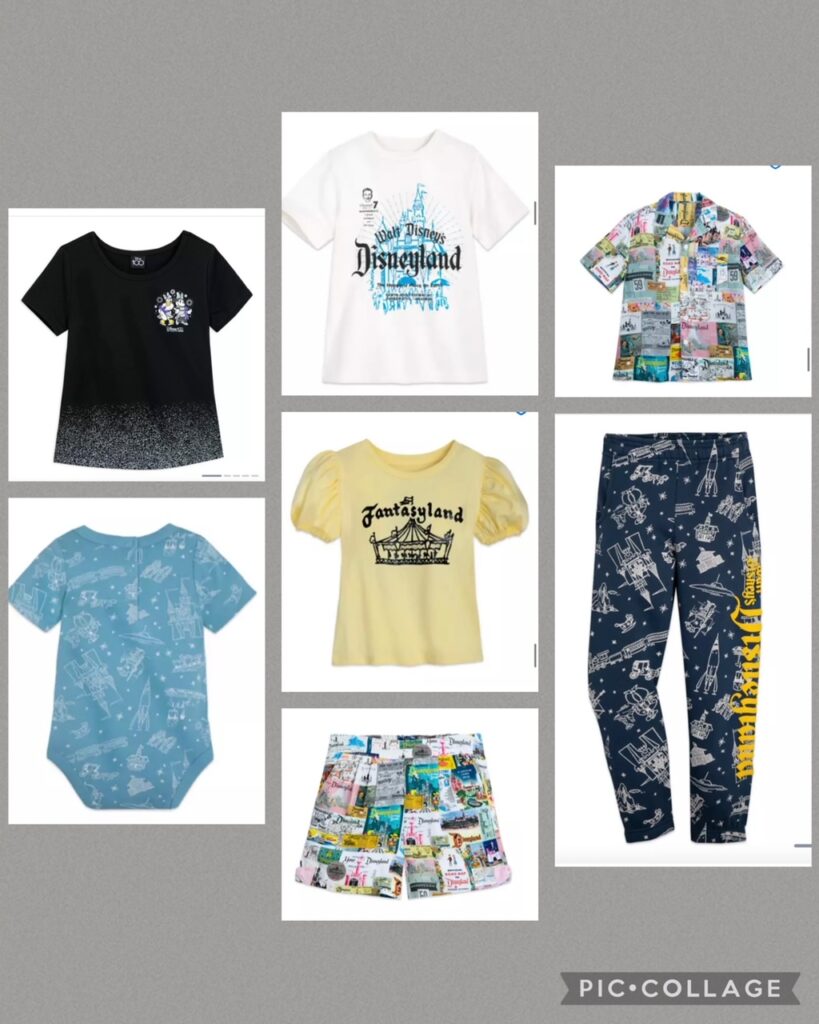 You'll notice many of the kids collection are duplicates or "twinsies" of the adult line. Perfect if you like matching with your little ones. Three are three pieces in the childrens line unique to itself. The puff sleeve yellow Fantasyland, the black glittery Minnie and Daisy Top, and the Fantasyland sky blue onesie. I wouldn't be upset if the yellow puff sleeve and Black Glitter Top made it to the adult collection! They are cute!
Check out the entirety of the new items HERE as Disney100 Fantasyland Collection Rocks the Nostalgia!
Ready to wear your new fashions to Disney to celebrate Disney100?  If you are ready to book your next Walt Disney World vacation, make sure to reach out to Small World Vacations. They are the preferred travel agent of Disney Fashionista. Let them know we sent you, and you will receive a special gift from us.
Disclaimer - As an Amazon Associate, I earn from qualifying purchases.
---
Thank you for visiting the Disney Fashionista website. Be sure to sign up for our Daily Newsletter where we deliver the best in Disney Fashion, Travel, Makeup and More to your inbox! You can find us all over the internet at Twitter, Facebook, Instagram, and even Pinterest!