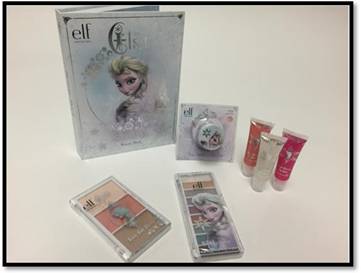 I know that everyone was super excited when I showed you the Elsa makeup bags from Walgreens a few weeks ago (on The Disney Fashionista FB page). Well, the makeup portion has finally followed! E.L.F. has merged with Disney for yet another affordable makeup line that is available at Walgreens! (I even stopped at my local Walgreens today and they were fully stocked… for now) I managed to get some closer pictures and prices while I was there today so let's jump right into this new collection!
This is what I saw when I entered. The collection consists of  look books, palettes, eyelashes and lip glosses featuring frosty hues and glistening glitters that will be available exclusively at Walgreens. There were also hair accessories and  the nail polishes that I told you about a couple of weeks ago.
The above is the inside of the look book. It includes 8 eye shadows, powder, eye liners, lip gloss and a brush. The titles of the colors have not let us down with names like Snow Queen and Olaf! The look book literally can help you create an entire look and at a steal of a deal. It is only $12.99. As far as I have found at this moment, the collection is only available in stores, btw.
These are the eye shadow and blush palettes. There are 9 colors in the eye shadow palette and 3 in the blush. That's quite a bit of variety for only $6.99 a palette. E.L.F never lets us down when it comes to affordable Disney makeup, that's for sure.
There are 3 shades of lip gloss and I think that the coral and pink shades are just perfect for spring. The white one goes on more like a clear gloss and they needed to have that… it's Olaf, after all.  The lip gloss was priced at only $2.99.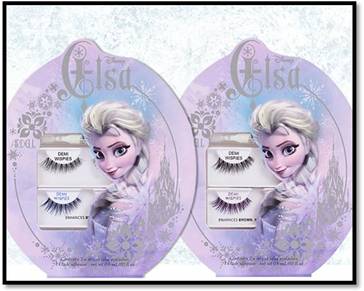 These are the eyelashes and I admit I am excited about these. When I have a super special event, I will break out my eyelashes and I always feel like a super star. Let's face it, how many of those celebrities out there have naturally long and gorgeous lashes? Exactly. None.
These are some of the hair accessories I found. Bobby pins, a barrette, hair comb and scrunchie were all available for $3.99.
I hope that those of you who go looking for this new collection are lucky enough to find them at your local Walgreens! I am sure they will set as quickly as they did with the makeup bags. The display was still pretty much full so my guess is that it just came out.
What do you think? Will you be running to Walgreens today? What will you be looking for from this Frozen E.L.F. Collection? Let us know in the comment box below.
Disclaimer - As an Amazon Associate, I earn from qualifying purchases.
---
Thank you for visiting the Disney Fashionista website. Be sure to sign up for our Daily Newsletter where we deliver the best in Disney Fashion, Travel, Makeup and More to your inbox! You can find us all over the internet at Twitter, Facebook, Instagram, and even Pinterest!