Obviously, we all know the fabulous duo are international travelers. However, now they can go with you! Fashionista translator Barbara spotted two Disney themed duffle bags at her local TJMaxx. Tagged with the responsibility of caring for your items, Mickey and Minnie are going places!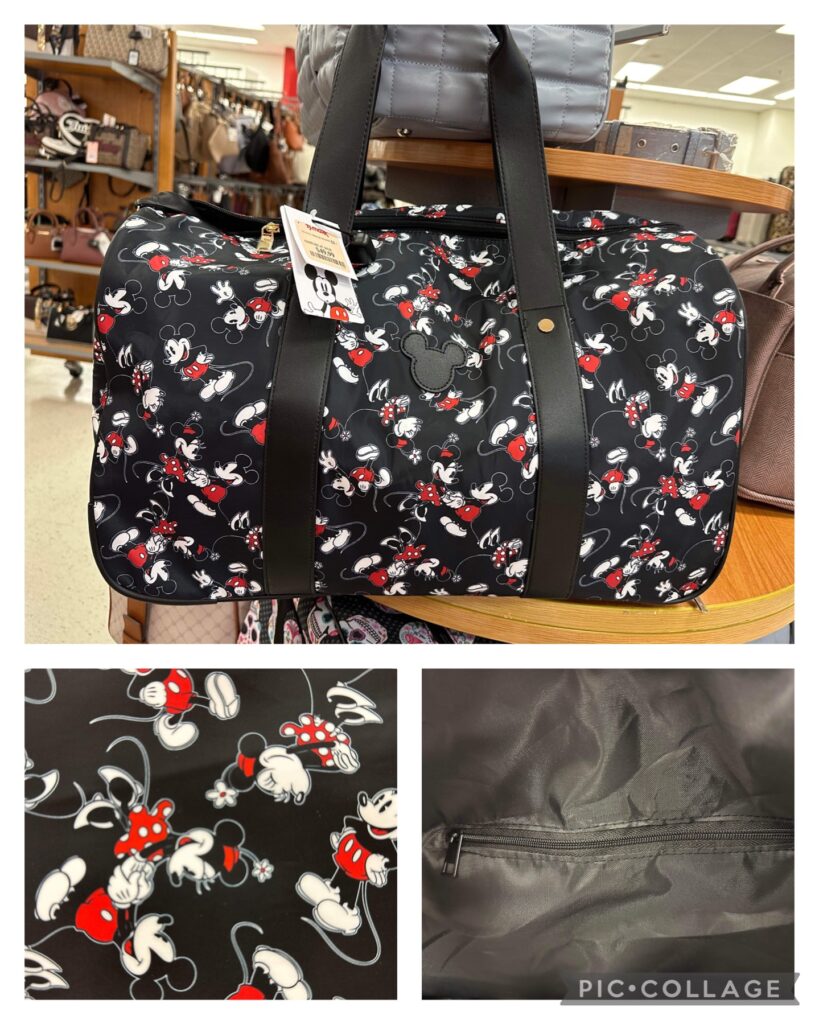 Traditional colors of red, white, and black make up the palette for the first duffle bag. Mickey and Minnie appear in an all-over pattern of poses together. I just love the classic colors and the "retro" look of Minnie with the daisy on her hat! The duffle is a weekender style with ample room for all your Disney treasures. I always travel with an extra soft-sided bag to bring home souvenirs! Bring this bag home for just $49.99.
The second duffle takes the bag to the next level by adding wheels and a handle. Depending on what you pack in the bag, they can get pretty heavy! Save your shoulders from overweight bags with this option. Like the above option, the size and style resemble a weekender bag but with wheels. Three options allow you to carry it varying ways: handles, shoulder strap and roller. The denim fabric is stamped with cream colored Minnie heads. Maybe it's the jean fabric but this totally gives me fall vibes! Again, this bag is priced $49.99. Further inspection of the wheel quality, rivets and leather around the edges make the Minnie Denim roller bag a great bargain.
Mickey and Minnie are going places with you when you bring home one of these bags. Stock varies per store, but find more Disney inspired items at TJMaxx's website found HERE.
Ready to take your bag to Disney? If you're ready to book a vacation to your happy place, make sure to reach out to Small World Vacations. They are the preferred travel agent of Disney Fashionista. Let them know we sent you, and you will receive a special gift from us. Click HERE to book Disneyland Resort and HERE to book Walt Disney World.
---
Mickey y Minnie van a llegar lejos
Todos sabemos que Mickey y Minnie aman viajar y esta vez en TJMaxx encontramos unas bolsas tipo Duffle con ruedas que te tendrán lista para correr a abordar cualquier avión, no importa el destino. Ya sea de ida o de vuelta, estas adorables bolsas tipo duffle cuentan con dos compartimientos internos para artículos personales así como un bolso interior con zipper donde puedes poner cosas importantes como tus documentos o cables. Con un costo de $49.99 elige entre un estampado negro con Mickey y Minnie o uno azul con nuestra fashionista por excelencia Minnie.
Disclaimer - As an Amazon Associate, I earn from qualifying purchases.
---
Thank you for visiting the Disney Fashionista website. Be sure to sign up for our Daily Newsletter where we deliver the best in Disney Fashion, Travel, Makeup and More to your inbox! You can find us all over the internet at Twitter, Facebook, Instagram, and even Pinterest!