I am always losing my keys. It's pretty bad. My mother says that it makes her feel better when she loses things because it helps her to see that she isn't losing things because she is old and going batty. To help prevent me from losing my keys, I have become the queen of keychains. I have tons. In fact, people make fun of my lanyard! They say that it looks like something that belongs to a jailhouse worker or custodian because there are so many keychains on it. Recently I stumbled on some new Toy Story Key Fobs and I can't wait to add one (or two) to my collection!
The first key fob design features the entire Toy Story crew on the classic blue and white cloud wallpaper from Andy's room. I just love all of the details in this design! Look closely and you can see little green aliens floating around in the sky. Jessie also is yelling out a cattle call while Buzz seems ready to spring into action.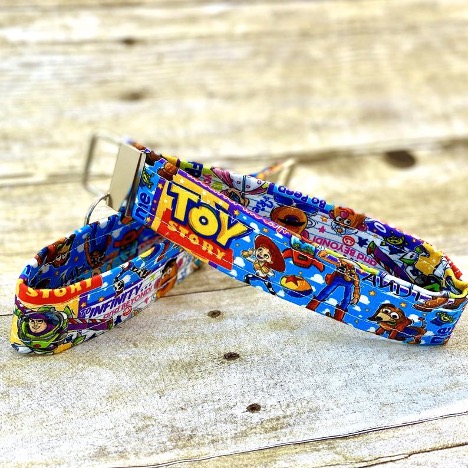 The next fob is made from fabric with the Toy Story characters' faces all over it! It reminds me of the AOP shirts that Cakeworthy sells! Maybe Cakeworthy needs to take note and make an AOP Toy Story top like this next!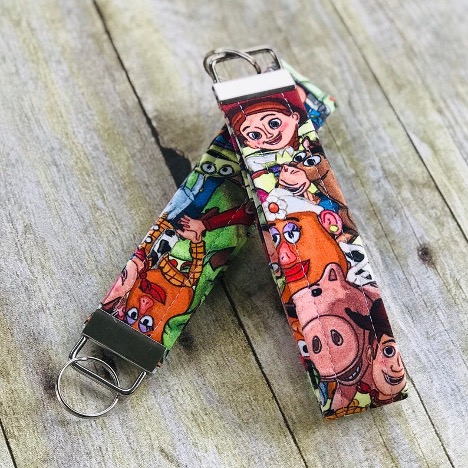 The final key fob option has a yellow background with white polka-dots. I have to admit that I am not usually a fan of the color yellow, but there is something very sunny and happy about this design! One thing that was also very appealing about it was that you keep finding new things every time you look at it, almost like an "I Spy" book. I looked at the pattern at least four times before I noticed that both Mr. and Mrs. Potato Head are on it.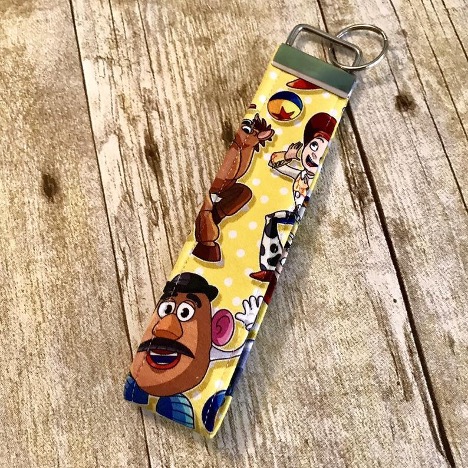 You can order all three of these Toy Story Key Fobs on Etsy from the store CharmsByChancie HERE. Each one has silver metal hardware to securely hold your keys. The band on each fob is perfect for putting on your wrist for easy carrying. You can choose to have your fob made from a random part of the fabric for $14.00. You can ask for a specific section of fabric and pay $17.00.
Disclaimer - As an Amazon Associate, I earn from qualifying purchases.
---
Thank you for visiting the Disney Fashionista website. Be sure to sign up for our Daily Newsletter where we deliver the best in Disney Fashion, Travel, Makeup and More to your inbox! You can find us all over the internet at Twitter, Facebook, Instagram, and even Pinterest!