Pre-orders are the best! I'm one of those people who have no concept of time. I set alarms for everything to keep myself on time and to remember. The perfection of preorders reduces that stress. It offers the opportunity to secure an item with less hassle and effort. Kudos to Lost Princess Apparel for offering this service! Sling your way into Disney Fashion with Lost Princess Apparel Preorders.
Disney Park Themed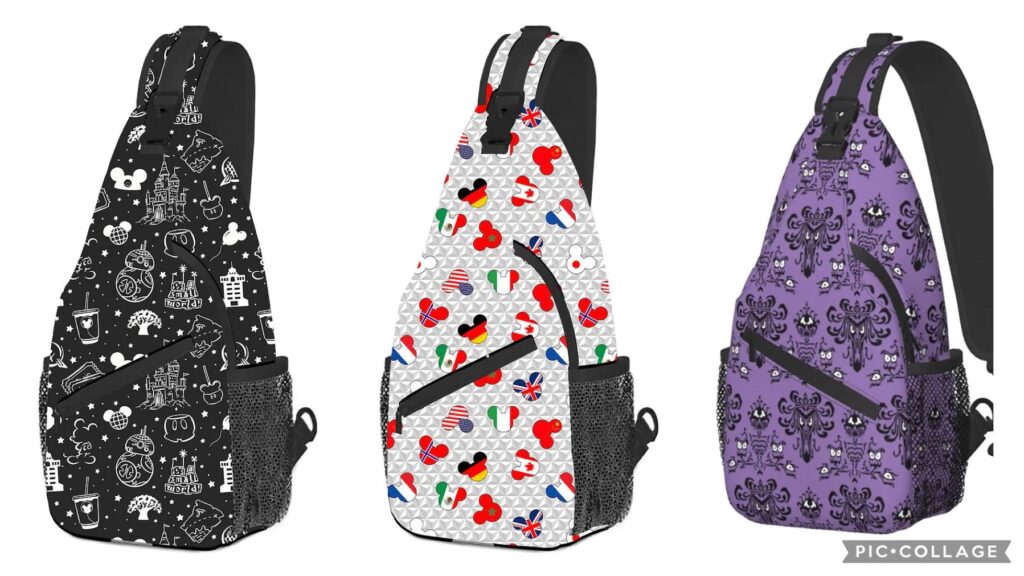 These sling backpacks were a huge hit with the last preorder and it's easy to see why. Comfort is a must whether spending the day at the parks or a quick run to the store. Place a checkmark in that category column as you'll find an adjustable padded shoulder strap. Organization? Yes! Three exterior pockets include two mesh and one zippered.
I totally love the chalk art sling bag. Find iconic landmarks for each of the parks among other Disney magic. Maps, Mickey ears and balloons, candy apples, and Starbucks are doodled amid pixie dust. Secondly is a bag perfect for Epcot. Your own World Showcase decorates Mickey heads against a Spaceship earth backdrop. Lastly, have all eyes on you with the unmistakable Haunted Mansion wallpaper pattern. There's always room for one more…sling bag!
Disney Winter Holiday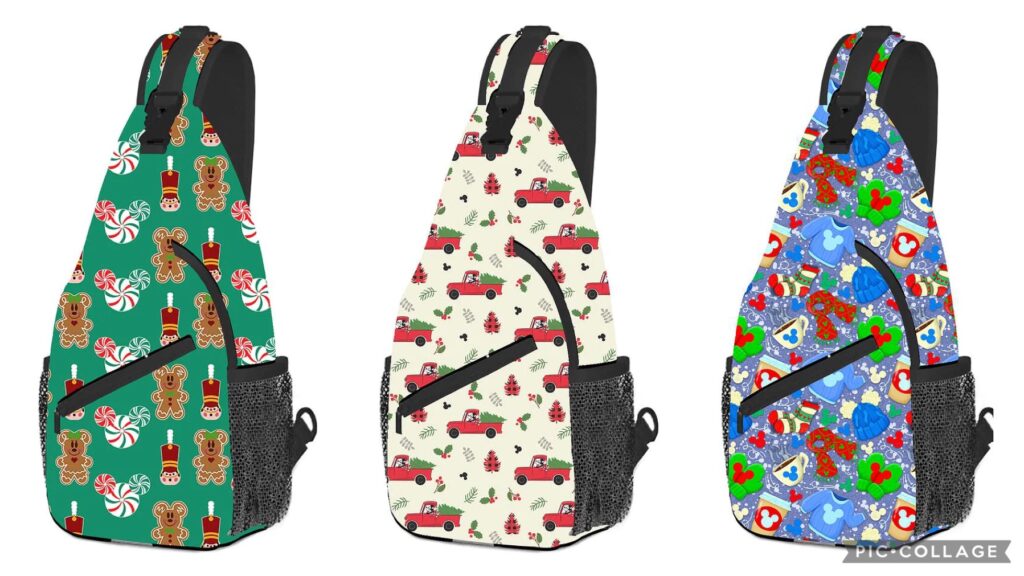 These Christmas sling bag patterns got me right in the feels! Is it okay to put up a Christmas tree in September, asking for a friend? Peppermints, Gingerbreads, and Nutcrackers, OH MY! These simple festive items ensure A Very Merry Mickey Christmas! The red truck with a Christmas tree pattern and four wheels drives its way right into your heart with Mickey as the driver, of course. Bits of Holly and buffalo plaid leaves further spruce up the design. LPA titled the last design Winter Magic and it's easy to see why. Mickey themed outwear and warm drinks are the answers to keep you warm once the temps start dropping.
Preorder your bag by Thursday, September 21st and you'll be slinging your way into fashion by mid to late October. Visit the Lost Princess Apparel website HERE. Which one is your favorite? Leave us a comment below!
Ready to head to Disney to show off your look this holiday season? When you are, make sure to reach out to Small World Vacations! They are the preferred travel agent of Disney Fashionista. Let them know we sent you, and you will receive a special gift from us.
---
Lista para los parques con Lost Princess Apparel
Nuestra marca favorita de accesorios Lost Princess Apparel tiene unas pre-ordenes de sus mochilas tipo bandolera. Este estilo es super práctico en los parques y en cualquier aventura de la vida diaria ya que te permite estar manos libres y cómodo con algo en tu espalda por largos periodos de tiempo. Además de tener espacios dedicados para muchas cosas y fácil acceso cuando las necesitas. Elige entre cientos de diferentes patrones disponibles pero destacamos los de la navidad porque en menos de lo que pensemos estaremos en plena temporada de nieve, galletas de jengibre y regalos. Dirígete a su pagina web para su compra, si ordenas antes del 21 de Septiembre recibes tu mochila a finales de Octubre.
Disclaimer - As an Amazon Associate, I earn from qualifying purchases.
---
Thank you for visiting the Disney Fashionista website. Be sure to sign up for our Daily Newsletter where we deliver the best in Disney Fashion, Travel, Makeup and More to your inbox! You can find us all over the internet at Twitter, Facebook, Instagram, and even Pinterest!