Have you ever noticed you need more long-sleeved shirts if you're going to be indoors during the summer? At my employment, I have to wear long sleeved shirts in the summer due to A/C and short sleeved shirts in the winter due to the heat. A little backwards, yes, but Disney has you covered. Stay comfortable and take a dip in the ocean with the Finding Nemo spirit Jersey.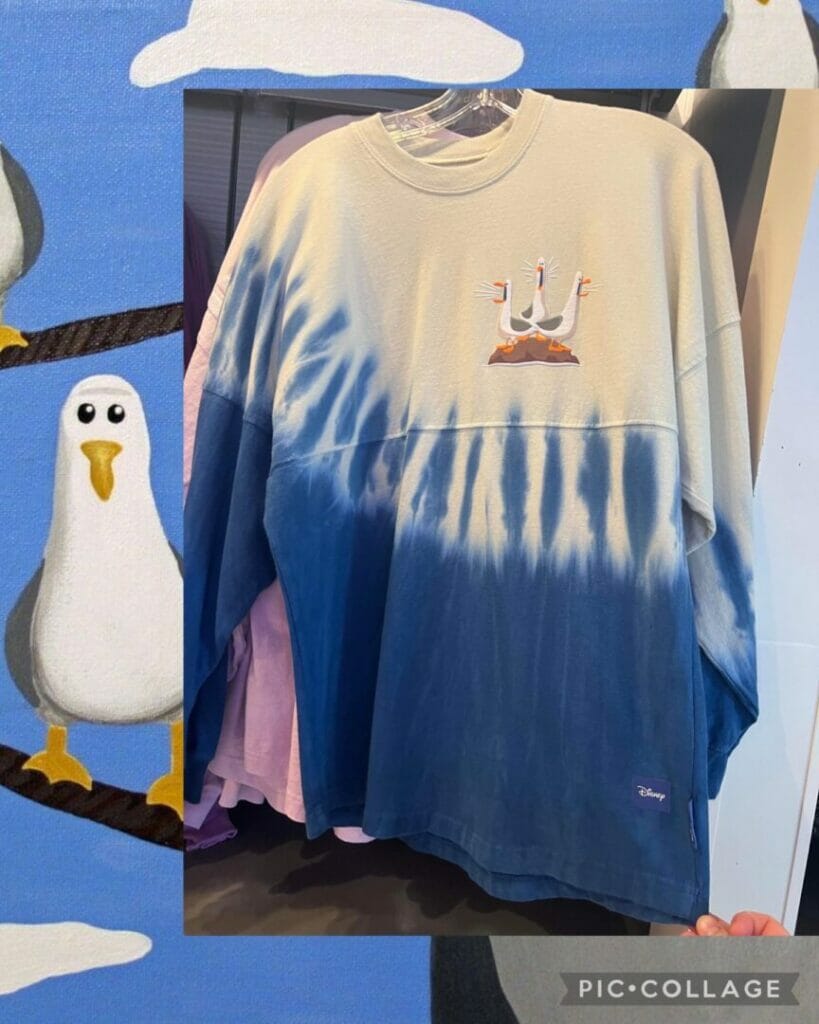 I have to admit, comedic wise, the seagulls are my absolute favorite in Finding Nemo. The onomatopoeia of their call imitating the claiming of their food. The front of the spirit jersey depicts three of the seagulls in their call for food. Open beaks barking out MINE! MINE! MINE! And the play on design for the mom's out there "MOM! MOM! MOM!" That coupled with their sweet faces, and I'm helpless.
On the back of the tie-dyed spirit jersey, you'll find the loveable yet forgetful Dory with her new pal Marlon. The new acquaintances journey together on such an adventure to find Nemo. Based on Marlon's smile, could this be once they found his young guppy? I love how the tie-dye effect simulates the sun hitting the ocean.
Are you ready to take a dip in the ocean with the Finding Nemo Spirit Jersey? As it is not on ShopDisney, you'll want to reach out to ShopthemeParks. They are the trusted, recommended personal shopper of the Disney Fashionista. Reach out to them on IG or FB to grab this Spirit Jersey.
---
Date un chapuzón en el océano con este Spirit Jersey de Buscando a Nemo
Si vives en un lugar donde los cambios de temperatura de día a noche ameritan estar preparados para una manga larga o en una oficina donde el aire acondicionado te obliga a tener siempre un suéter, tal vez te encante la idea de tener un Spirit Jersey. En esta ocasión el tema del mismo es Buscando a Nemo. Con una base de Tie Dye en color azul que le da un aire náutico relajado tenemos a las gaviotas más divertidas e insistentes en la parte del frente y en el reverso dice en letras grandes y naranja como Nemo "Buscando a Nemo" contando con Dory y Nemo en la parte de abajo del nombre.
Disclaimer - As an Amazon Associate, I earn from qualifying purchases.
---
Thank you for visiting the Disney Fashionista website. Be sure to sign up for our Daily Newsletter where we deliver the best in Disney Fashion, Travel, Makeup and More to your inbox! You can find us all over the internet at Twitter, Facebook, Instagram, and even Pinterest!