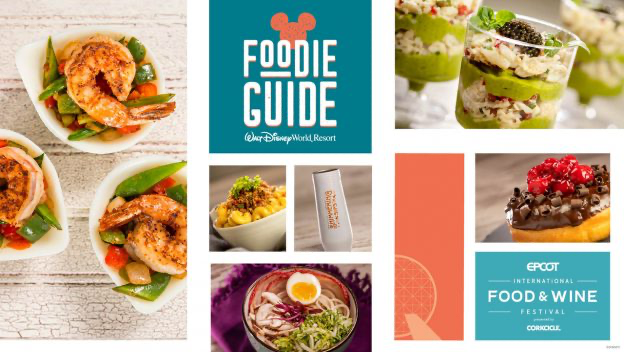 I was just saying how I have been anxiously awaiting the 2021 EPCOT International Food & Wine Festival Foodie Guide, and now it is finally here! I can't wait to start planning my menus for our visit! The festival, which is presented by CORKCICLE, begins July 15th and goes through November 20th! There are seven new marketplaces! Plus, some of the marketplaces open next week while some open October 1st, so you can enjoy so much scrumptious food! Events include Emile's Fromage Montage where you get to try fabulous cheesy treats, collect stamps, and then head to Shimmering Sips for a special prize! There is also Remy's Ratatouille Hide & Squeak where you search for Remy throughout the festival! Now, let's dive into the food!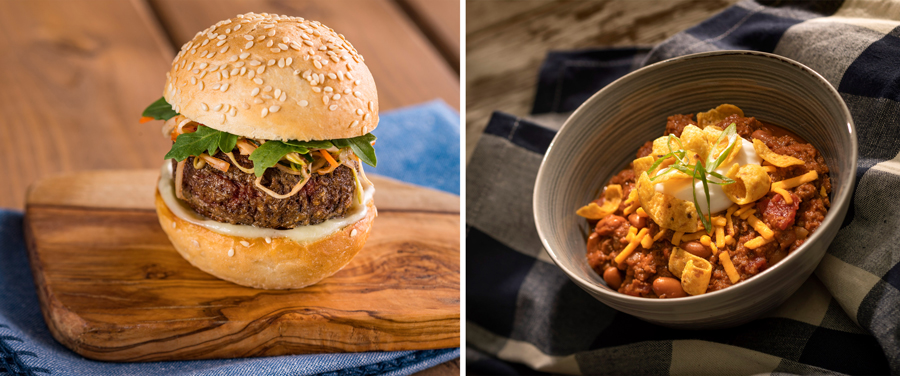 Earth Eats hosted by Impossible™ (Between Imagination! and Refreshment Port)
Here you can try an Impossible Burger Slider, Impossible Three-Bean Chili, and even wash it down with Spiced Apple Twinings of London Chai Tea (with or without Whiskey)!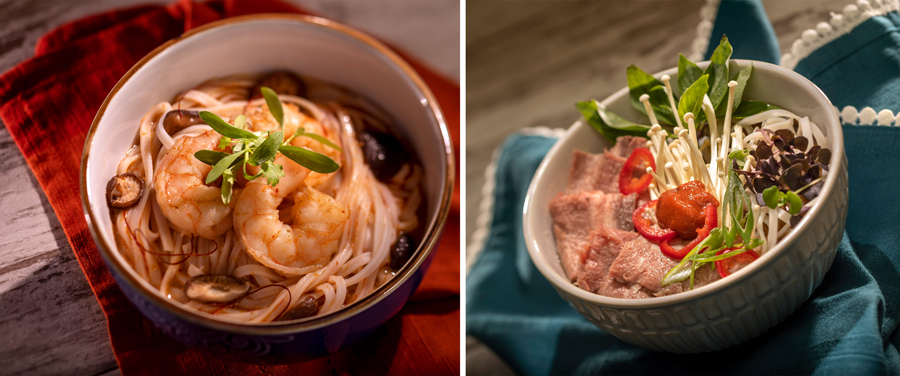 NEW! The Noodle Exchange (Near Traveler's Café)
Pick up some Traditional Spicy Vietnamese Beef Pho, Char Siu Pork Udon, Shrimp and Coconut Curry Rice Noodles, or Tofu Pho at this location!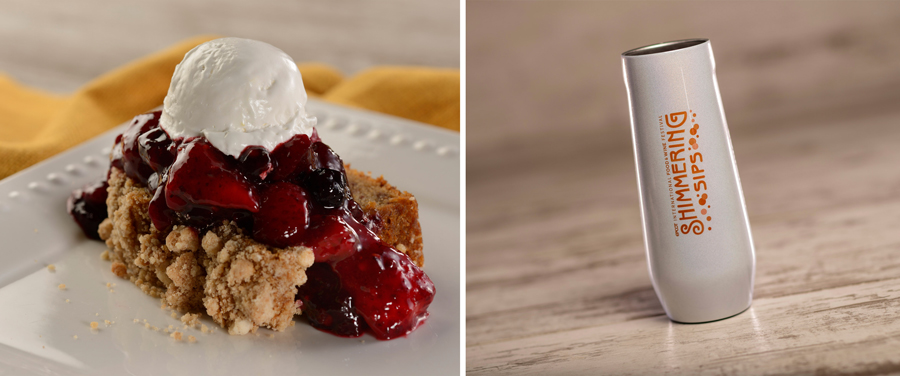 Shimmering Sips hosted by CORKCICLE (Near Port of Entry)
Here you can grab some Shimmering Strawberry Soft Serve, Banana Bread, assorted mimosas, and even a CORKCICLE Stemless Flute!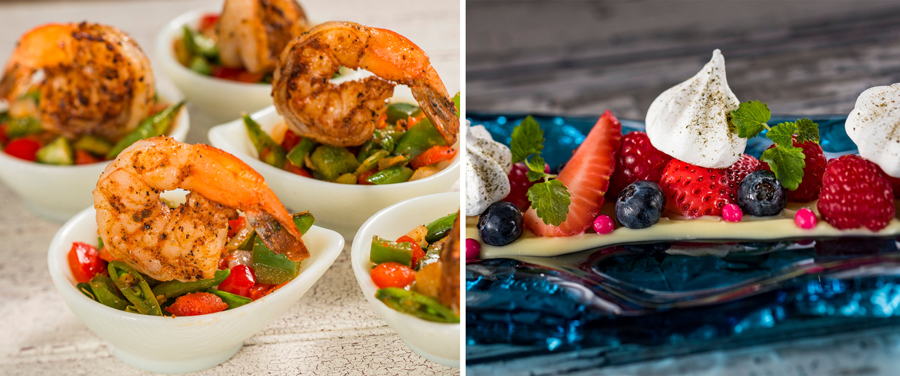 Australia (Near Port of Entry)
Try the Grilled Sweet and Spicy Bush Berry Shrimp, Roasted Lamb Chop, or Deconstructed Pavlova at this location!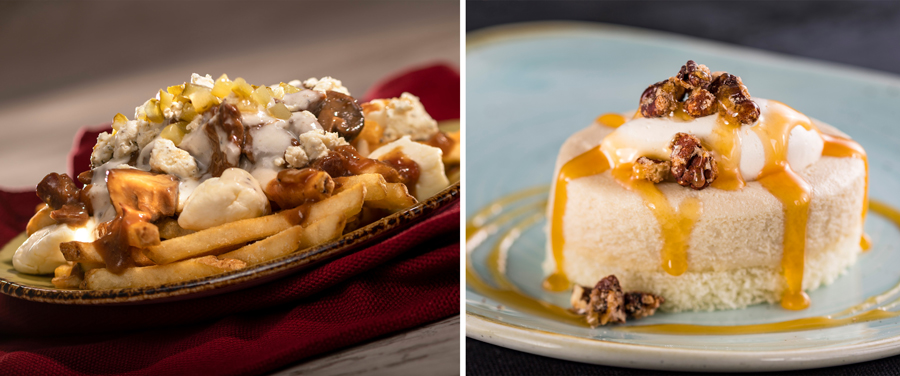 Refreshment Port hosted by Boursin® (Near Canada)
Get some Braised Beef Poutine and Maple Boursin Cheesecake at this tasty marketplace!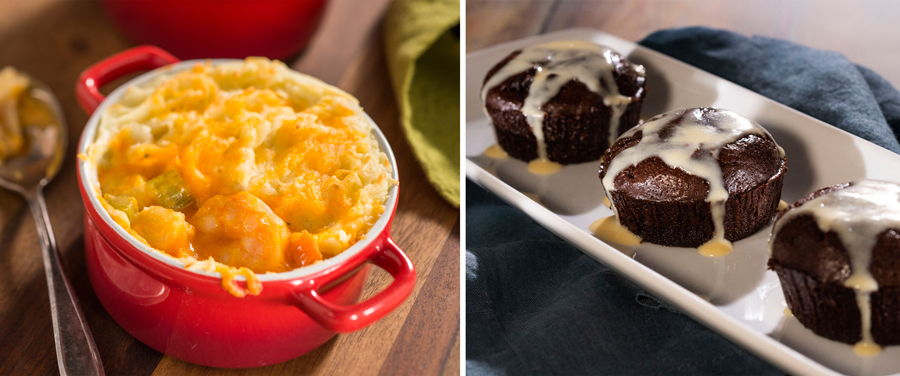 Ireland (Near United Kingdom) – Opening Oct. 1
Here you can try Fisherman's Seafood Pie, Warm Chocolate Pudding Cake, and Roasted Irish Sausage!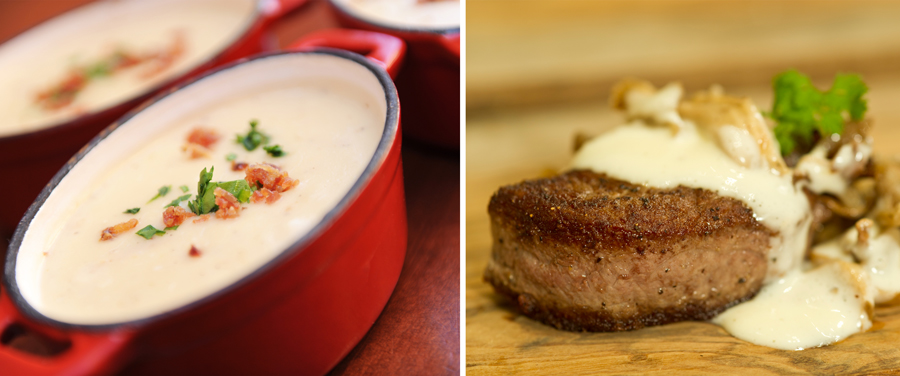 Canada
Get some classic Canadian Cheddar and Bacon Soup with a Pretzel Roll and "Le Cellier" Wild Mushroom Beef Filet Mignon at this location!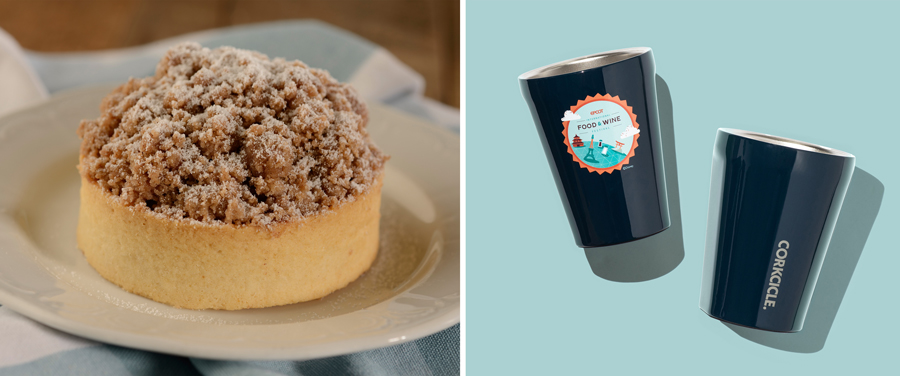 Appleseed Orchard (Canada Theatre)
Try an Apple Crumble Tart or some Apple Chips and then wash it down with a Frozen Apple Pie, Cinnamon Apple Cider, or your choice of hard ciders! You can even pick up a CORKCICLE festival tumbler here!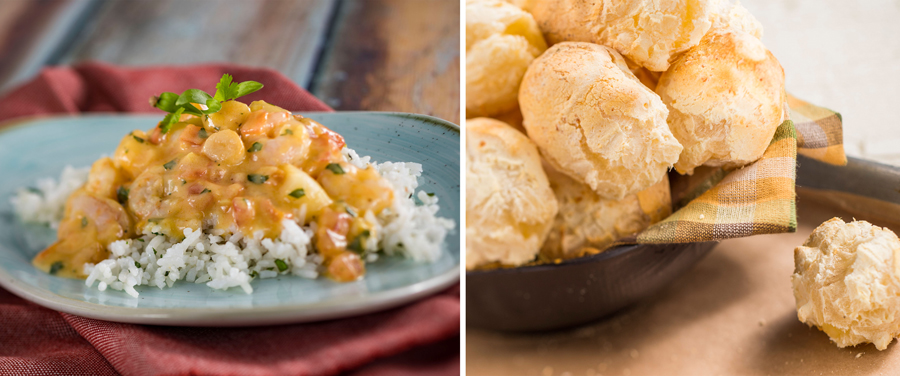 Brazil (Between France and Morocco) – Opening Oct. 1
Here you can try Moqueca (a Brazilian seafood stew), Crispy Pork Belly, and Pão de Queijo (Brazillian cheese bread)!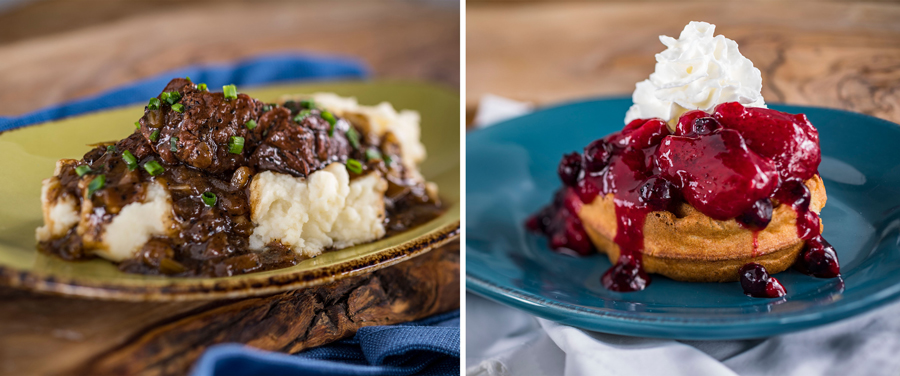 Belgium (Between France and Morocco) – Opening Oct. 1
At this location, you can try Beer-braised Beef and a Belgian Waffle with either chocolate ganache or berry compote on top!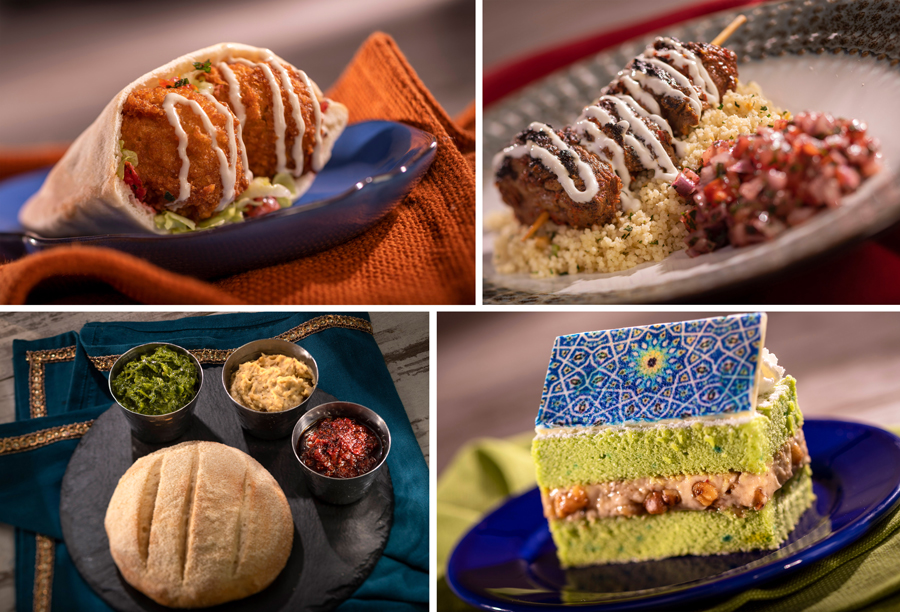 NEW! Tangierine Café: Flavors of the Medina
This location features tons of tasty treats like Fried Falafel Pita, Grilled Kebabs, Lemon-Garlic Chicken, Moroccan Spiced Lamb, Harissa-Marinated Beef Tenderloin Tips, Stone-Baked Moroccan Bread, and Pistachio Cake! There are even drinks like fresh orange juice, fresh blood orange juice, hard ciders, and a fig cocktail! You can even grab a CORKCICLE tumbler here!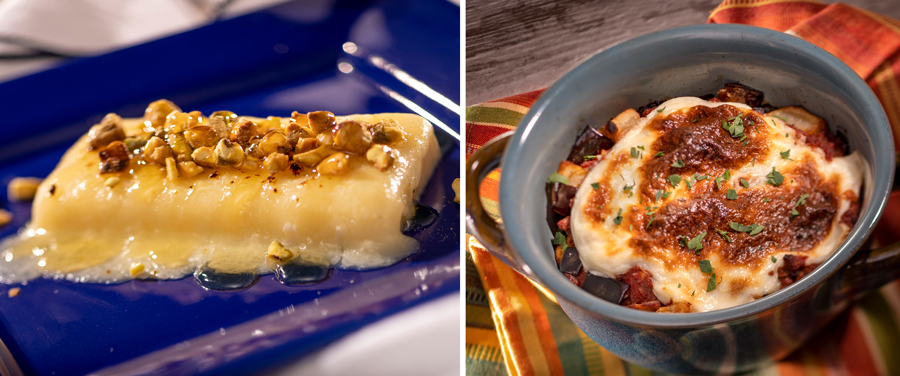 Greece (Near Morocco)
Try Spanakopita, Grilled Cheese with Pistachios and Honey, or Lamb Moussaka at this location!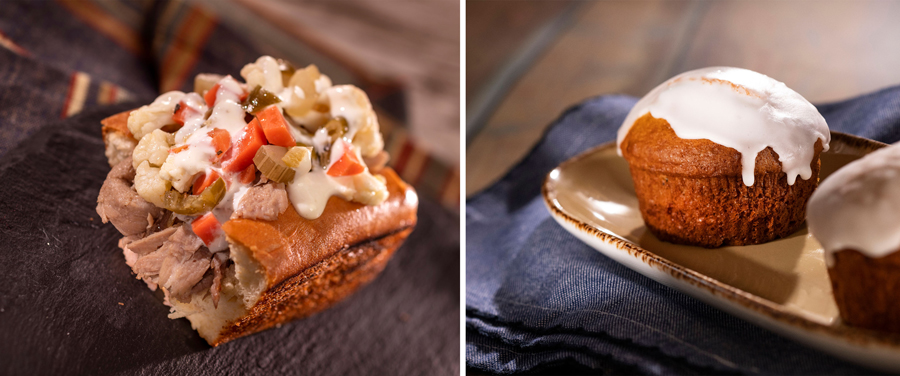 Hops & Barley (American Adventure)
Here you can grab a New England Lobster Roll, a Hot Beef Sandwich, and Freshly Baked Carrot Cake!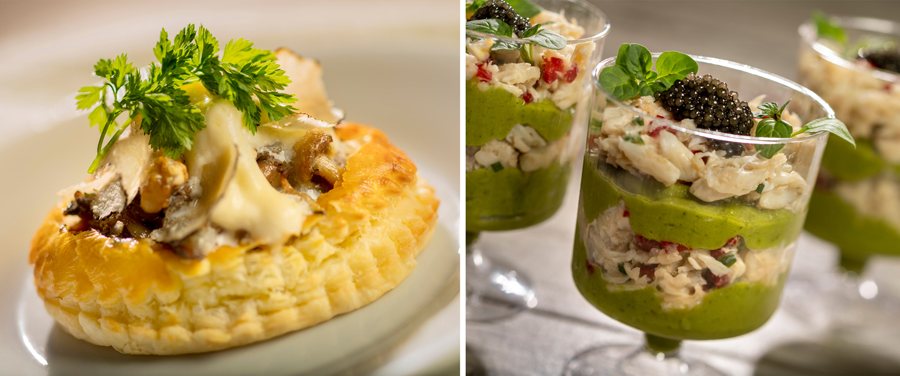 NEW! The Rotunda Bistro (American Adventure Rotunda)
Try the Chilled Smoked Shrimp Salad, the Wild Mushroom and Truffle Tart, or the Chilled Crab and Avocado Parfait at this location!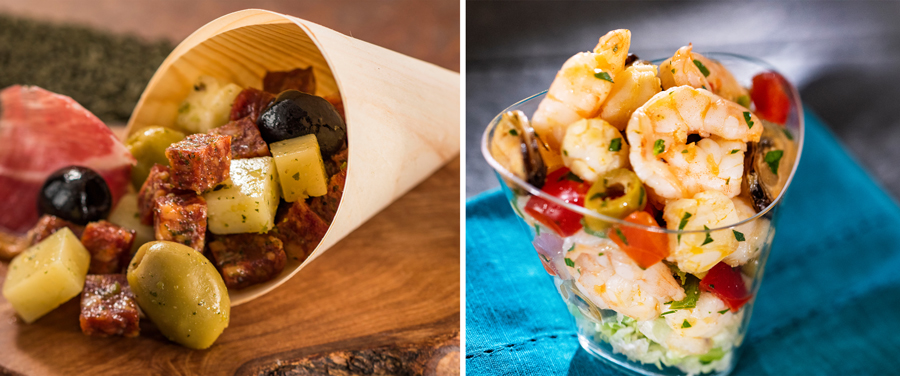 Spain (Between Italy and Germany) – Opening Oct. 1
Here you can grab a Charcuterie cone, Spanish-Style Paella, or Seafood Salad!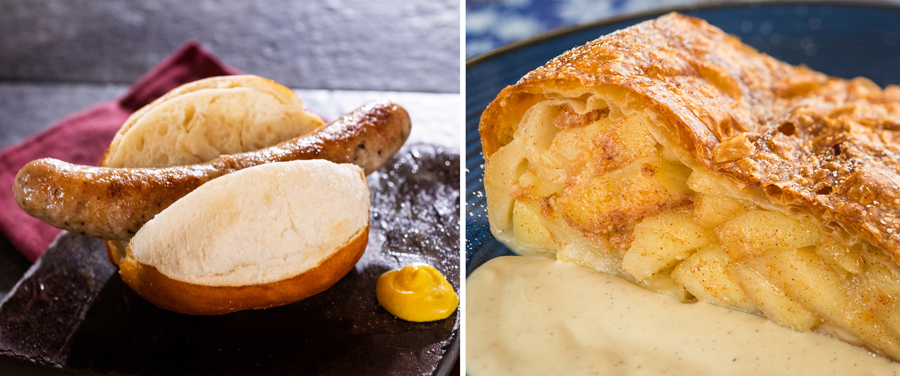 Germany
Pick up some Schinkennudeln (Pasta Gratin with Ham, Onions, and Cheese), Roast Bratwurst in a Pretzel Roll, or Apple Strudel here!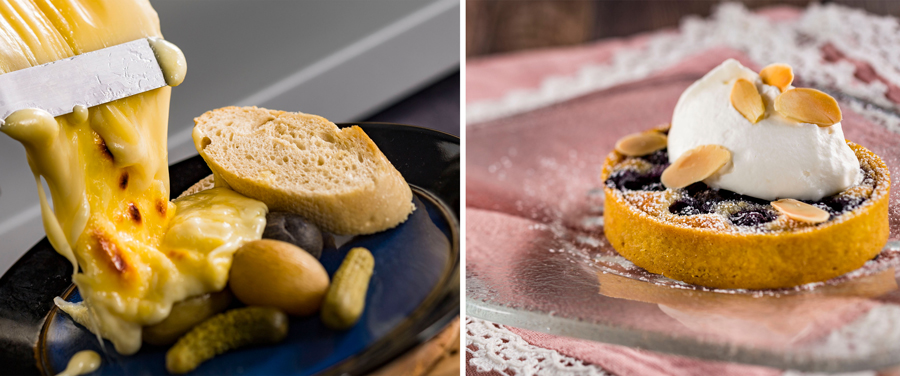 The Alps (Near Germany) – Opening Oct. 1
Here you can try Warm Raclette Swiss Cheese with or without Alpine Ham and a Blueberry and Almond Frangipane Tart!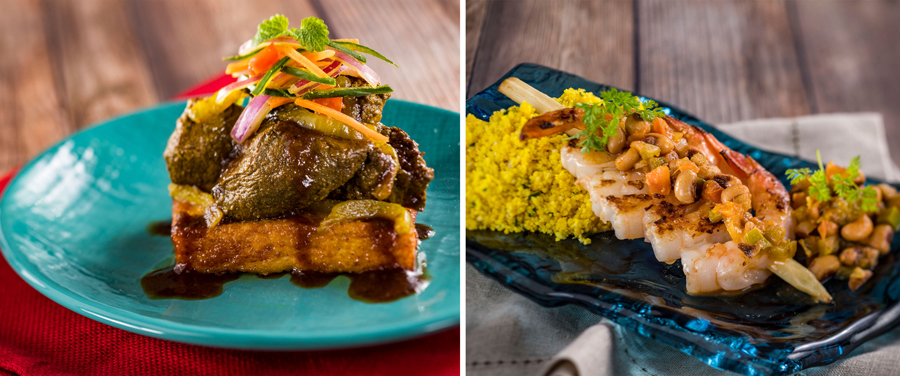 Kenya (Outpost) – Opening Oct. 1
Try out the Kenyan Coffee Barbecue Beef Tenderloin and the Piri Piri Skewered Shrimp here!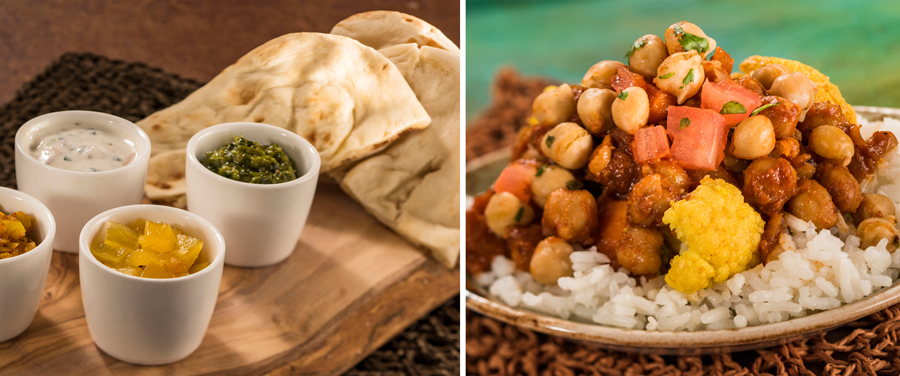 India (Near China) – Opening Oct. 1
Here you can try Warm Indian Bread with dips, Korma Chicken, and Madras Red Curry then wash it down with a Mango Lassi!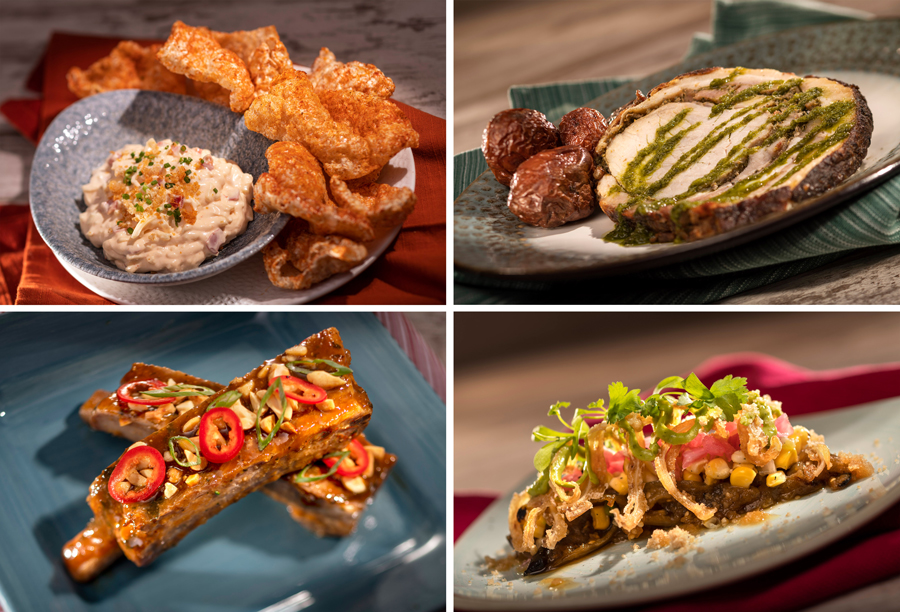 NEW! The Swanky Saucy Swine (Near Disney Traders)
Try the fabulous Crispy Barbecue Pork Rinds with Pimento Cheese, Roasted Porchetta, Soy-Glazed Sticky Ribs, and Crispy Pig Ear Salad at this location!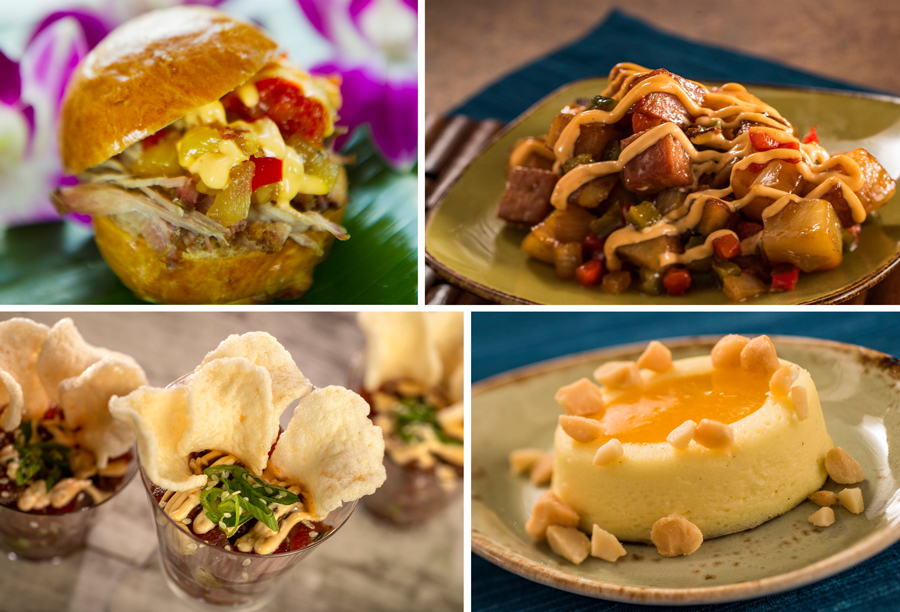 Hawaii (Near Disney Traders)
Try the Kālua Pork Slider, Teriyaki-glazed SPAM Hast, Tuna Poke, and Passionfruit Cheesecake here!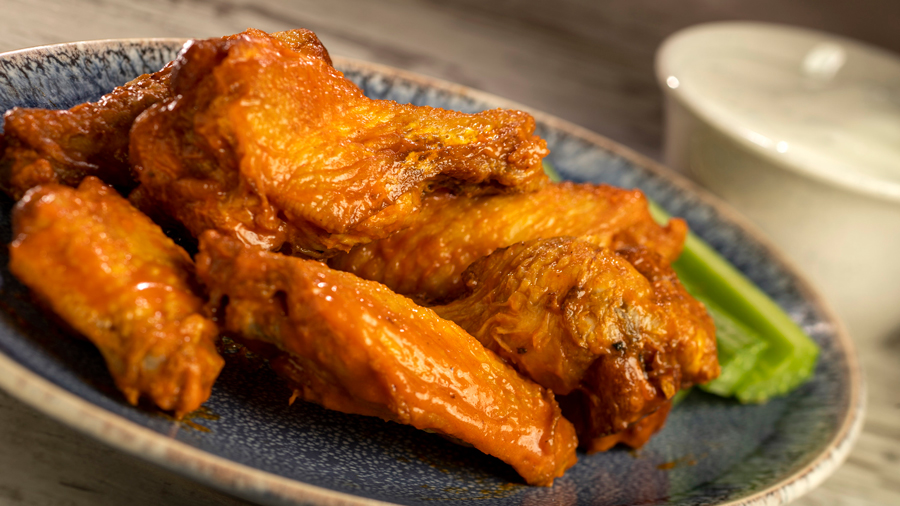 NEW! Brew-Wing at the EPCOT Experience
Here you can grab your favorite flavor of wings, cheese or pepperoni flatbread, and your favorite beverage!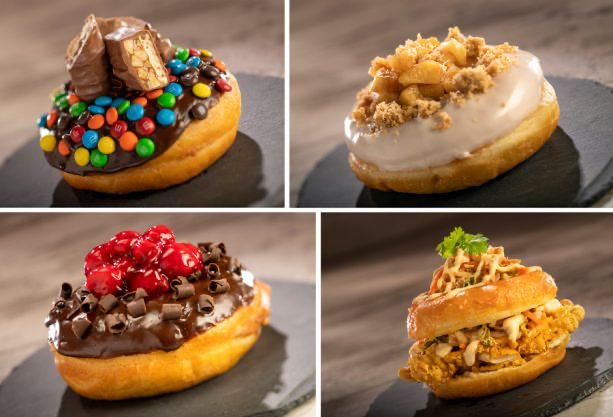 The Donut Box (Near Test Track presented by Chevrolet®)
These fancy donuts include a Candy Jar Donut, a Sriracha-glazed Donut, Chef's Donut of the Day, The Donut Box (4 daily donuts), and Crispy Chicken on a Sriracha-glazed Donut. Wash it all down with a Strawberry Smoothie!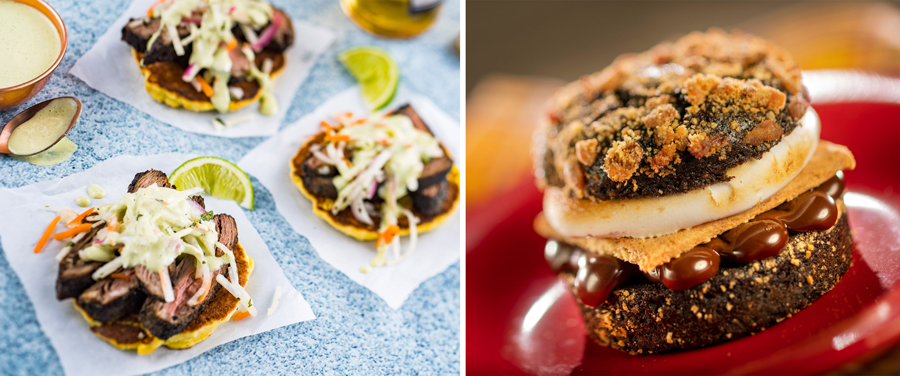 Flavors from Fire hosted by The NFL on ESPN presented by Chevrolet (NearTest Track)
Here you can grab The Corned Beef Corner Route (Smoked Corned Beef with Crispy Potatoes, Cheese Curds, Pickled Onions, and Beer-Cheese Fondue), The Chimichurri-up Offese (Charred Chimichurri Steak on a Smoked Corn Cake with Pickled Vegetable Slaw and Cilantro Aïoli) and The S'mores Whoopie Pie-lon (Smoked Chocolate Cake, Graham Cracker, Marshmallow, Chocolate Ganache, and Candied Bacon)!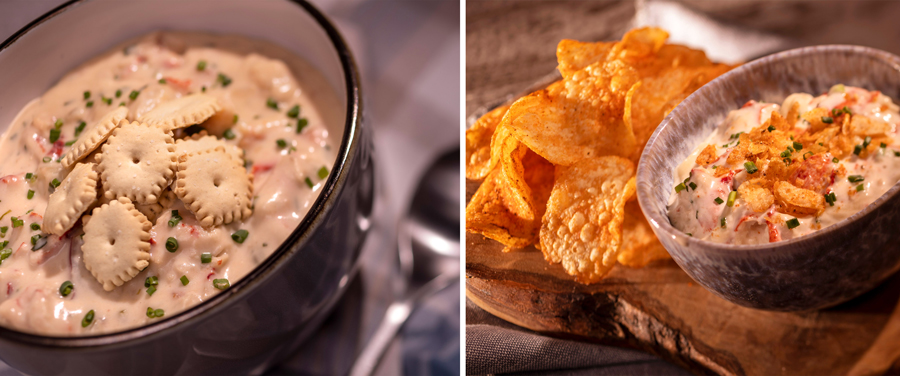 NEW! Lobster Landing (Near Mission: SPACE) – Opening Oct. 1
Lobster lovers can try New England Lobster Tail, Lobster Chowder, or Baked Lobster Dip!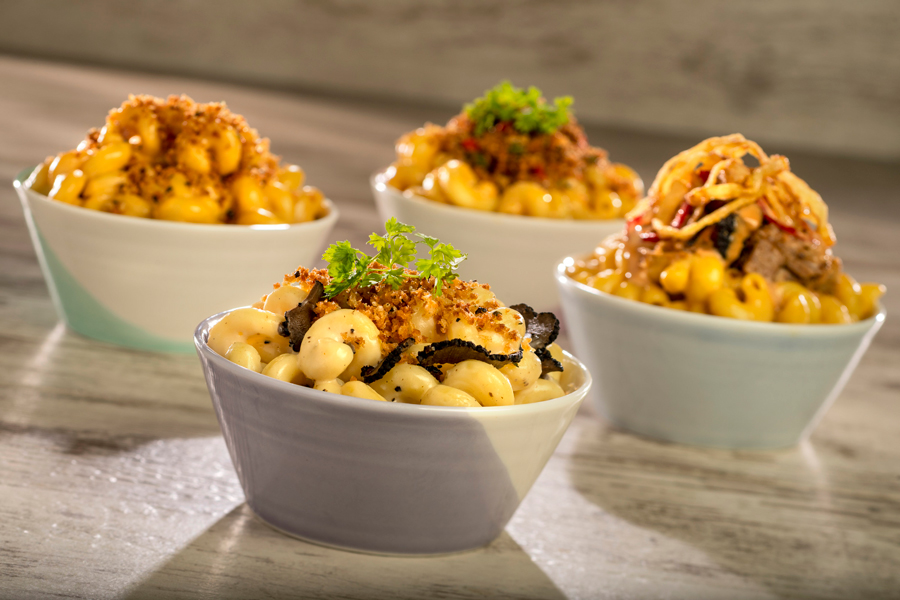 NEW! Mac & Eats (Near Mission: SPACE) – Opening Oct. 1
Here you can grab Traditional, Truffle, or Cowboy Macaroni and Cheese or even Mac & Cheese topped with Italian Sausage and Peppers.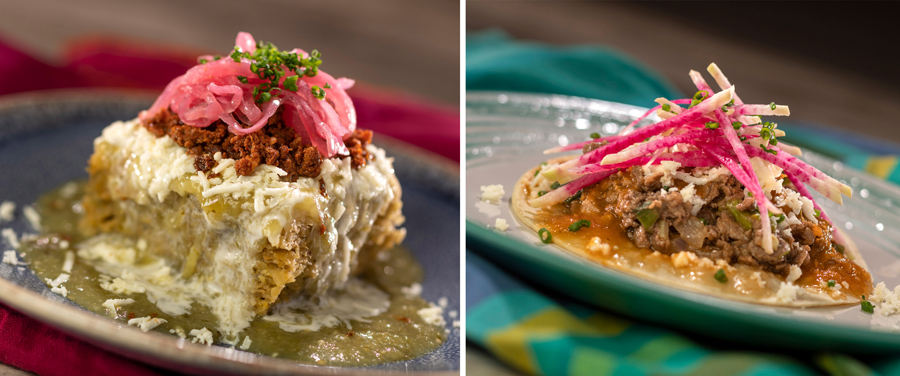 Mexico
Check out the Chilaquiles con Chorizo (Crispy Corn Tortillas tossed in Salsa Verde and Monterey Jack Cheese topped with Crema Mexicana, Queso Cotija, Pickled Onions, and Ground Chorizo), Taco de Ribeye, or Capirotada de Chocolate (Abuelita Chocolate Bread Pudding served with a Chocolate Crème Anglaise) at this location! There are also tons of fabulous beverage options like the El Tigre Margarita which is Ojo de Tigre Mezcal with Pomegranate, Prickly Pear, Pineapple, and Ginger Juices served on the rocks with a Hibiscus Salt Rim!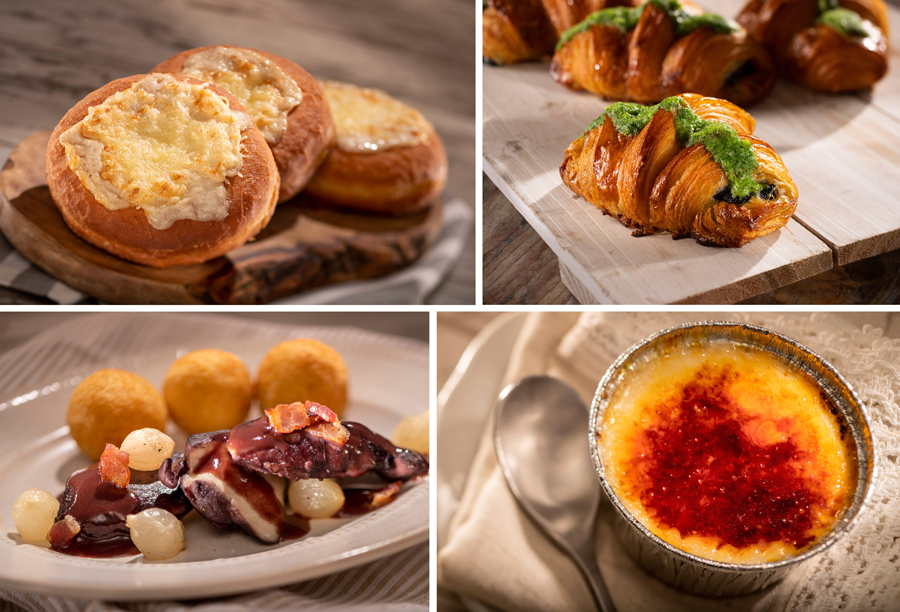 France
Here you can try Beignet aux Trois Fromafes, Croissant aux Escargots, Coq au Vin, and Crème Brûlée au Grand Mariner! You can even wash it down with Evian Sparkling Cucumber and Mint Water with Magnesium and Zinc!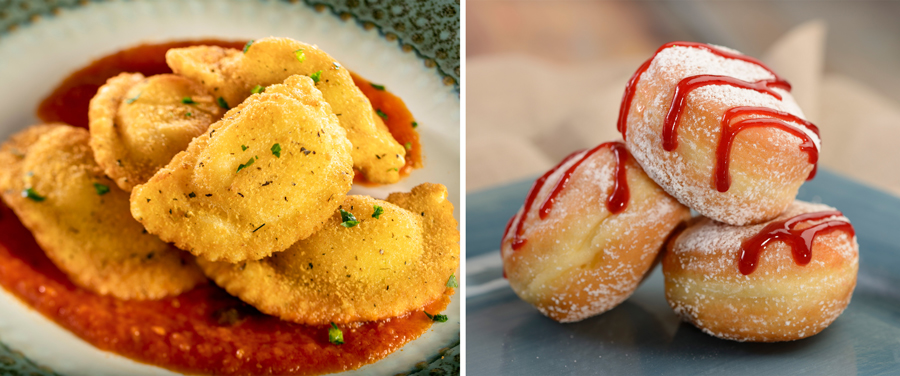 Italy
Try the Mezzelune Croccanti (Crispy Half-moon Breaded Mozzarella-filled Ravioli with Pomodoro Sauce), Ravioli, or the Bomboloni (Cream-filled Italian Doughnut with Raspberry Sauce and Powdered Sugar)!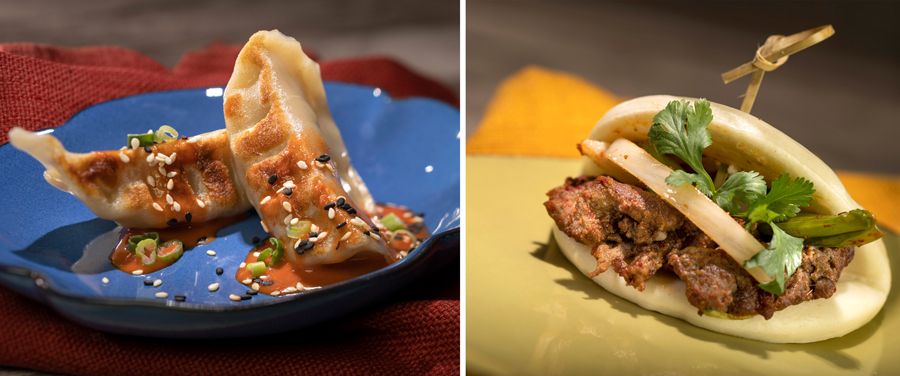 China
Here you can try Pan-fried Chicken Dumplings, a ZiRan Beef Bao Bun, and Crispy-fried Pepper Shrimp! There is even Mango Bubble Milk Tea available!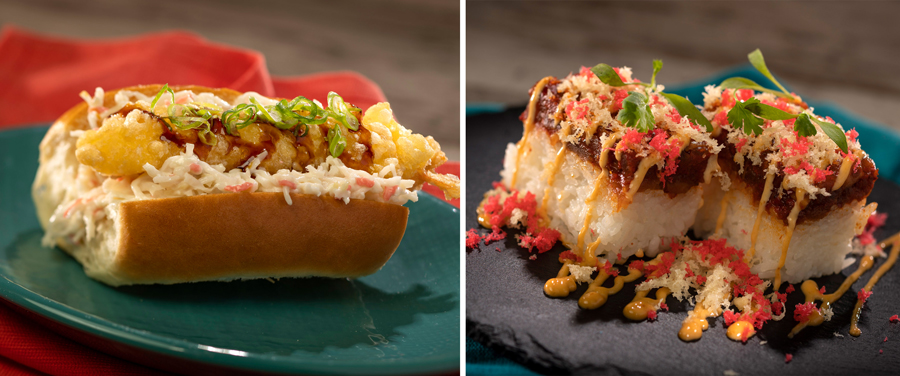 Japan
Here you can grab a Teriyaki Chicken Bun, Tempura Shrimp Sando, and Spicy Hako Sushi!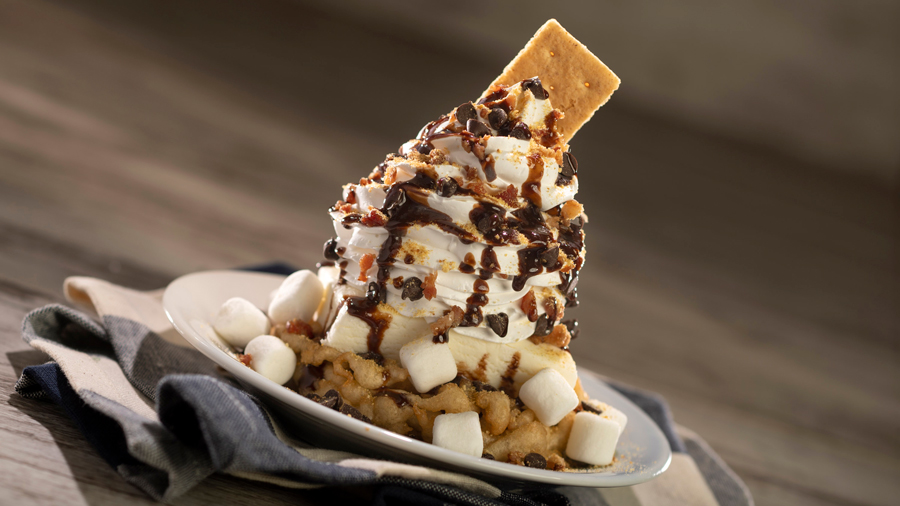 Funnel Cake
This Mini Candied Bacon S'mores Funnel Cake with Vanilla Ice Cream looks scrumptious!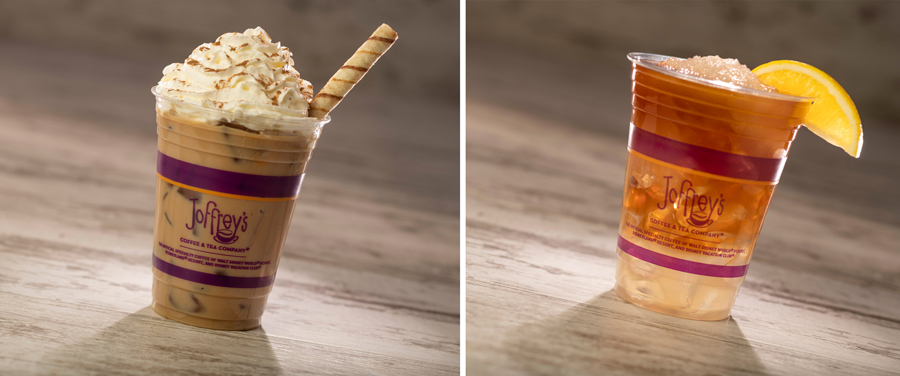 Joffrey's
Last, but certainly not least, you can pick up special beverages at each Joffrey's location!
The American Adventure – Cinnamon Chai: Refreshing Iced Chai topped with Whipped Cream and Cinnamon (non-alcoholic)
Near Disney Traders – Double Trouble Chai: Tantalizing Iced Chai with a Single Shot of Espresso topped with Whipped Cream and Cinnamon (non-alcoholic)
Near Canada – Tropical Tea Breeze: Iced Tea and Frozen Lemon with a splash of Coconut Syrup (non-alcoholic)
Near Mission: SPACE – Cocoa Cold Brew: Kona Mocha topped with Whipped Cream and drizzled with Chocolate (non-alcoholic)
You can find the full 2021 Epcot International Food & Wine Festival Foodie Guide HERE!
Which one of these treats made it to the top of your list? Let us know in the comments below!
Ready to head to EPCOT to try out the Festival?  If so, you can book your Walt Disney World Resort Vacation With Small World Vacations HERE. They are the preferred travel agency of Disney Fashionista! They take all the hassle out of vacation planning at no cost to you! Not only that but you will receive a gift from us if you book your vacation with them!
Disclaimer - As an Amazon Associate, I earn from qualifying purchases.
---
Thank you for visiting the Disney Fashionista website. Be sure to sign up for our Daily Newsletter where we deliver the best in Disney Fashion, Travel, Makeup and More to your inbox! You can find us all over the internet at Twitter, Facebook, Instagram, and even Pinterest!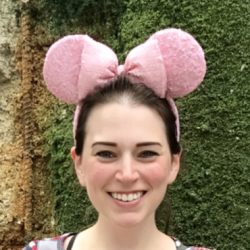 Latest posts by Lindsey N
(see all)