In my house, the countdown has already begun for the new Cruella movie! It will be the first movie that I have seen in a theater since March 16th, 2020. I couldn't be more excited. When I go to opening night of a new movie, I love to dress up! My friends and I were Jedi for the last Star Wars movie and my cousin Jake wore a hand-painted box to the SpongeBob SquarePants movie so that he could dress up as SpongeBob. That proved to be a big mistake because he really couldn't sit down in a box very easily. Now, I am ready to go all out for Cruella! I can't wait to wear something from the new Cakeworthy Cruella Collection to celebrate the movie premier.
The first item in the collection is the Cruella All Over Print (AOP) T-Shirt. Cruella poses all over this shirt. It's hard to tell what is the shirt's background and what is Cruella's outfit. I love the picture of Cruella talking on the phone. It reminds me of the look I have when a telemarketer calls and I pick up the phone by mistake. The Cruella with the slicked down hair reminds me of how I look when people try to talk to me when I first get up. No matter how you are feeling, there is a Cruella look that matches your mood!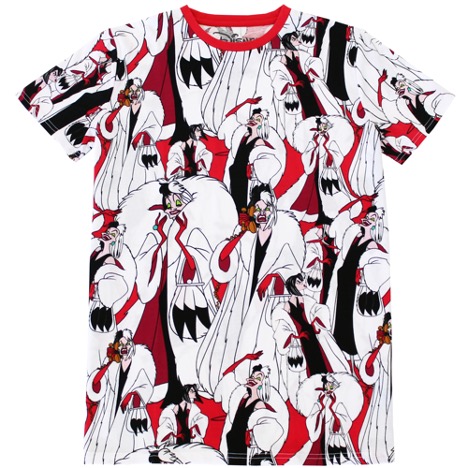 The Cruella Button Down Dress is one of those exciting and unique pieces that made me fall in love with Cakeworthy! Crazy Cruella heads are all over this half black and half white dress. Cruella's red eyes and wild hair make it seem like she just stuck a fork in a socket or is extremely enraged. This dress would be perfect for the spring because while it is light enough for a warm spring day, it has long sleeves which would be great on a cool spring evening.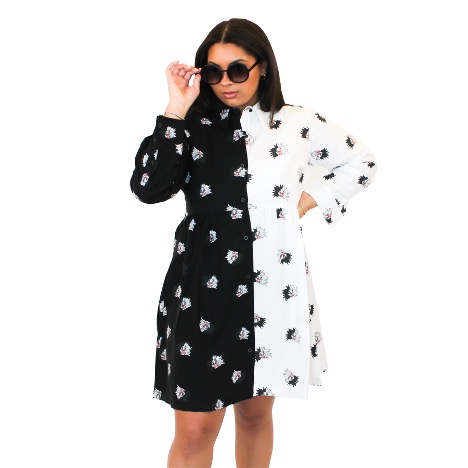 The Cakeworthy Cruella Collection is available online on the Cakeworthy website. The Cruella dress costs $ 47.95, while the t-shirt costs $29.95. After you're done shopping, be sure to let us know in the comment section whether you plan on seeing the new Cruella movie. I know that a lot of Disney fans are on the fence about a lot of the new live-action remakes. While you're commenting, tell us what you think about the other live-action Disney movies? Was there one that suppressed you? Surprisingly, I loved the new Dumbo Movie.
Disclaimer - As an Amazon Associate, I earn from qualifying purchases.
---
Thank you for visiting the Disney Fashionista website. Be sure to sign up for our Daily Newsletter where we deliver the best in Disney Fashion, Travel, Makeup and More to your inbox! You can find us all over the internet at Twitter, Facebook, Instagram, and even Pinterest!