Our marvelous baddie Maleficent is definitely the mistress of evil. Now she's also the mistress of style with the stunning new Maleficent Pandora Charm! This wickedly gorgeous new charm is part of the upcoming Pandora Pre-Winter 2020 collection, which means we will see it soon!
The spectacular new charm is a button style charm. It also has open metalwork along the sides. This is a beautiful two-sided charm. We see Maleficent's fairy form on one side, and also her dragon form on the other. The iconic Maleficent horns look is cast in sterling silver upon a glittery purple enamel background. On the reverse, we see her dragon form cast upon a sparkling green enamel. The green is also the same hue as her infamous magic flames. Around both sides is a thorny frame wrapping around the silver portraits.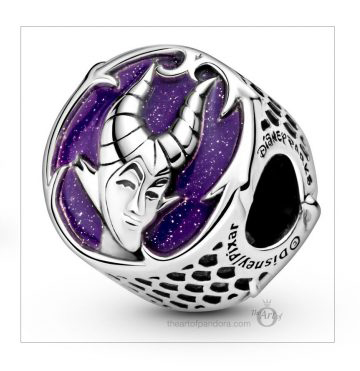 The open metalwork around the sides of the button charm is also very striking. Instead of basic scrollwork, or simplistic holes, the cut-out is actually designed to look like dragon scales! Pandora has really put an impressive amount of detail into this. Even her smile is captured perfectly in the silver casting.
Maleficent is my all-time favorite villain, so I think this is a must for my collection! Holiday wish list maybe? This charm is made especially for the Disney Parks. This means it will only be available within Disney Theme Parks or online at ShopDisney.com (hopefully).
What do you think of the stunning new Maleficent Pandora Charm? I hope we see more Disney Villains in this style in the future!
Thanks to TheartofPandora.com for the info and pics! Make sure you follow her if you love Pandora!
Disclaimer - As an Amazon Associate, I earn from qualifying purchases.
---
Thank you for visiting the Disney Fashionista website. Be sure to sign up for our Daily Newsletter where we deliver the best in Disney Fashion, Travel, Makeup and More to your inbox! You can find us all over the internet at Twitter, Facebook, Instagram, and even Pinterest!