I grew up in the country, which meant that my summers were spent outside, exploring all that nature had to offer. My family would often go on nature walks and collect flowers, rocks, and leaves to do crafts with. These beautiful Flower Mickey Head Keychains remind me of my childhood and the summers spent exploring and making crafts with my family! Although I must say that our creations do not hold a candle to the intricate artwork that the creative minds behind the Etsy shop CraftPaperScissorsCo sell at their shop!
The first keychain reminds me of early spring. The light blue and faded yellow tones of the hydrangea flower and baby's breath hint that spring is almost here. At the same time, they caution us that winter isn't completely over yet and that snow can still come (Especially if you are in Upstate New York like I am! Then, you can expect snow until at least mid-May!). The royal blue tassel blends well with the theme of the keychain. Its blue color is very similar to the color of the sky in early spring.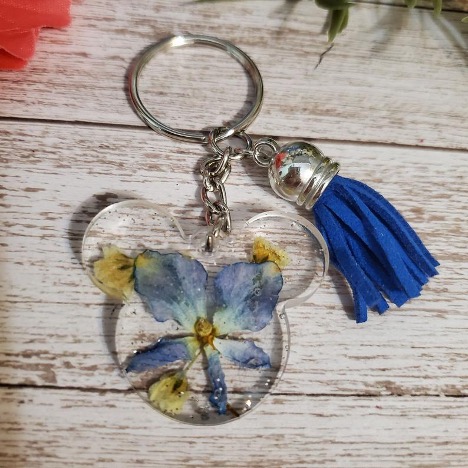 The next keychain reminds me of August. The large scarlet red flower and smaller yellow flowers take me back to the deep, vibrant tones that are seen in late summer. Usually, as a signal, that fall is on the horizon. The yellow tassel looks like the summer sun, shedding its light on the flowers in the Mickey Head keychain.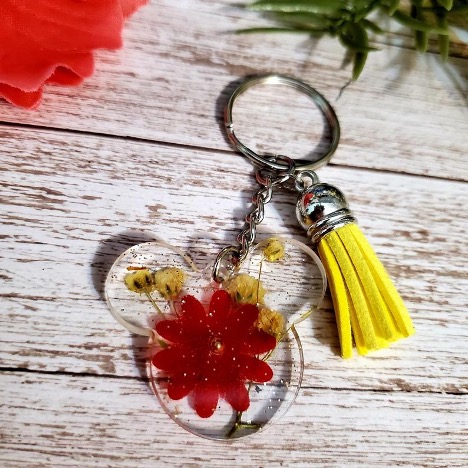 Finally, there is a brown bunny and baby's breath option! The brown bunny wears a lavender bow while hiding behind delicate white and pink flowers. The pink tassel complements the flowers in the Mickey Head perfectly.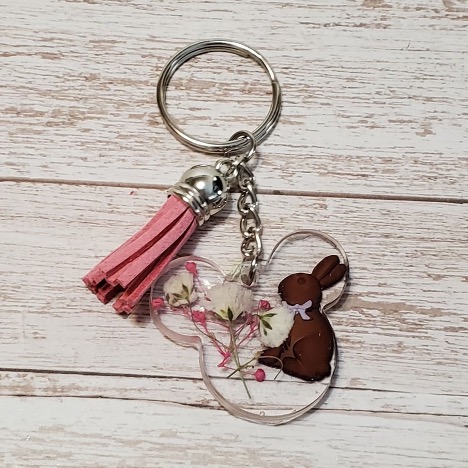 9You can get these wonderful, handmade Flower Mickey Head Keychains from the Etsy shop CraftPaperScissorsCo HERE for $5.95! If you enter Disneyfashionista at checkout you can save $5 off of $25! They make a great gift for Easter or Mother's Day. They would also be great to attach to your backpack while you walk around the Flower and Garden Festival.  
Disclaimer - As an Amazon Associate, I earn from qualifying purchases.
---
Thank you for visiting the Disney Fashionista website. Be sure to sign up for our Daily Newsletter where we deliver the best in Disney Fashion, Travel, Makeup and More to your inbox! You can find us all over the internet at Twitter, Facebook, Instagram, and even Pinterest!