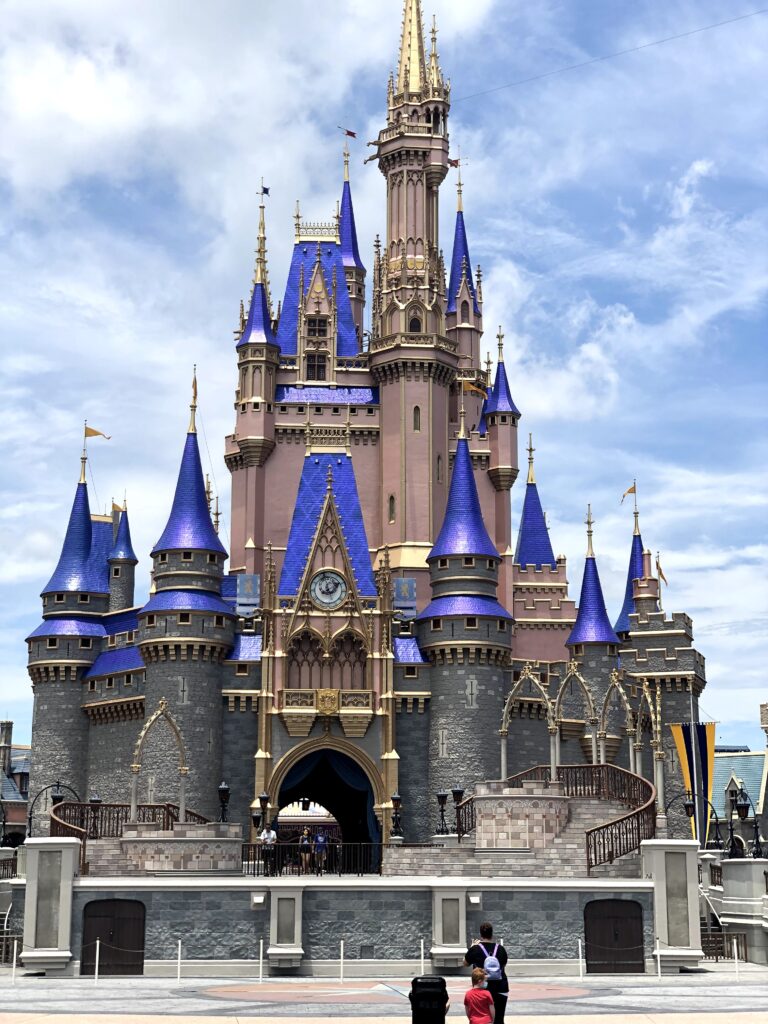 Walt Disney World Resort is the ultimate destination for theme park enthusiasts. Known as the most magical place on Earth, it offers an all-inclusive experience that keeps you entertained from dawn to dusk.
Whether you're an adrenaline junkie or visiting with young children, Disney World has something for everyone. In this guide, we'll explore the must-try rides at Magic Kingdom, Animal Kingdom, Epcot, and Hollywood Studios. Before you dive into the magic, consider using a luggage storage service like Bounce to keep your bags safe, so you can fully enjoy your day at the parks.
Magic Kingdom: Best Rides
Magic Kingdom remains the most iconic theme park at Disney World, featuring classic characters like Mickey and Minnie Mouse and the awe-inspiring Cinderella Castle.
Space Mountain

Located in Tomorrowland, Space Mountain is a fantastic high-speed indoor roller coaster that has an outer space theme. You will be whisked through the dark as you fly through the galaxy and twist and turn your way through the stars.

Big Thunder Mountain Railroad

This fantastic outdoor roller coaster is located in Frontierland. Come ride this runaway mine train through the Wild West during the famous Gold Rush. Thunder Mountain is not as twisty as Space Mountain, but is great fun.

Buzz Lightyear's Space Ranger Spin

This is an interactive ride with a Toy Story theme. On the Buzz Lightyear's Space Ranger Spin you will shoot at targets using laser cannons. Points are earned for each target hit. Ride again and again to improve your score!

Haunted Mansion

Hop aboard a doom buggy and slowly make your way through a haunted estate that is loaded with rather odd and often hilarious ghosts, goblins, and ghouls. Haunted Mansion is more silly than scary and is great fun for the whole family.

TRON Lightcycle run
A highly anticipated addition, this roller coaster offers a high-speed race through the digital frontier, making it a must-try for thrill-seekers. Designed to make you feel like you're part of the Tron universe, the ride features lightcycles that give an immersive, futuristic experience.
Animal Kingdom: Best Rides
Animal Kingdom does not have a lot of major attractions but it is still a fantastic park to visit and check out some of the best rides. The lines can be pretty long for the more popular rides, but they are well worth the wait and if you come early, lines are shorter.
Epcot: Best Rides
Epcot is actually divided into two different sections: Future World and World Showcase. Future World is where most of the rides are located and is usually jam-packed within just an hour or so of opening.
Mission: SPACE

This space-themed ride is actually a space shuttle simulator where you can see if being an astronaut is for you. Mission: SPACE has two missions: Orange and Green, each taking you on an exhilarating ride through space.
Journey of Water, Inspired by Moana
This newly opened attraction is a self-guided exploration trail that educates guests about the water cycle in an interactive and engaging way. Inspired by the movie Moana, the trail features various interactive elements, including strings of water that play music when touched, and waterfalls that part as you walk through them.
Guardians of the Galaxy: Cosmic Rewind
This groundbreaking attraction is Epcot's first roller coaster and features a backwards launch. Team up with Star-Lord, Gamora, Drax, Rocket, and Groot for an action-packed adventure through the cosmos, complete with a rotating 360-degree storytelling coaster.
Soarin' Around the World

You do not want to miss this ride; it is a simulated hang-glider tour that takes you around the world. During Soarin' Around the World you are lifted into the air and made to feel like you are flying as you see landmarks from all over the globe.

Frozen Ever After

This musical log flume is a fun ride. Frozen Ever After takes you on a magical ride on a Norwegian vessel through Frozen's wintery world. Amazing animatronics of Elsa and company keep you company along the way.

Test Track

Design your own vehicle by deciding if responsiveness, power, or efficiency are more important and then hop aboard for a high-speed ride. Test Track is a fantastic, heart-pounding ride you will want to experience more than once!

Hollywood Studios: Best Rides
Hollywood Studios is a great place to hang out if you are a true movie buff. This Hollywood themed park is focused on some of the more popular movies and television series of all time and the rides are Hollywood and movie themed.
Twilight Zone Tower of Terror

The Tower of Terror is a classic ride set in the Twilight Zone's abandoned hotel and is very detailed. Step on the elevator and wait with heart-pounding anticipation for it to start plummeting to the ground floor.

Star Wars: Rise of the Resistance

One of the most popular rides at Hollywood Studios, Rise of the Resistance is located in Star Wars Land and is an interactive ride that whisks you to the planet of Batuu so you can join in the epic battle of the Resistance and the First Order.

Mickey and Minnie's Runaway Railway

One of the newest rides at Hollywood Studios, Mickey and Minnie's Runaway Railway is a trackless train that takes you into the world of Disney cartoons with Goofy as your conductor.
Rock 'n' Roller Coaster Starring Aerosmith
Strap in for a high-speed roller coaster experience set to the tunes of Aerosmith. This indoor coaster features inversions and high-speed loops, making it a hit for thrill-seekers.
Millennium Falcon Smugglers Run
Step into the cockpit of the iconic Millennium Falcon and take on one of three roles: pilot, gunner, or engineer. This interactive experience allows you to control the ship and complete a smuggling mission in the Star Wars universe.
A day at Disney World always proves to be a fun adventure, whether it's your first time there or your tenth! Many fans make visiting Disney World an annual event.
If you want to book a trip to Walt Disney World to ride the best rides, make sure to reach out to Small World Vacations. They are the preferred travel agent of Disney Fashionista.
---
Guía para las mejores atracciones en Walt Disney World
Si estas buscando ideas para tener los mejores días en los parques Disney en Orlando, no busques más. Esta guía tiene sugerencias para cada parque que te dejarán sentirte satisfecho después de un divertido y largo día en cada uno de ellos.
Disclaimer - As an Amazon Associate, I earn from qualifying purchases.
---
Thank you for visiting the Disney Fashionista website. Be sure to sign up for our Daily Newsletter where we deliver the best in Disney Fashion, Travel, Makeup and More to your inbox! You can find us all over the internet at Twitter, Facebook, Instagram, and even Pinterest!