Joyeux 30e anniversaire Disneyland Paris! On Michelle's recent trip to Paris, she scoped out all the exclusive merchandise. We've been treated to Parisian Minnie, Princess ears, and Attraction Themed Ears. However, let's not forget the most important thing…Jewelry. 30th Anniversary gems sparkle at Disneyland Paris.
30th Anniversary Necklaces
First, let's talk about the necklaces. I'm a HUGE necklace aficionado, to the point where I had to add command hooks in my jewelry armoire. So, these 4 beauties are really speaking my language. The overall theme you'll see in every jewelry piece in the collection is the number 30. However, the artistic designers have created the number to resemble an "unclosed" Mickey head. It's as Brillant as the shining gems used in the pieces. As I stated there are 4 necklaces. Two pieces combine the number 3 in "30" with Sleeping Beauty's Castle, while the other two utilize circles to enclose the creation. Each are unique and special in a different way; it would be hard to choose!
30th Anniversary Earrings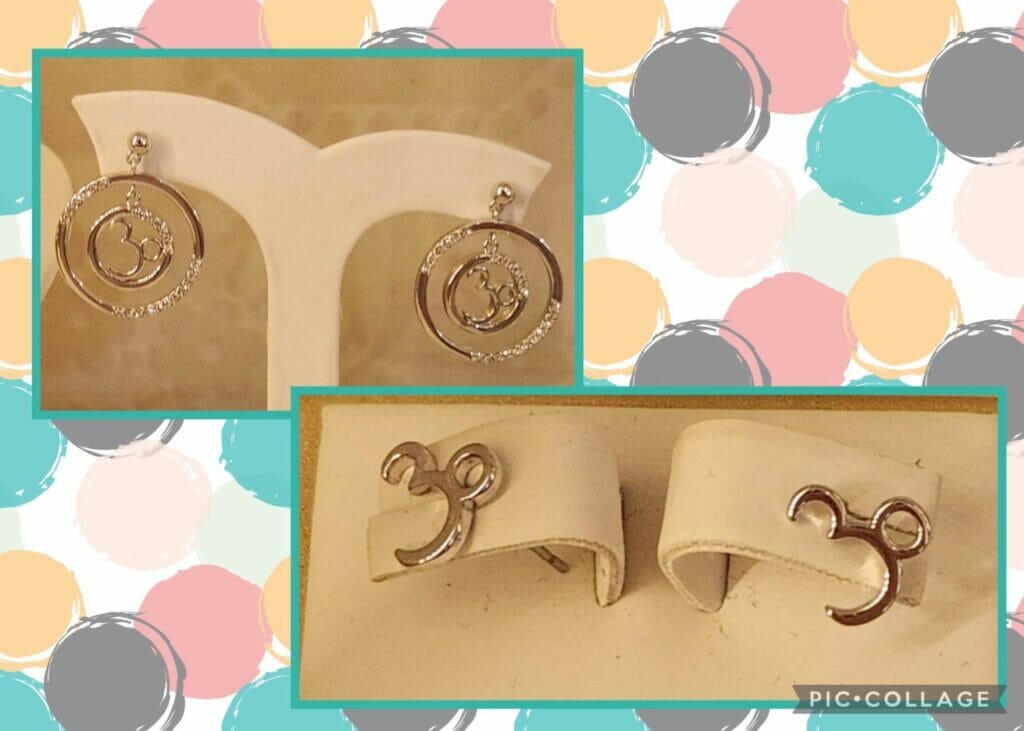 Next, are the two sets of earrings. Again, we have the number "30" that creates a Mickey head outline. I really like the simplicity of this design. It would pair nicely with the necklaces above, without fighting against the creativity. For a larger earring that makes a bold fashion statement, choose the dual circular encased 30. The two circles hang free from a balled post and offers sparkling gems on the circles.
Isn't it great to see the uniqueness of fashion from around the world? These 30th anniversary gems truly sparkle. If you're interested in traveling the Disney's of the World, reach out to Small World Travel. A travel agency is such a great decision when booking a Disney trip, much less an international one! Click HERE to reach out to Small World Vacations to book your Adventure by Disney to Paris. Make sure you tell them we sent you, and you'll receive a special gift.
---
Gemas que brillan como el 30 aniversario en Disneylandia Paris
¡Feliz 30 aniversario Disneylandia Paris! Este parque nos trae mercancía exclusiva tras mercancía exclusiva que nos enamora y las joyas no son la excepción. Encuentra collares, aretes y más en el parque y trae a casa el souvenir perfecto.
Disclaimer - As an Amazon Associate, I earn from qualifying purchases.
---
Thank you for visiting the Disney Fashionista website. Be sure to sign up for our Daily Newsletter where we deliver the best in Disney Fashion, Travel, Makeup and More to your inbox! You can find us all over the internet at Twitter, Facebook, Instagram, and even Pinterest!