Across the pond, Disneyland Paris has some royally stunning Princess Ears, and we are struggling to choose our favorites! Let's go in alphabetical order because that's the only way I can rank these!
First up are these Ariel Ears that feature a glittery and sequin purple clamshell on one ear, green and gold mermaid scales on the other, and a gorgeous iridescent purple, green, and blue sequin bow with a pearlized clamshell at the center!
Next are these Aurora Ears that feature pink silky and glittery fabrics, gold trim, and a pink stone to resemble the bodice of Aurora's dress on one ear, a lovely gold and pink floral pattern on the other, and a white and pink iridescent sequin bow with her gold tiara at the center!
Up next are these Belle Ears that feature a silky yellow ruffle ear with pearls, a yellow glittery floral ear with more ruffle trim and a pearl to look like more of Belle's iconic ballgown and a glittery gold bow with a red rose at the center!
Although she isn't technically a Princess, we have to mention these Elsa Ears that feature one ear with white "snow" and silver "ice" along with silver trim, one ear with a silver snowflake and silver trim, and a lovely ice blue puffy bow with glittery stars at the center!
I know I said I couldn't choose a favorite, but I am in love with these Jasmine Ears that feature a lovely gold floral pattern on one blue silky ombre ear that also features a fabulous gold trim with little hanging charms, a peacock feather on the other turquoise ear, and a turquoise sequined ear with a blue stone at the center just like her iconic headband!
These Snow White Ears feature nods to her iconic outfit including an ear with glittery blue material, silky yellow with gold polka dot material, gold trim, and red stones, an ear with a floral pattern and red stones on the blue fabric, and a velvety red bow with a gold apple at the center!
Last, but certainly not least, are these Tiana Ears that feature a floral and vine green design on the silky and glittery gold ear, a gold floral design on the other ear, and a glittery light green sparkly bow with some water lily petals and pearls at the center just like her iconic tiara!
If you would like to add any of these gorgeous Disneyland Paris Princess Ears to your Ear Collection, it sounds like it's time to plan your trip to Disneyland Paris! Of course, we will keep our fingers crossed that these beauties show up in the States, too!
---
Estas orejas de parque de Disneylandia Paris son dignas de realeza
Disneylandia Paris nos trae mercancía exclusiva en esta ocasión en forma de orejas de parque de las princesas de Disney que no podemos dejar de comentar. Encuentra a Tiana, Elsa, Bella, Ariel, Aurora, Blanca Nieves y Jasmin. Los detalles en todas son sutiles y alusivos a las princesas, perfectas para las adultas que quieren seguir celebrando a sus niñas internas. Por ahora son únicas en Paris, esperemos pronto vengan a Estados Unidos también.
Disclaimer - As an Amazon Associate, I earn from qualifying purchases.
---
Thank you for visiting the Disney Fashionista website. Be sure to sign up for our Daily Newsletter where we deliver the best in Disney Fashion, Travel, Makeup and More to your inbox! You can find us all over the internet at Twitter, Facebook, Instagram, and even Pinterest!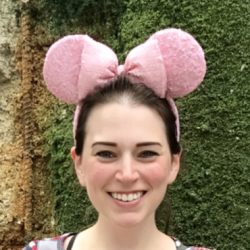 Latest posts by Lindsey N
(see all)