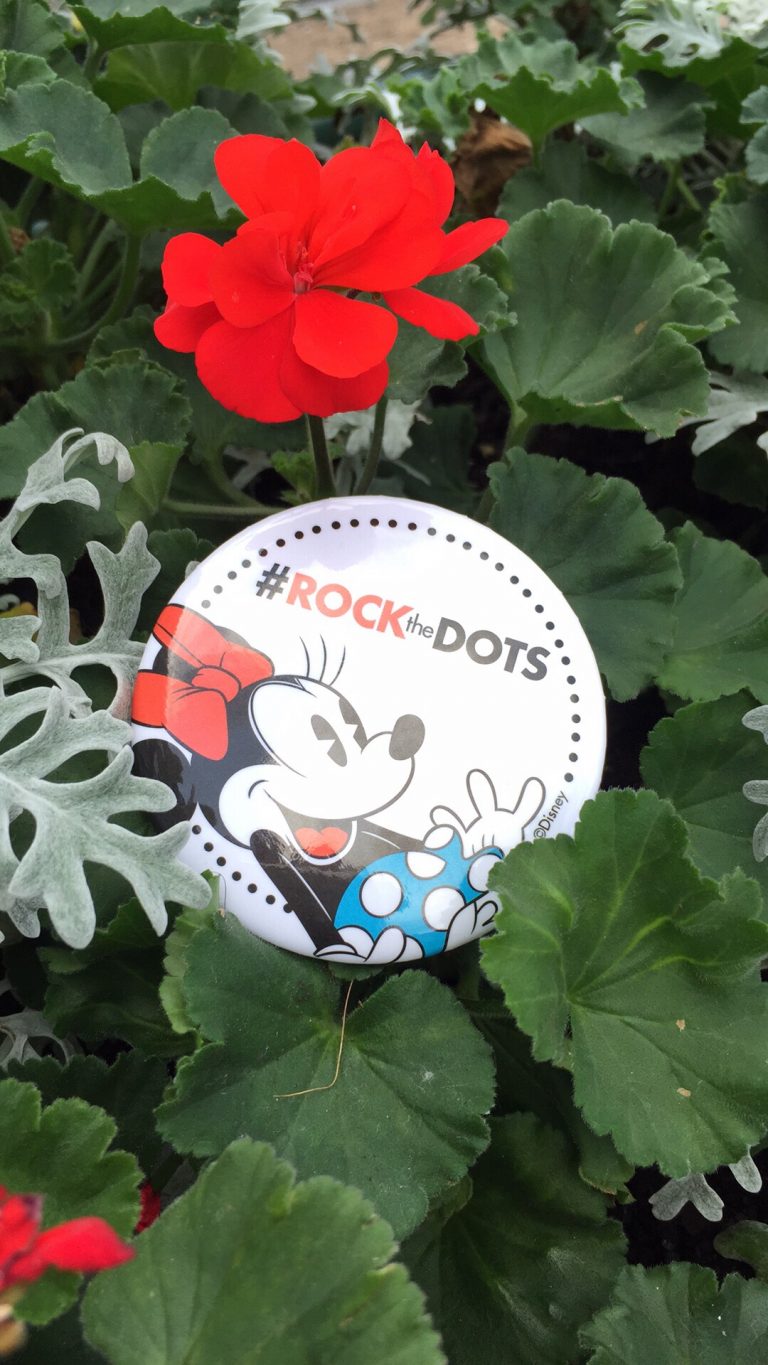 Sunday, January 22, was National Polka Dot Day, and Disney had a "Minnie"celebration! I was lucky enough to attend the #RockTheDots festivities held at Disney Springs, and I can honestly say everyone had a "rocking" good time. The main event was a dance party held in the covered area of the Town Center. Commemorative buttons were given out along with event guides, and a DJ stage was decorated with the #RockTheDots logo.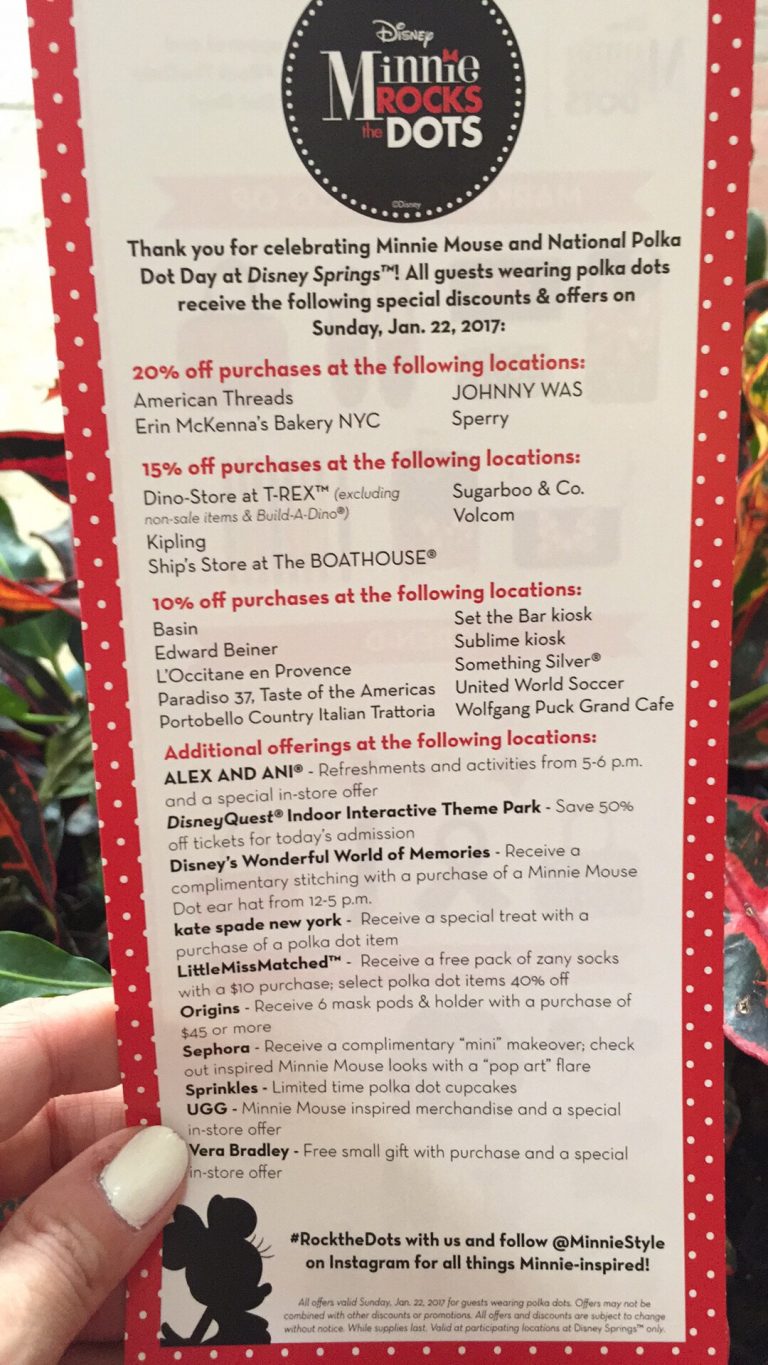 Several Disney Photopass photographers were there offering two event photo ops. I always love the "picture frame" photo op offered at many events and parks, but the polka dot was a cute touch for this event.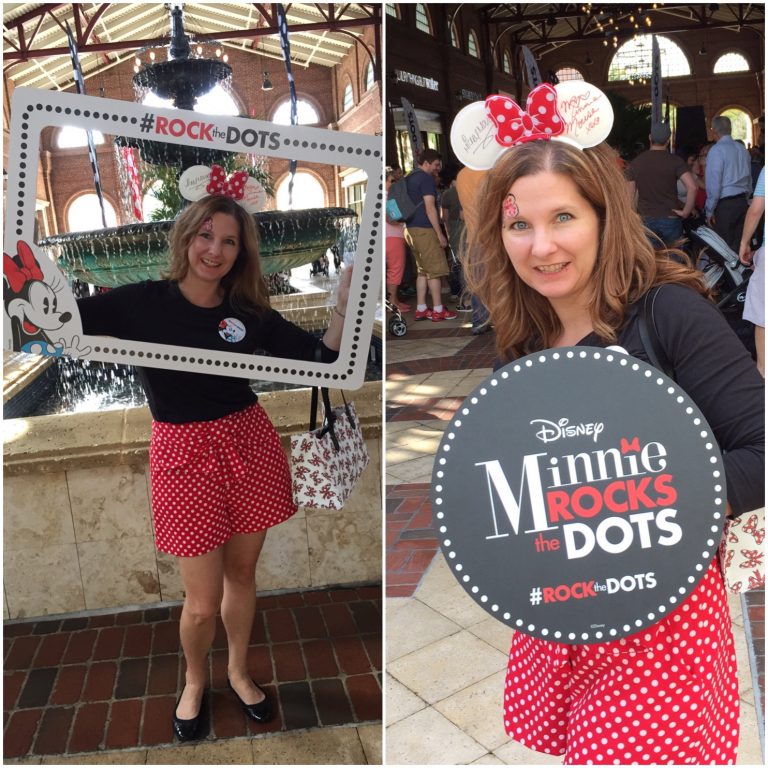 Minnie was, of course, the guest of honor at the dance party, and she definitely lived up to her reputation as a style icon! She sported four different perfectly polka-dotted looks throughout the day. The first dress was a yellow background with brightly colored dots and pink trim. Minnie looked party perfect in this one! Her second look of the day was a sweet little pink dress with white dots. I love all things pink, so seeing Minnie in her pink dress made me especially happy. Her next change was a sunny yellow dress with white polka dots. Even though pink is my favorite color, this was actually my favorite outfit of the day. It just looked so bright and cheerful! Minnie ended the day in her classic red and white ensemble, the iconic Minnie look. It was so much fun to see our favorite little mouse rocking all her dots! And not only was Minnie rocking the dots, but she was also rocking the dance floor as well! Minnie's got moves!
Minnie wasn't the only fashionista rocking the dots. Take a look at these cutie pies and their adorable dot ensembles!
Several of the Disney Springs shops particpated in the event as well. Let's start with Sephora because they really had fun with this! Sephora offered "mini" makeovers. (Get the pun?) These probably weren't the kind of makeovers you'd want to get right before a big date, but they were so fun for this event! This was more like face painting with a cosmetic twist. I opted to get a simple bow, but I saw some incredibly detailed work. The Sephora Cast Member who painted my face, Nicole, was so talented, and her own "Minnie Mermaid" look was just amazing! I also loved the "Minnie face" that I saw on a few guests. The heart nose was simply adorable!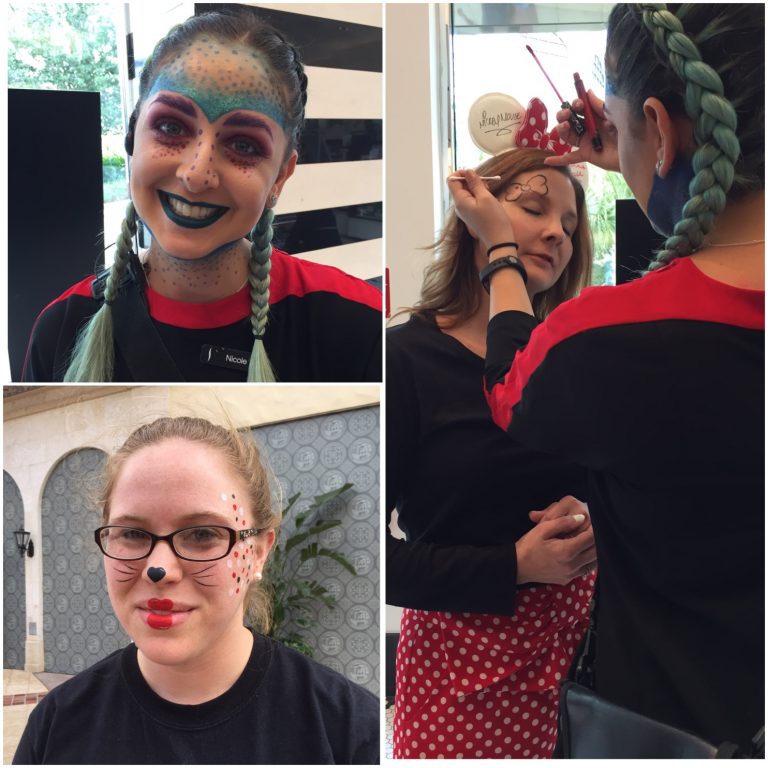 Alex and Ani also got into the spirit of the day! Cast Members put together a gorgeous Minnie stack which I was lucky enough to wear for a few lovely minutes. I wanted every single piece in that stack! The way they all work together is just perfection! Alex and Ani also had a drawing for a small stack of bracelets. I was totally keeping my fingers crossed that I would win that one!
UGG also held a drawing to celebrate the day. Every purchase earned one ticket for the drawing, and the prizes were the coveted Minnie, Mickey, and Tinkerbell UGGs! With a price point of $450, three lucky winners must have been very happy!
Kate Spade and Vera Bradley both had prominent polka dot store displays. Kate Spades's Minnie Mouse collection clearly held the starring role. I fell completely in love with the tiny Minnie bag. That bow! Those ears! It was definitely true love! Kate Spade also offered a pair of earrings or a tote bag as a gift with any polka-dotted purchase. And of course, Tren-D had a fun display of Minnie merchandise showcasing her love for dots! Pandora offered a cosmetic case with any $125 purchase of Minnie Mouse jewelry. That's quite a few discounts and special offers!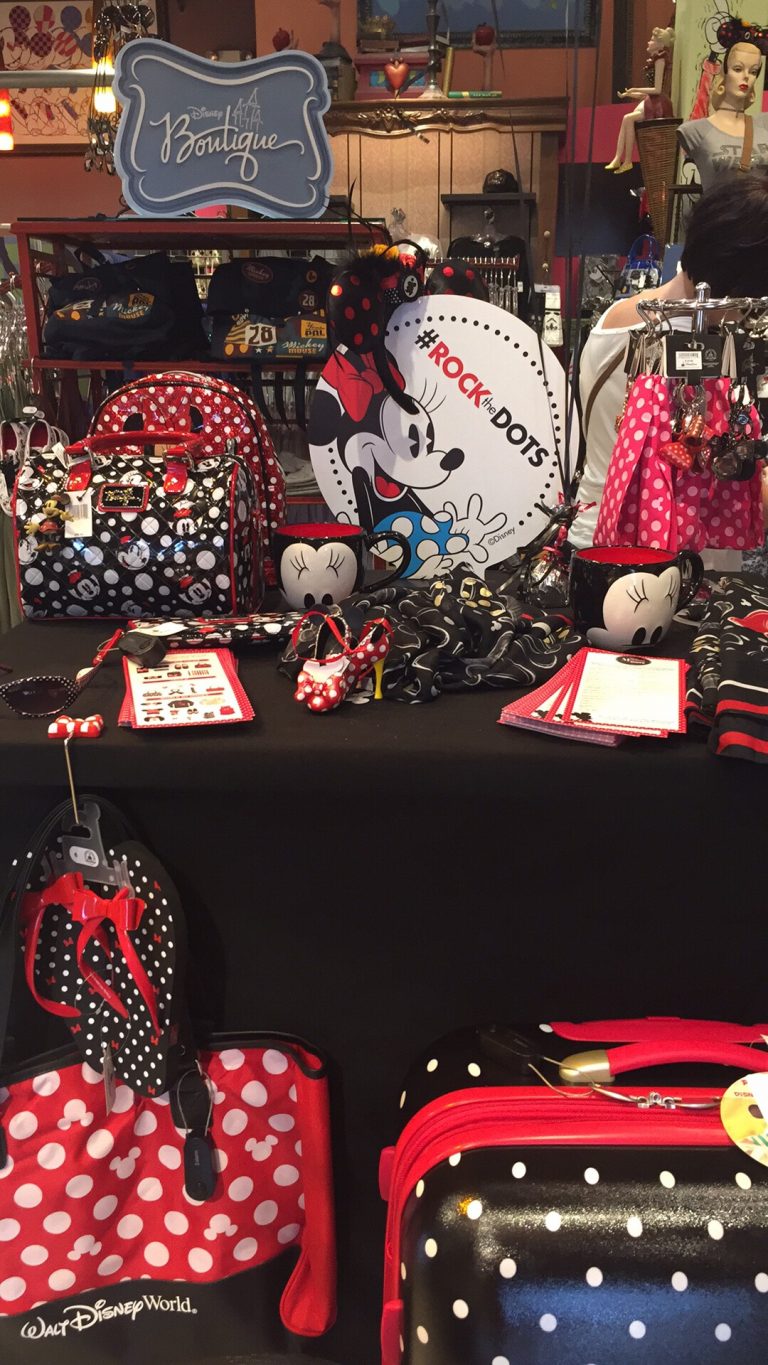 Lastly, Amorette's offered a mini version of their Minnie cake. At $8, this was a perfect little dessert for the day. I don't know about you guys, but I always have trouble actually eating any of the foods from Amorette's. Their creations are so gorgeous that I feel like I'm destroying a work of art!
#RockTheDots was a huge success! I had a fabulous time dancing with Minnie, admiring the ensembles of so many other fashionistas, and chatting with all the friendly Cast Members. I'm already looking forward to next year's event. In the meantime, I'll continue to #RockTheDots!
Will you be attending the celebration next year? Comment below and tell us what you think about this year's event!
Disclaimer - As an Amazon Associate, I earn from qualifying purchases.
---
Thank you for visiting the Disney Fashionista website. Be sure to sign up for our Daily Newsletter where we deliver the best in Disney Fashion, Travel, Makeup and More to your inbox! You can find us all over the internet at Twitter, Facebook, Instagram, and even Pinterest!
Latest posts by Lindsay E
(see all)