Bambi is like Betty White, he might be old, but he never goes out of style. Even though Bambi turned 80 last year, he's still as popular now as he was in 1942. Luckily, you don't have to wade through a forest of trees to find merchandise featuring our favorite deer. Bambi Dooney & Bourke prances into stores and online.
The new floral collection brings three silhouettes and a wallet depicting life in the forest. The background starts with a bright navy backdrop with colorful flowers planted across the bag. The young deer might have been wobbly on his feet in the beginning, but he's surely found his footing in the various scenes depicted. Forest pals Thumper and Flower frolic with their buddy as he explores. Dooney did a wonderful job creating a sweet and heart warming design for this collection.
Prance with Bambi Collection
The first silhouette in the collection is the uber popular tote bag ($268). With a spacious interior and zippered closure, it's truly a great bag for carrying all your necessities. Find a slip pocket underneath the Dooney and Bourke nameplate on the exterior of the tote. Pockets like these are perfect for holding your phone or keys so you're not digging for them!
Next, we have the satchel bag ($298). What this rounded bag lacks in height, it makes up in width. The satchel boasts three full length zippers to keep all your belongings secure. One is located in the center compartment while the others are on the exterior. I'm already planning on keeping my calendar there.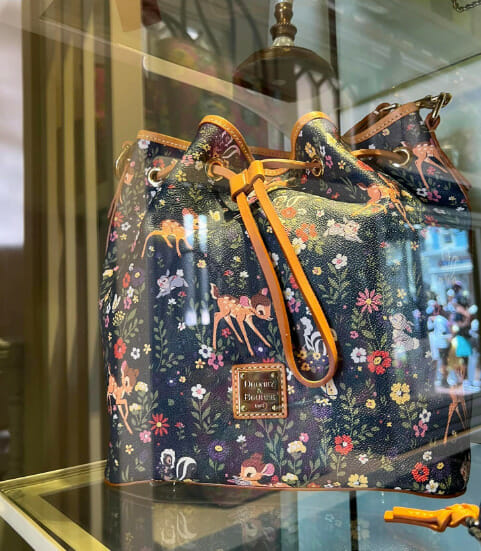 The Drawstring Dooney ($298) is the third silhouette offered. These bags typically offer two slip pockets inside along with a zippered compartment. The comfortable leather strap is easy on the shoulder and allows for a longer hang option.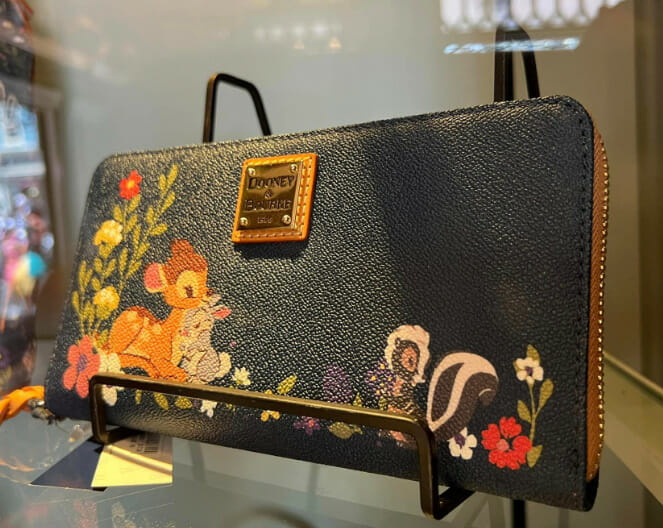 If this zip around wallet ($268) isn't the cutest thing ever! Thumper nestles against Bambi, while our favorite skunk collects what else? Flowers! This is one beauty I'll definitely be plucking for myself!
Aside from the 4 bags, there is also a MagicBand 2 ($49.99). This a fabulous option for those that love the print but might not want to invest in another bag.
Are you ready to go purse hunting as the Bambi Dooney & Bourke Collection prances into stores and online? Grab this wonderful collection for year-round delight by clicking HERE.
A special thank you to fashionista friend Elizabeth Mork for the IRL photos!!
---
Bambi y sus amigos llegan a las tiendas
Dooney & Bourke nos trae las bolsas que te hablamos en un artículo anterior. Disponibles ahora en ShopDisney.com Acompañadas de una cartera y de una MagicBand para tus días en el parque.
Disclaimer - As an Amazon Associate, I earn from qualifying purchases.
---
Thank you for visiting the Disney Fashionista website. Be sure to sign up for our Daily Newsletter where we deliver the best in Disney Fashion, Travel, Makeup and More to your inbox! You can find us all over the internet at Twitter, Facebook, Instagram, and even Pinterest!