Here it is Fashionista's. Signed, sealed, delivered, make it yours! This bag launched on Pink a la Mode, and you can grab this adorable holiday letter purse now! No need to say, "Dear Santa I Want This Bag!" Grab it yourself, before they're all gone.
This whimsical crossbody bag is perfect for all your holiday events! Whether ice skating at the park, doing some holiday shopping, or attending the company Christmas party, this versatile design makes it your go-to seasonal bag on the go!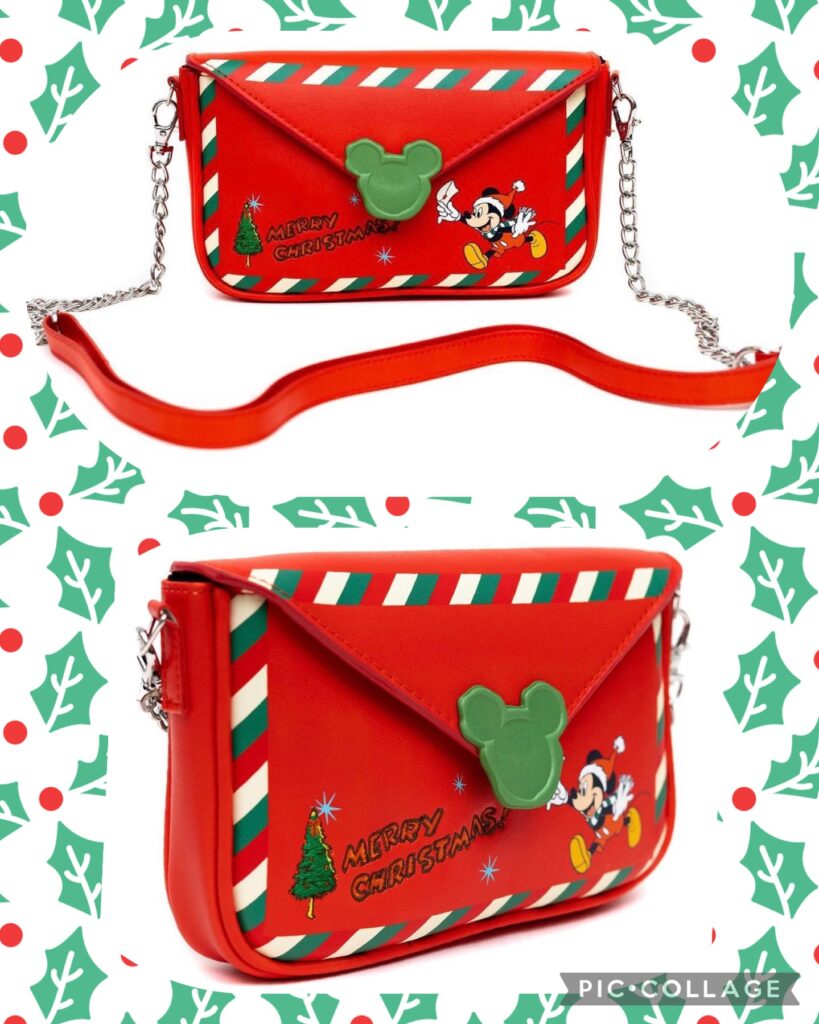 This letter to Santa is big enough to carry your phone and a few other essentials. Air Mail style striping in red, green, and white decorate the border. A green Mickey Head wax stamp holds down the envelope flap. (Although I'm sure there's a magnet snap to help hold it down). Mickey wrote his letter to Santa and rushed to have it mailed.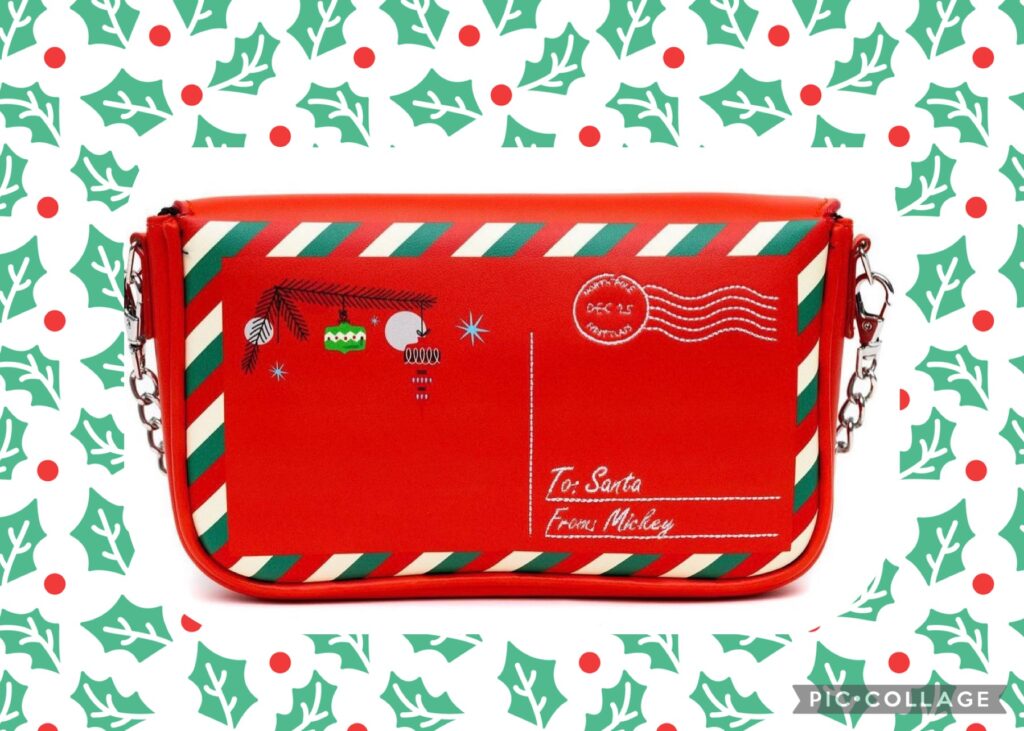 The Air Mail striping continues on the back of the purse along with postage. What do you think Mickey asked Santa for? The bag leaves that up to our imagination.
Whereas most of the shoulder strap consists of chain links, I give kudos for having a strip of material over the shoulder area. That prevents hair from getting caught in the chain.
We believe this little beauty will sell out fast! Don' wait to say "Dear Santa I want this bag." Visit Pink a la Mode HERE and wish yourself a Merry Christmas!
Ready to bring your bag to Disney this holiday season? If so, make sure to reach out to Small World Vacations! They are the preferred travel agent of Disney Fashionista. Let them know we sent you, and you will receive a special gift from us.
---
Querido Santa: ¡quiero esta bolsa!
Pink a la Mode nos tiene una bolsa navideña que necesitaremos agregar al carrito de compras ahora mismo. Inspirada en una carta a Santa Claus con un adorable color rojo, sello de cera con una silueta de Mickey vemos a Mickey Mouse corriendo a dejar su carta al pino de navidad y la leyenda "Merry Christmas". Al reverso tenemos los detalles típicos de correspondencia como el mata sellos y un adorable Para Santa de Mickey. Este bolso tipo crossbody cuenta también con una cadena plateada por correa.
Disclaimer - As an Amazon Associate, I earn from qualifying purchases.
---
Thank you for visiting the Disney Fashionista website. Be sure to sign up for our Daily Newsletter where we deliver the best in Disney Fashion, Travel, Makeup and More to your inbox! You can find us all over the internet at Twitter, Facebook, Instagram, and even Pinterest!