Is your phone currently naked? Oh my! It's time to dress up your phone and get it ready for spring! These Disney inspired Liquid Filled Glitter Phone Cases are perfect for adding that touch of magic to your tech.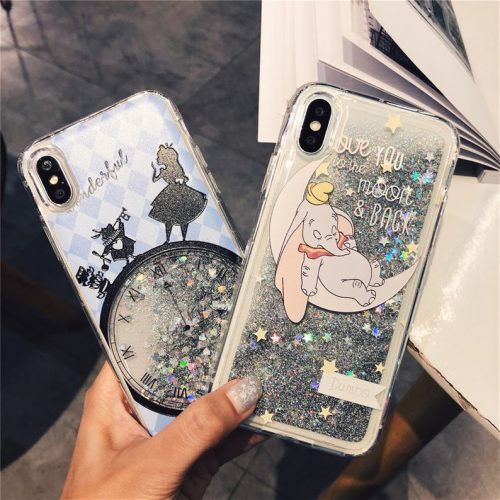 I resisted the liquid filled phone cases for a long time. But then I got one and it changed my tech-style life! Not only are these phone cases fun and fashionable, but they are actually super relaxing! If you're feeling a little stressed and just need a minute to cool down, shake up your phone (gently!) and then watch and wait for all the glitter to settle. It's like a portable stress reliever.
Okay, so maybe a liquid glitter filled phone case won't take away all your stress. But, it will add some style to your phone. Available in two magical Disney inspired styles, this phone case is perfect for the Disney Fashionista who takes her phone everywhere!
The first style phone case is a whimsical Alice in Wonderland inspired design. The liquid glitter is housed within a clock, and you will find Alice and the White Rabbit standing on top. For fans of Alice in Wonderland, this case is a must-have! Plus, you'll never be late because you'll constantly be looking at your phone.
The second style phone case is a super cute Dumbo inspired design. Dumbo the Flying Elephant is lounging on a crescent moon. He looks comfy and cozy, doesn't he? This design also features the phrase "love you to the moon and back." This phone case would make a great gift for any Dumbo fan!
Are you ready to dress up your phone? Head over to ASliceofDuckGoods on Etsy HERE to pick one up for just $17.00.
What do you think of these Liquid Glitter Filled Phone Cases? Let me know in the comment section below.
Disclaimer - As an Amazon Associate, I earn from qualifying purchases.
---
Thank you for visiting the Disney Fashionista website. Be sure to sign up for our Daily Newsletter where we deliver the best in Disney Fashion, Travel, Makeup and More to your inbox! You can find us all over the internet at Twitter, Facebook, Instagram, and even Pinterest!