We are all looking forward with excitement as summer approaches! Disney has given us something else to be excited about this summer: New Aulani Merchandise. If you don't hear from me for a little while, I've packed up my bags and am on a sunny beach in Hawaii!
Mornings are always more enjoyable with tea and warm weather! This Aulani mug is the perfect combination of two already amazing things! You'll look forward to getting up in the morning so that you can enjoy a cup of your favorite warm beverage from this island-themed mug! And who knows, if you imagine hard enough, you might even hear Mickey playing you a festive island tune.   
Look inside the mug for an extra treat and discover a tiny Mickey Mouse Head.
There is also a new Aulani spirit jersey! Mickey welcomes passersby on the front of this blue and green top.
Look on the back of the shirt and you will see a map of Hawaii behind the word KaWaa.  This is a Spirit Jersey celebrating the Luau exclusive to Aulani!
Whenever I go on vacation, I always take way too many pictures! Although most of them live in cyberspace on my camera, there are usually one or two that manage to get printed out. When that happens, I usually have a hard time finding something to put them in. If you are like me and run into the same issue, I have some wonderful news. The new Aulani collection has a picture frame that you can get while you are on vacation. That way, when you get home, you already have something to put your picture in! Mickey and Minnie stand under the word KaWaa on the front of this ocean blue frame. I personally can't wait to take a beach picture to put into it!  
The new Aulani Merchandise also gives your head a little love as well. If you are looking for something subtle and practical, then this luau Mickey baseball hat is just what you need!
At the same time, if you would prefer something more va-va-voom, then you need these Snow Cone Minnie Mouse Ears! These rainbow sequined mouse ears have a fire engine red bow with a Mickey snow cone at the center. They are sure to light up any room that you enter!
Finally, even though we haven't reached the summer season, in my mind, it's never too early to begin thinking about Christmas! So, while you are looking around at all of the great summer stuff, be sure to check out this fabulous Christmas Ornament! Minnie does the hula, while Mickey plays the ukulele. They both stand in front of a gorgeous Hawaiian sunset. With this ornament, you can be transported back to your Hawaiian getaway, even in the middle of winter.
And if you are looking for something that you can show off all year round, there is a matching magnet. This magnet would make a lovely addition to your fridge and kitchen décor!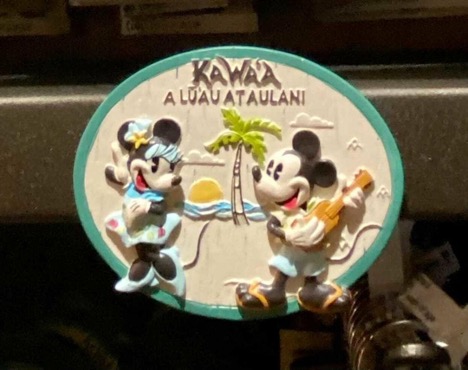 If going to Aulani isn't an option for you, you will need a personal shopper. We recommend @hawaiishopper on IG and her site is myhawaiishopper.com. She can actually get you anything from Hawaii but this is Disney Fashionista, after all! Just tell her we sent you when you message her and she will take excellent care of you!
Now that I have written this post, I think that I am free to pack up my belongings and head to the beach! Who's with me?! If you don't want to go to Hawaii this summer, where do you want to have a fun summer getaway? Let us know in the comments section and be sure to pick up some of this Aulani Merchandise so that you can be ready for your summer travels wherever you plan on going!  
If you are thinking about heading to Aulani, you need to plan that Aulani vacation! You can book your vacation HERE with Small World Vacations. They are the preferred travel agency of Disney Fashionista! It costs not a penny more to use them and they do all the work! You even get a gift from us if you do book your vacay!
Disclaimer - As an Amazon Associate, I earn from qualifying purchases.
---
Thank you for visiting the Disney Fashionista website. Be sure to sign up for our Daily Newsletter where we deliver the best in Disney Fashion, Travel, Makeup and More to your inbox! You can find us all over the internet at Twitter, Facebook, Instagram, and even Pinterest!