I have been blessed to be able to do what I love to do which is bring all the Disney fashion and shopping news to my fellow fashionistas. I have met some incredible people along the way and some of them I feel blessed to call my friends. One special fashionista, in particular, I feel a special bond with. She had a dream and worked hard and is now living her best life, too. That fashionista is Ashley Eckstein, the creator of Her Universe, and she sat down with me (via phone) to talk fashion, Disney, D23, and dreams recently.
You may recall that recently the Her Universe Fashion Show blew up Comic-Con with incredible special guests and designs. We were there to share all of the designs with you but I had to know what Ashley, as creator of the fashion show, loved the most about one of her dream projects.
Ashley told me that the surprises, such as special visits from celebs like Matt Lanter and Jodie Whittaker, were incredibly exciting for her as well as being able to share the amazing designs. "When the Her Universe Fashion Show was created it wasn't about Her Universe. It's about the community!" Ashley said. "It's being able to provide the fans with a platform and they worked for months." There were also junior designers this year. Being able to watch people's dreams come true right before your eyes, that's what brings true joy to Ashley.
I asked her if she could tell us anything about the new collection for Hot Topic that would be created by the winning designers and I learned a few things. Like, did you know the first design meeting was the day after? That's amazing! The first round of designs has already been completed and the final designs are done by the end of August. The designers will be able to create apparel, accessories, and jewelry and, now that Loungefly is also involved, we know that these designs will be even more awesome. The theme is Avengers 4.
I did ask Ashley if she felt that San Diego Comic-Con is worth a trip for Disney fans. We all know that D23 Expo is the ultimate convention for Disney fans but it is only every other year. I was wondering if I should be making a trip on the off year to San Diego Comic Con for something more than the Her Universe Fashion Show (which is a must for me). Ashley assured me that Disney has a very heavy presence at SDCC. There are all kinds of exclusives so if you have the means to go… go! I know that I will be getting a ticket!
Speaking about D23 Expo had me curious about whether or not Ashley would be at D23 Expo 2019. The answer is yes! There will be all kinds of sneak peeks, as per the usual. Last year we learned about many of the new designs by Her Universe for The Dress Shop. I cannot wait to hear what is new to come. It's just one of the things I love about D23.
I learned many people did not realize that some of our favorite dresses from The Dress Shop are in collaboration with Her Universe (picture the Dumbo dress!). Many of these dresses are also created with artwork from Ashley Taylor. I have to tell you that when Ashley and Ashley work together, magic is made. I have been assured that there are new designs to come for The Dress Shop from Her Universe. In fact, just last week the Ashleys were working on new designs! We can expect to see them next summer… maybe in time for D23 Expo 2019!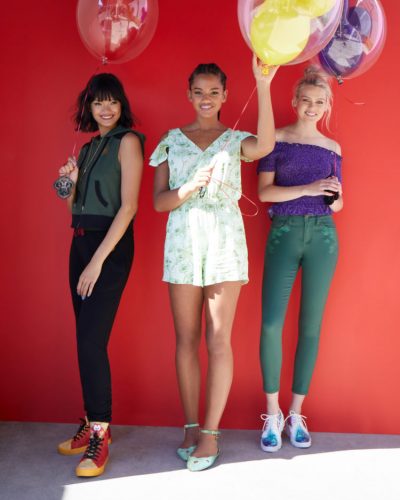 The Destination Disney collection released at Hot Topic was created by the winners of last year's Her Universe Fashion Show and it features looks inspired by Disney Princesses. I had to ask… who is Ashley's favorite princess. Cinderella! Ashley loved the message to never stop dreaming, especially with the daily grind. She said that at the moment she is really feeling Moana and Rapunzel. I'm guessing that might have something to do with the collection at Hot Topic! That Rapunzel dress is stunning!
Ashley is also the voice of Ahsoka Tano, from Star Wars: The Clone Wars, in case you did not know. Much of the Her Universe fashions are inspired by Star Wars (rightfully so!) and I was dying to know if there was anything on the horizon with Star Wars Galaxy's Edge opening next year at both Disneyland and Walt Disney World. Ashley assured me that there will be a ton of new Star Wars merchandise next year. Not necessarily specifically for Galaxy's Edge but definitely perfect for a visit there!
As I was wrapping up a wonderful conversation with Ashley, I had one more thing I needed to know. I thought I knew the answer but I wanted confirmation. Is there a particular universe she connects with most: Star Wars, Marvel or Disney?
I was not surprised to hear that the answer is a combo of all 3 of them. Disney is her first love and it was what she was introduced to first. Star Wars has changed her life with the role of Ahsoka. Marvel has been an influence throughout. I felt like kindred spirits. After all, Disney is my first love, too!
I want to thank Ashley Eckstein for taking the time out of her crazy schedule to call a fellow fashionista and talk about fashion, Disney, D23, and dreams. I can't wait till the next time. If you want to know more about Ashley and just feel very empowered, read her book It's Your Universe! You won't be disappointed.
Disclaimer - As an Amazon Associate, I earn from qualifying purchases.
---
Thank you for visiting the Disney Fashionista website. Be sure to sign up for our Daily Newsletter where we deliver the best in Disney Fashion, Travel, Makeup and More to your inbox! You can find us all over the internet at Twitter, Facebook, Instagram, and even Pinterest!