Gorgeous Minnie Mouse Ears are a wardrobe staple for any Disney fashionista, so these Minnie Ear Ornaments from bdiproducts.com are a necessity for a Disney fashionista's pixie-dusted tree!  You can't let your tree feel left out of the magical fun!
These fabulous jewel tone Minnie Mouse ear headband ornaments come in a set of six!  You will receive a  gold ornament, a red ornament, a blue ornament, a green ornament, a purple ornament, and an orange ornament.  Each plant-based and biodegradable PLA ornament has a silk finish, so there is just enough glimmer!  The Christmas lights on your tree will reflect off of these beauties to create a stunning effect!
Another great thing about these ornaments is that each one weighs only two ounces.  This means that the limbs of your tree won't be bending under the weight of the ornament!  This set of ornaments would be a great gift, especially since you can display them in so many different ways!  In addition to placing them on a regular tree, you could hang these on doorknobs, tabletop trees, or even on the wall!  They're just so cute!  I could even use these as year-round decorations to add a little extra pixie dust to my Disney-themed office!
If you would like to purchase a set of these lovely Minnie Ear Ornaments, you can find them HERE! Use code MICHELLER for 5% off!!
Where would you display these ornaments?  Would you put them on your tree or would you find a place where you could show them off all year long?  Let us know in the comments below!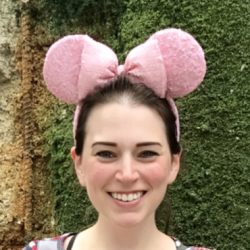 Lindsey N. is a proud military wife and dog mom to an adorable Chihuahua named Jack Sparrow… Captain Jack Sparrow, that is! She is obsessed with all things Disney, and two of her favorite hobbies are shopping and visiting the Walt Disney World Resort. It is especially magical when she gets to do both at the same time!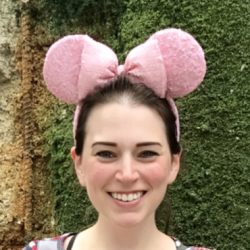 Latest posts by Lindsey N (see all)