Do you love Disney? Of course, or you wouldn't be reading this! What about chocolate? Ummm, who doesn't?!? What about when the two are combined? You're talking my love language! Spotted at Disney Springs, the Colorful World of M&Ms Melds with Disney! Prepackaged containers featuring the colors and icons of Disney characters.
Cinderella M&Ms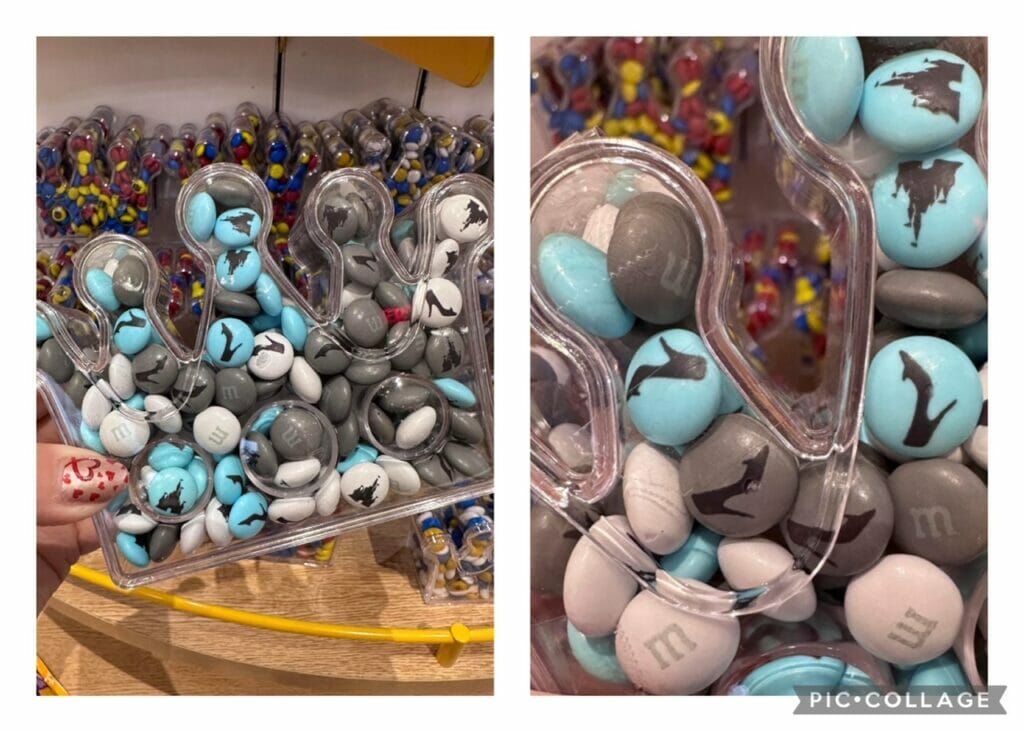 All M&M sets are in the shape of a tiara and contain chocolates created in the color palette of the characters.
With a beautiful castle that is the main focal point of Walt Disney World, a gorgeous blue gown, and shoes to die for, Cinderella has it all! Her chocolate candies don glass slippers and castles atop white , gray and light blue chocolates.
Beauty and the Beast M&M's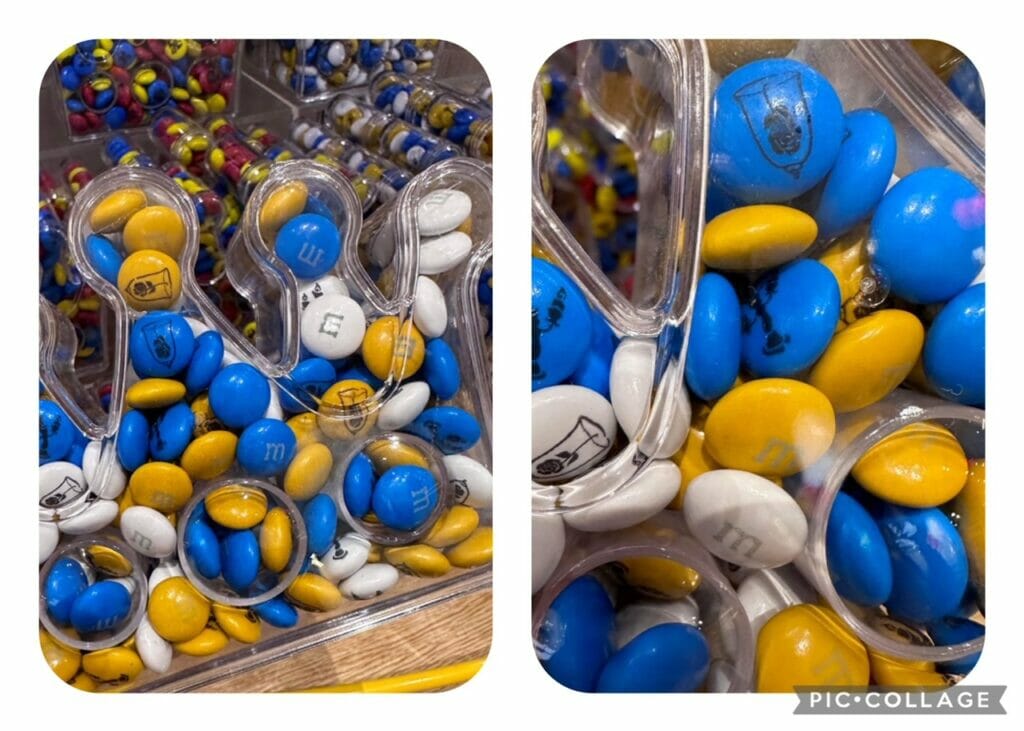 Just as Beast wears a blue suit and Belle wears a stunning yellow gown during the ballroom scene, so do these candies. The blue and yellow mix with white to offer a trio of deliciousness. Closer inspection finds the enchanted rose and Lumiere stamped upon them.
Little Mermaid M&Ms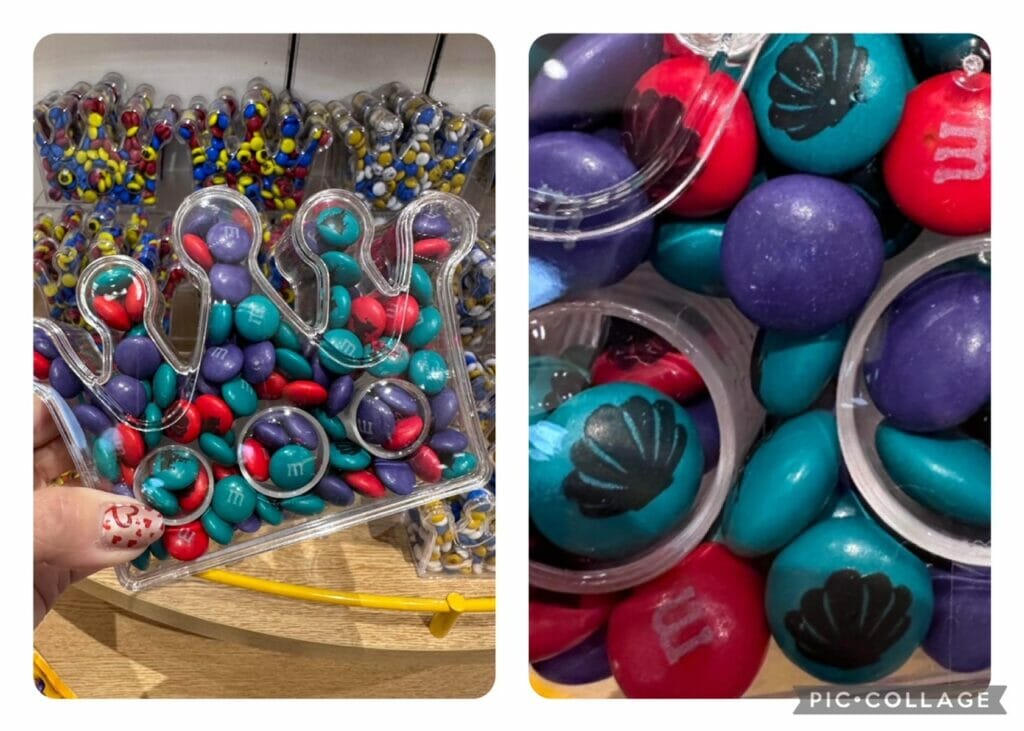 Look at this stuff, isn't it neat? Wouldn't you buy to make the collection will be complete? Grab this set in preparation for the May opening of the live-action remake of The Little Mermaid. Utilizing the green of Ariel's fin, the purple of her shells, and red of her hair, it's as colorful as sea coral. Castles and shells decorate the hard candy shell.
Aladdin M&Ms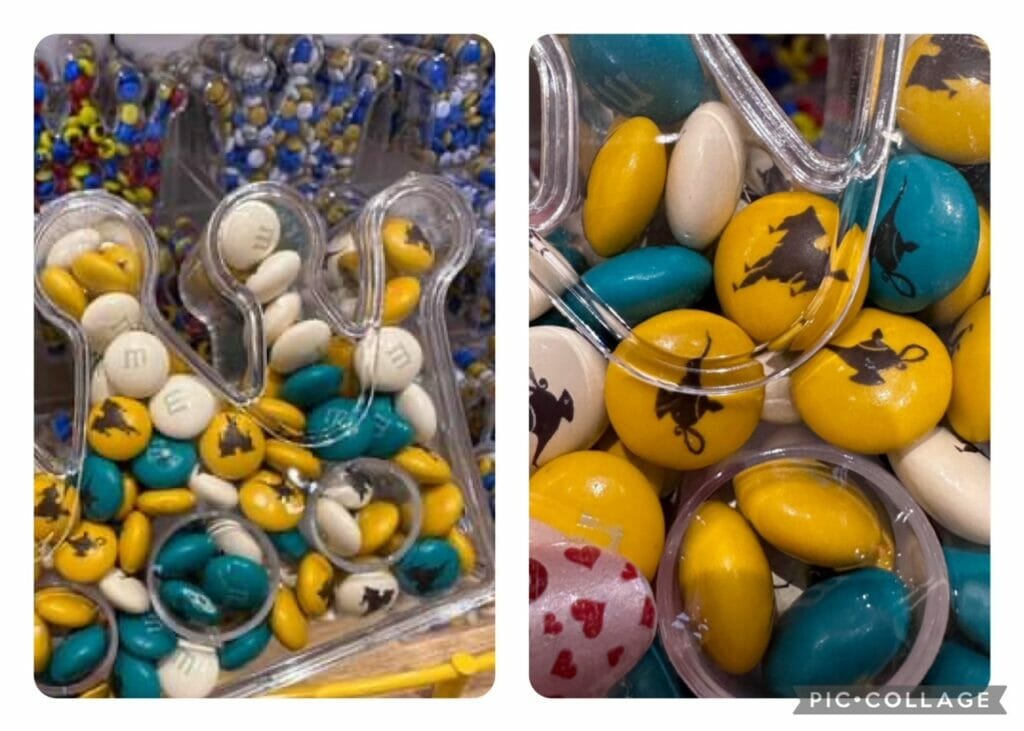 You don't need a magic lamp to acquire this treasure. Anyone can find them, and the other sets, at Disney Springs. Teal green, yellow and white are the jeweled colors to define Jasmine and Aladdin. Their character markings include the magic lamp and the castle scattered like grains of sand among the lot.
Snow White M&Ms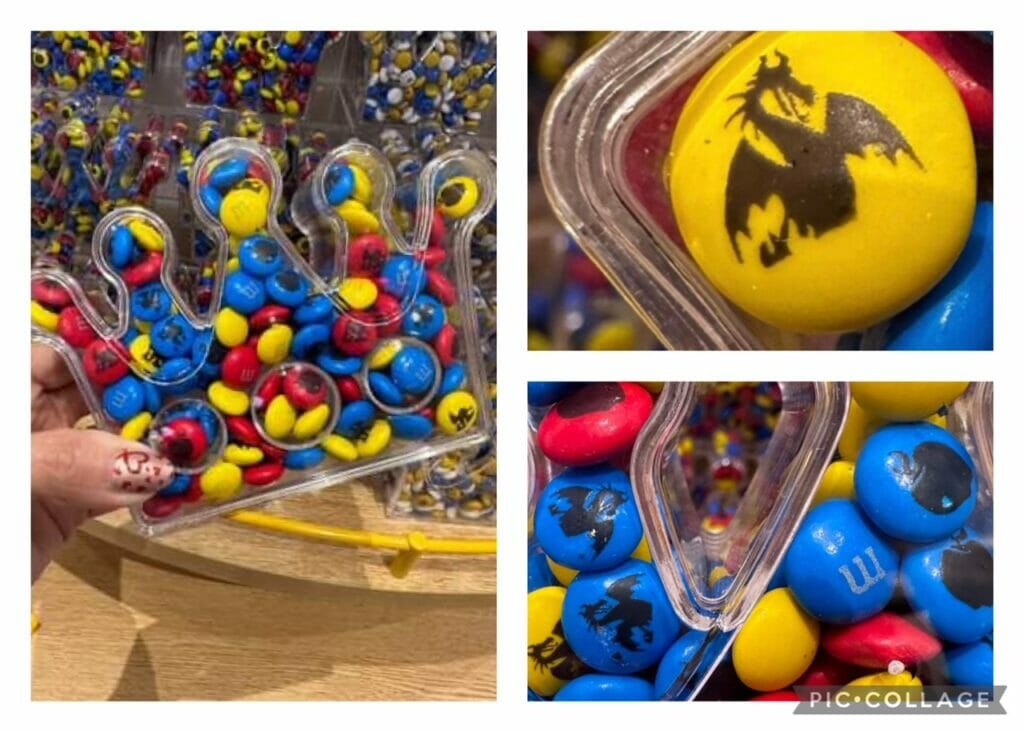 When we at the Disney Fashionista first saw these M&Ms, we were befuddled. Of course, we recognized the infamous apple, but why is Maleficent in the Snow White batch? Someone did NOT understand the assignment! So that leads us to wonder…will an Aurora set be next? Or does someone not know their Princesses? Wrong villain, wrong fairy tale! But that might make this a collector's item, right? Who knows what will spark the craze? Either way, I'd love to have this bold bright set for my girl Snow!
Are you excited about the Colorful World of M&Ms Melds with Disney? Would you eat them or save them? Get yours now at Disney Springs.
Plan your vacation to Disney, with the help of a professional! Reach out to Small World Vacations at no additional cost. They have the expertise needed to make your trip as smooth as possible!
Disclaimer - As an Amazon Associate, I earn from qualifying purchases.
---
Thank you for visiting the Disney Fashionista website. Be sure to sign up for our Daily Newsletter where we deliver the best in Disney Fashion, Travel, Makeup and More to your inbox! You can find us all over the internet at Twitter, Facebook, Instagram, and even Pinterest!