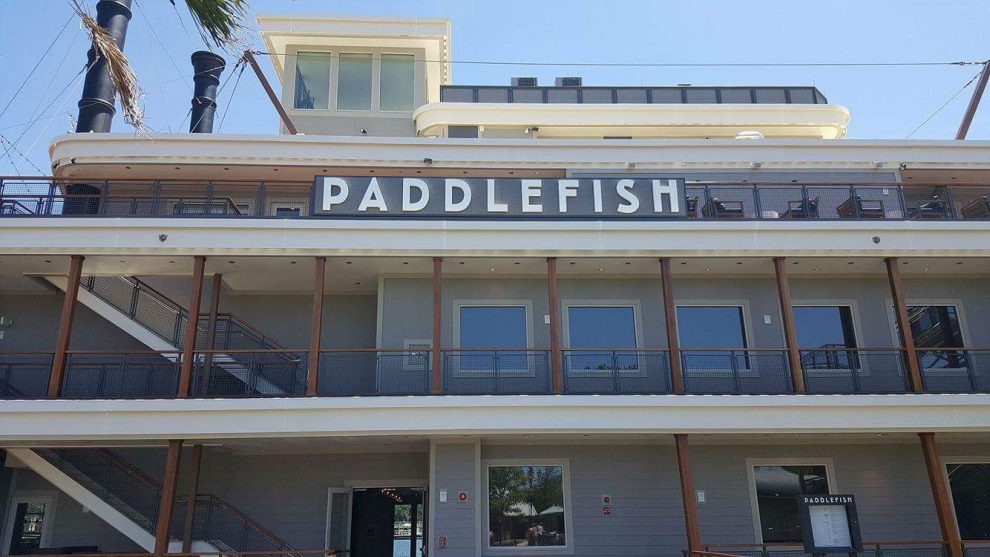 Perhaps you have walked past Paddlefish at Disney Springs and noticed its unique architecture. It's hard to miss since it looks like a river boat! But being both a vegetarian and allergic to seafood, I had never thought about actually eating there. I was invited to join some friends there this past weekend, and I must admit that I was hoping for an interesting salad at best. But to my surprise, I discovered my new favorite restaurant in Disney Springs!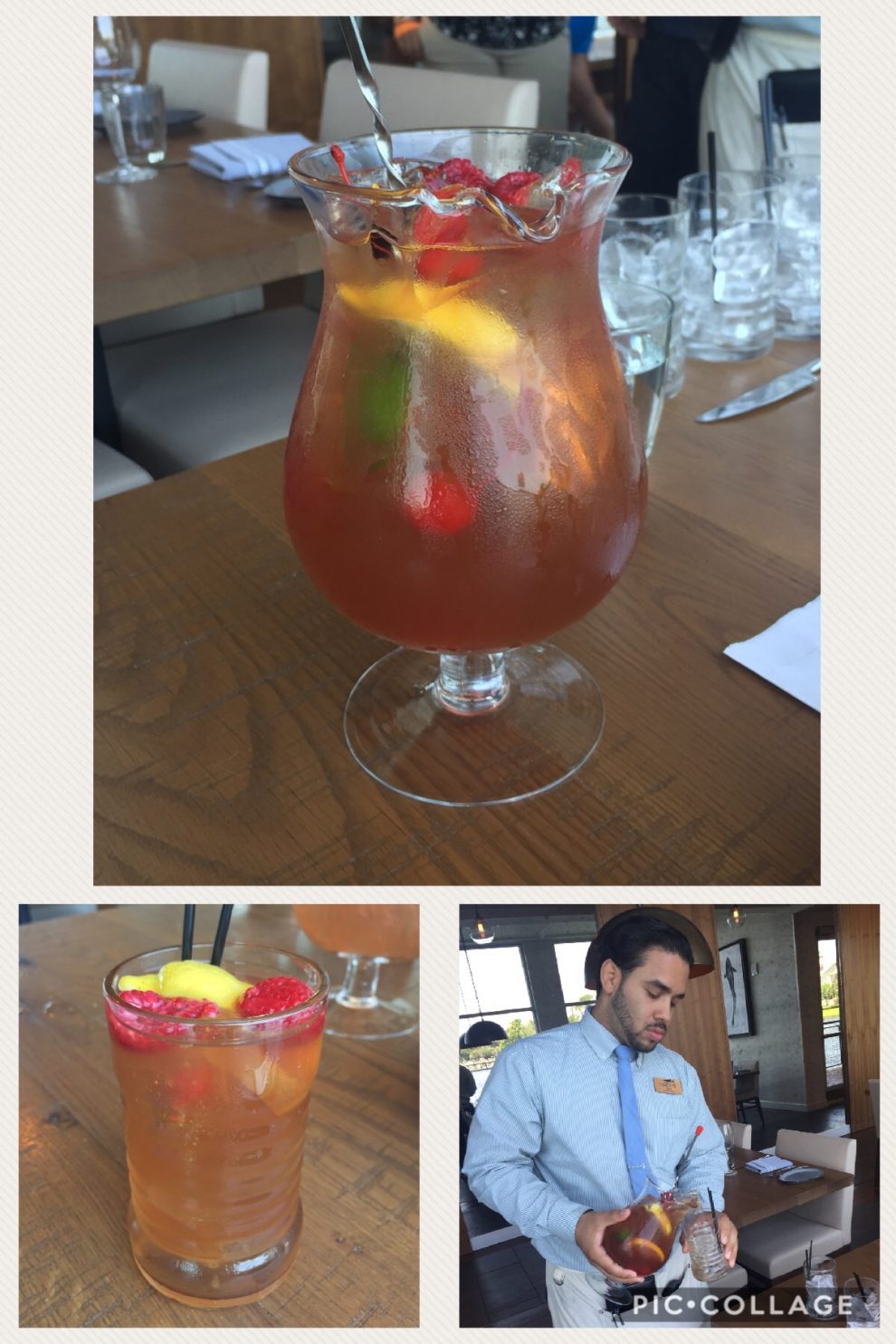 Our table ordered the Admiral's Punch to share. It was a blend of two different types of rum and had a little kick to it. It was a perfect choice for the opening weekend of Pirates of the Caribbean.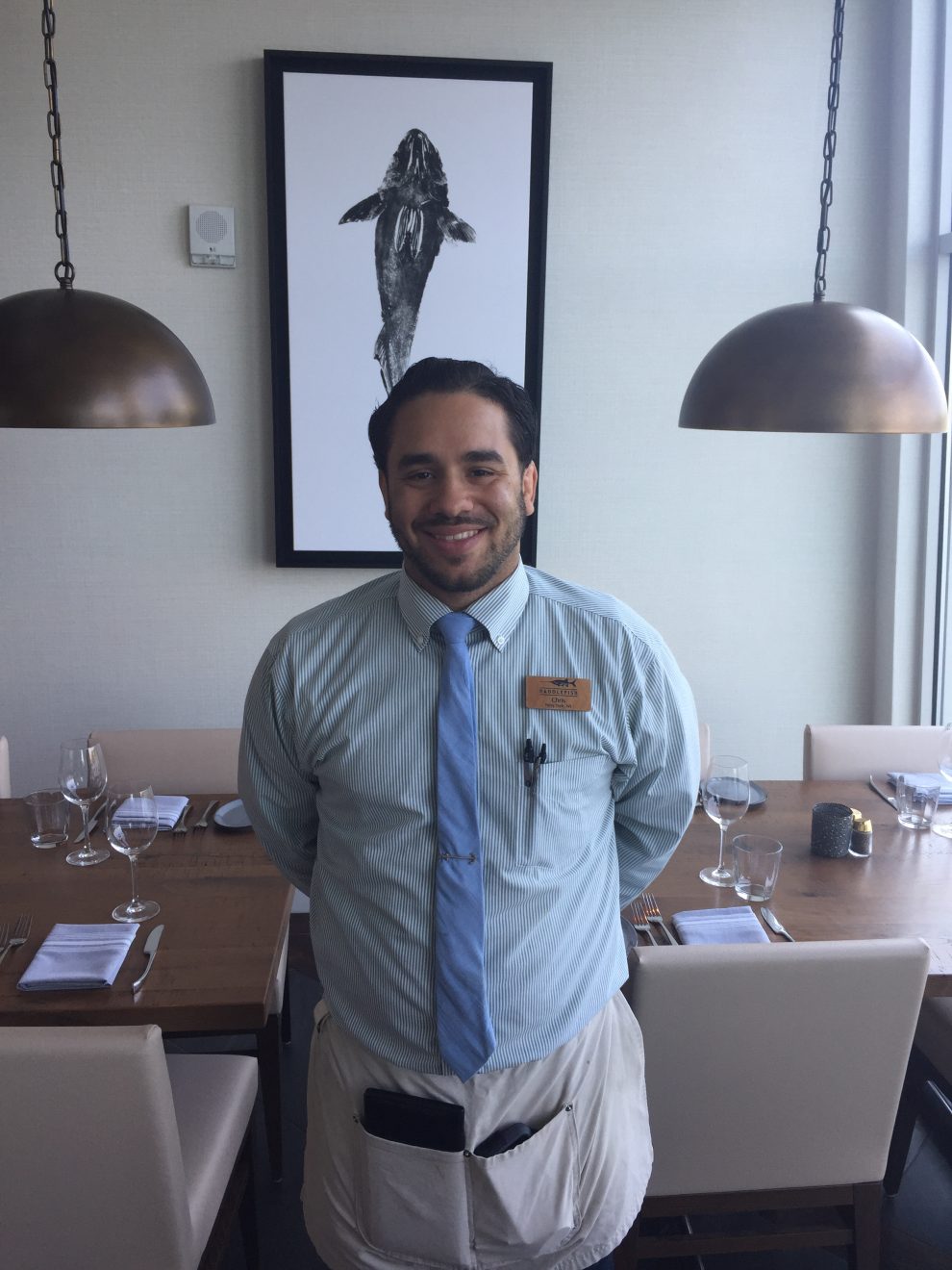 Our server Chris started off the meal by asking if there were any food allergies in our party. I appreciated that he inquired about this right away, and he immediately brought the chef to our table to help us make allergy friendly choices. The chef suggested starting our meal with the Tableside Lobster Guacamole, since it could be made without lobster.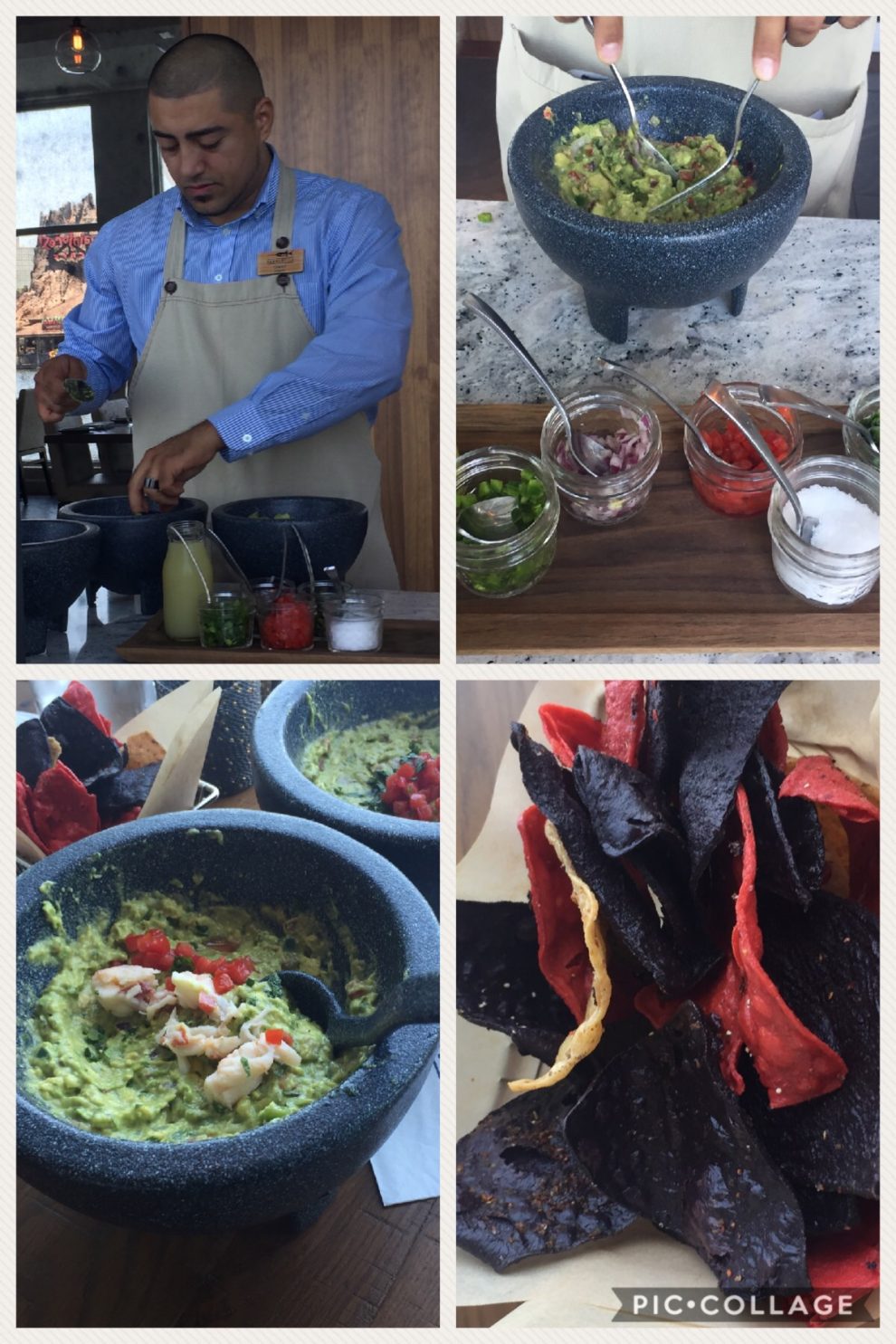 Gianni prepared our tableside guacamole, and he was an expert! As he was preparing it, he asked us several questions concerning the different ingredients so that he could personalize the dish to our specific tastes. All of the ingredients were fresh, and the chips were seasoned with tajin, this season's trendy spice. After Gianni finished making the basic guacamole dish, he split it into two separate bowls and added Maine lobster to one. My plain guac was delicious, and I'm told the one with lobster was absolutely succulent! I could easily have eaten the chips and guacamole as my entire meal.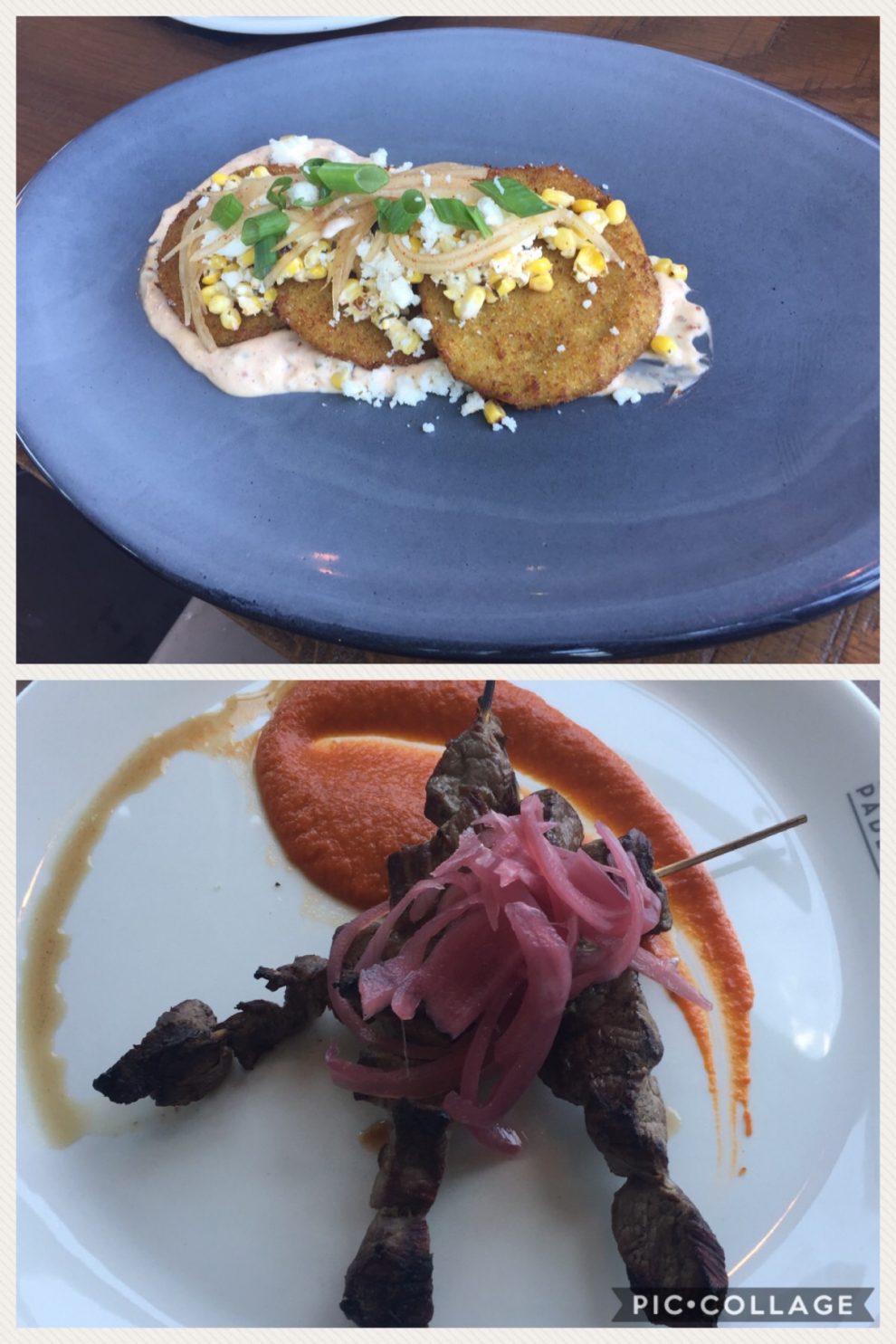 Along with the Tableside Guacamole, our party also ordered the Fried Green Tomatoes and Beef Skewers as appetizers. I am originally from Mississippi, so I consider myself quite knowledgeable about fried green tomatoes, but these were absolutely the best I've ever eaten! They had pickled watermelon and queso fresco on top of a remoulade sauce. The tart taste of the tomato combined with the slightly spicy remoulade created quite possibly the tastiest dish ever–EVER! I can't stop thinking about this dish, and I would totally eat at Paddlefish again just for this. The other two guests at my table also loved it, and both claimed to not generally like fried green tomatoes. The beef skewers were seasoned with garlic mojo and served with hazelnut romesco and pickled onions. These aren't exactly part of a vegetarian lifestyle, so I didn't try them, but I heard that they were quite good as well, although the tomatoes were the clear favorite of the table.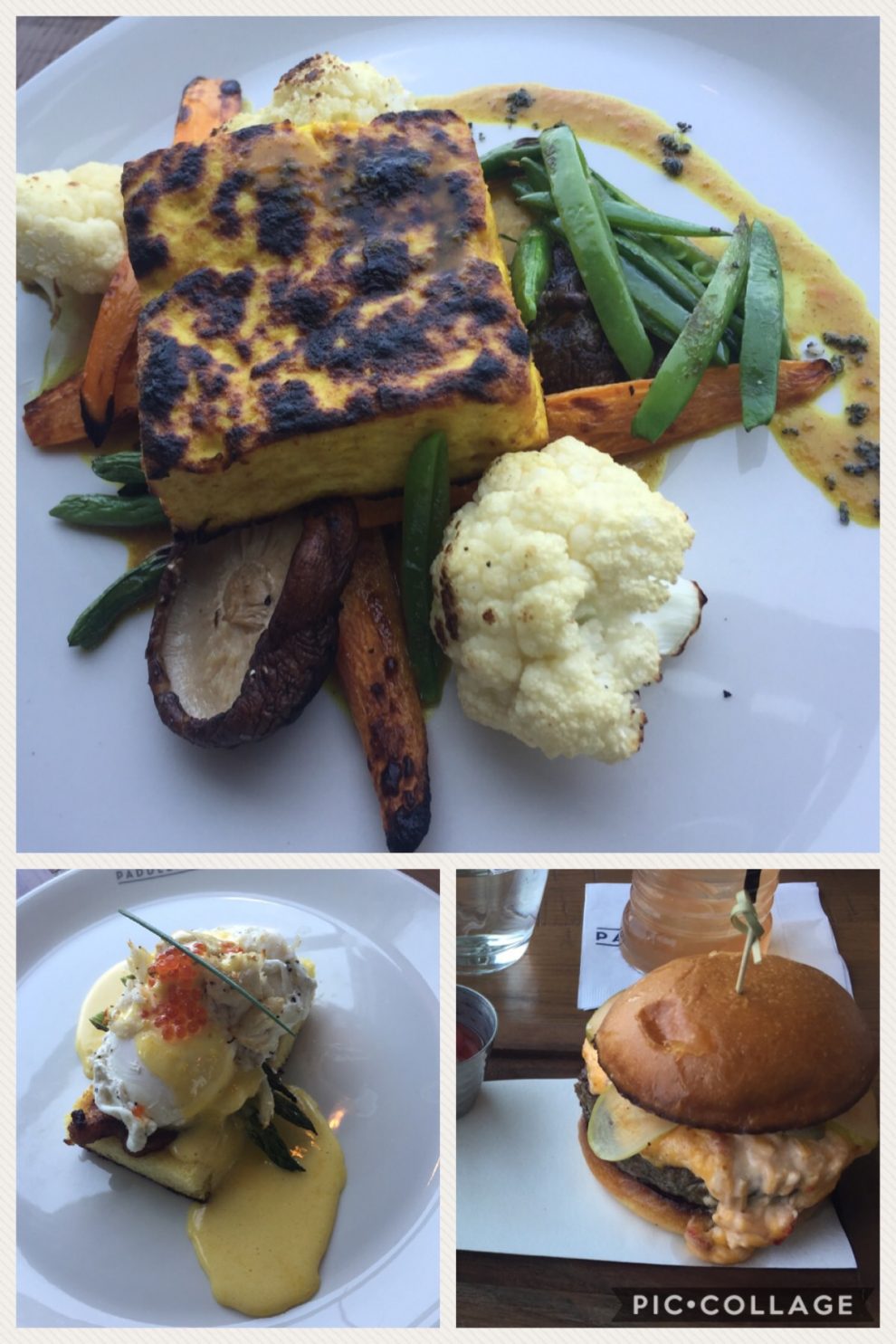 As wonderful as the appetizers were, I was afraid that the main course might be a bit of a letdown, but that was definitely not the case! I asked our server, Chris, for vegetarian options and fully expected to be directed to the salad portion of the menu. And while there was a Wheat Berry salad that Chris assured me is delicious, he also pointed out the Roots and Shoots dish on the entree section of the menu. This dish had seasonal vegetables and grilled tofu in a yellow curry sauce. The tofu was grilled perfectly and the curry sauce had just the right amount of spice. Often, vegetarian dishes feel like afterthoughts or possibly sides for a meat dish. This felt intentional and was both delicious and satisfying. Chris also stated that because Paddlefish runs a from scratch, fresh ingredient kitchen, they can whip up dishes that aren't even on the menu! I was blown away by that and fully intend to try it out soon! (Plus, it's a good excuse to try out those Fried Green Tomatoes again.) The other two entrees at our table were the Crab and Asparagus Benedict and The Burger. The Benedict was part of the brunch menu and along with the crab and asparagus, included bacon, smoked trout roechallah, and lobster infused hollandaise sauce. The burger is a 9 ounce proprietary blend of different cuts of beef, and I was told it was outstanding. The star of the burger, though, was the pimento cheese. It got rave reviews from both of my friends.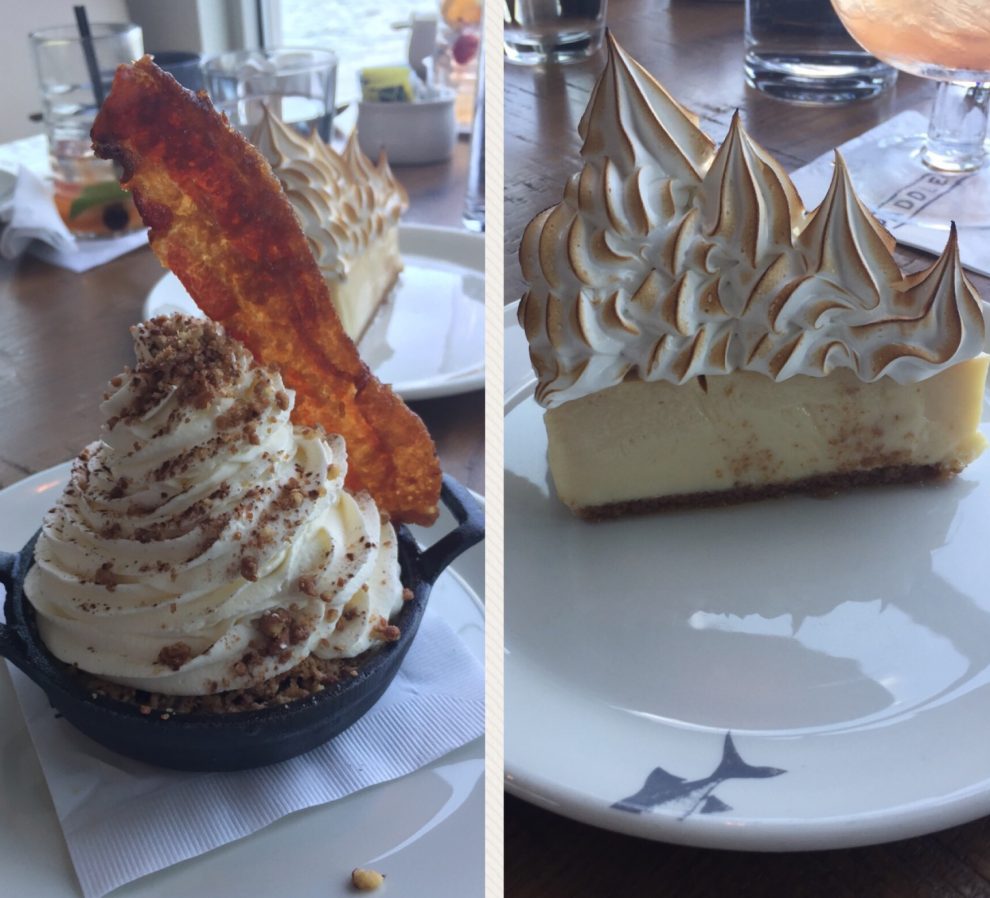 I live for dessert; I've been  known to order it as my main course more than once! And these desserts were phenomenal! We ordered a Chocolate Bourbon Pecan Tart and a Key Lime Pie. The pecan tart was flavorful and sweet, with just a hint of bourbon to accent the chocolate taste. The key lime pie was tart and perfectly complemented by the sweetness of the torched meringue. Both desserts felt light and provided a nice finish to our meal without giving that uncomfortably full feeling.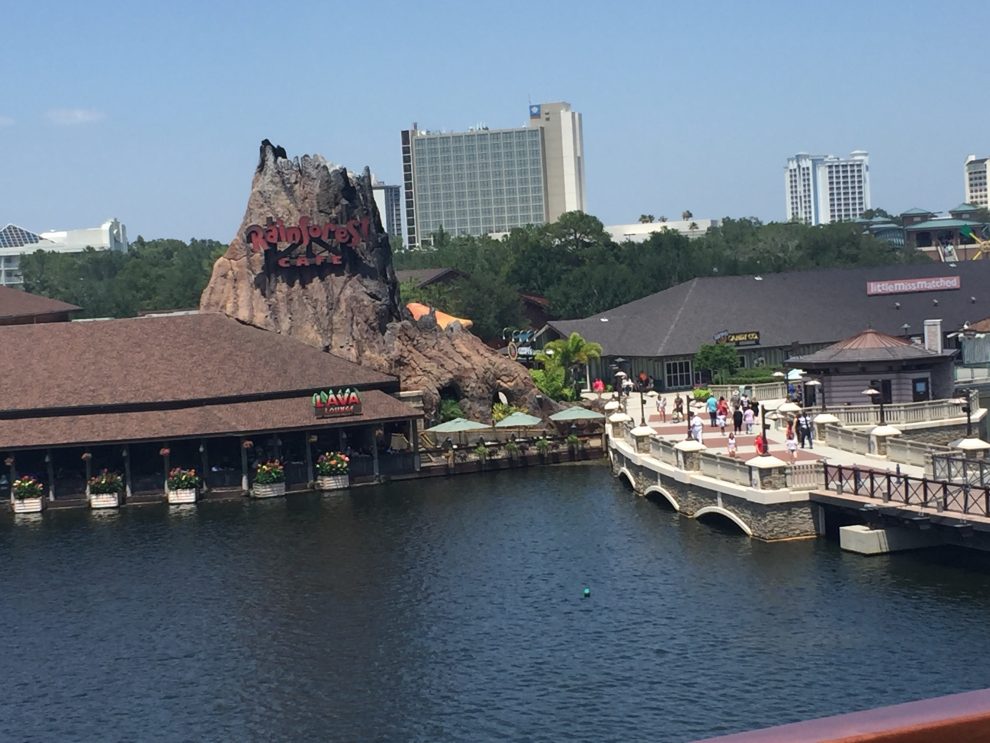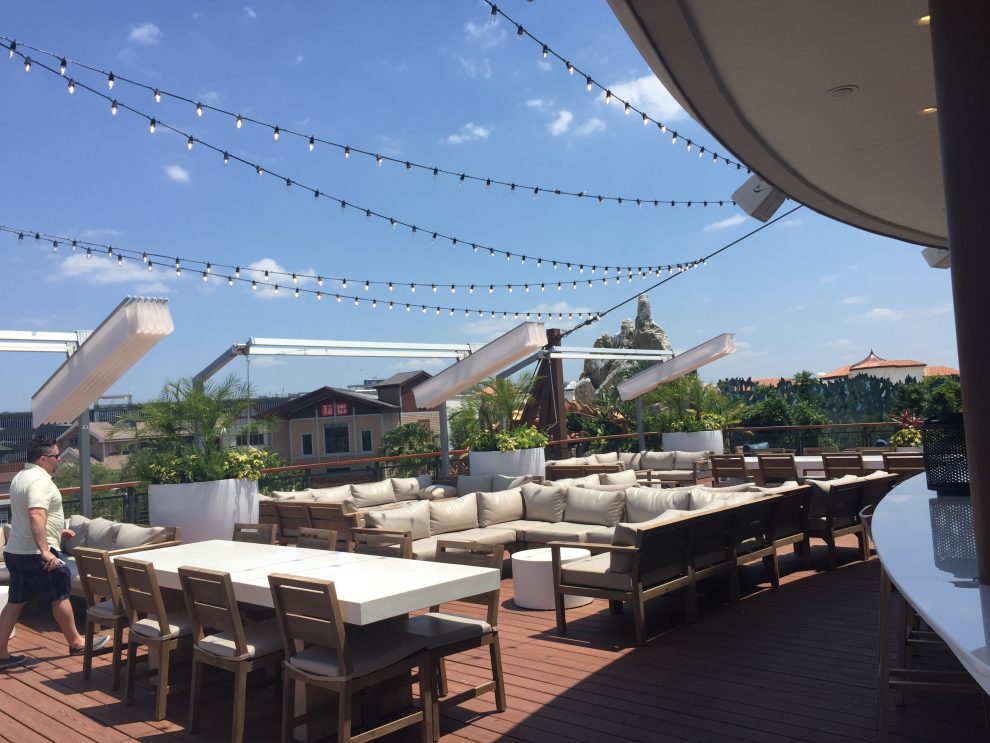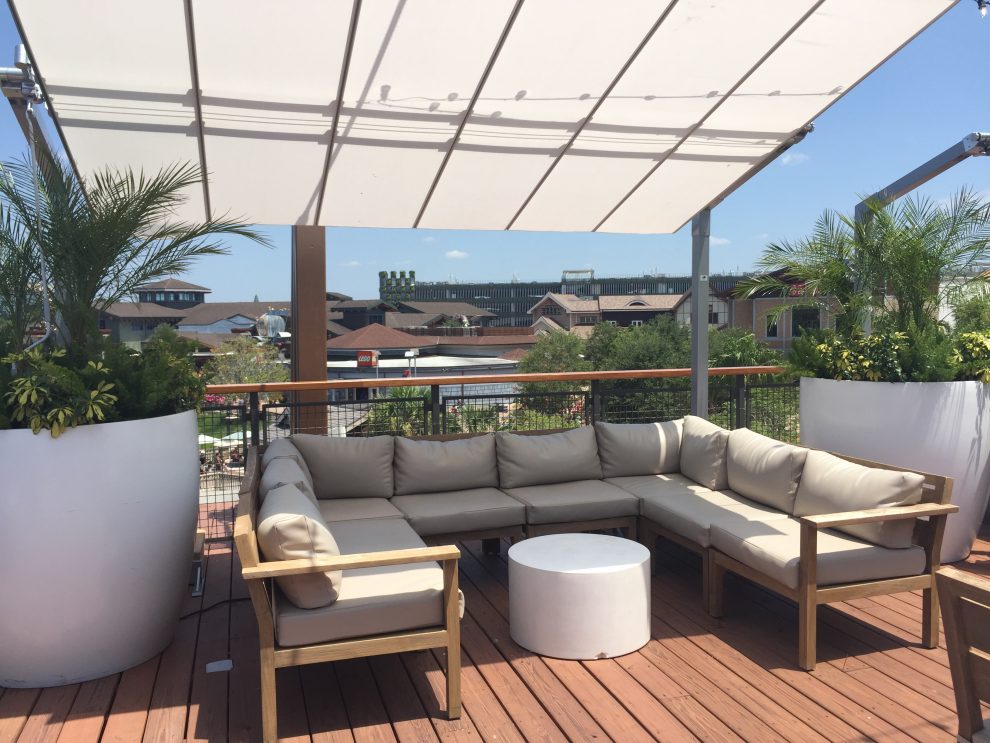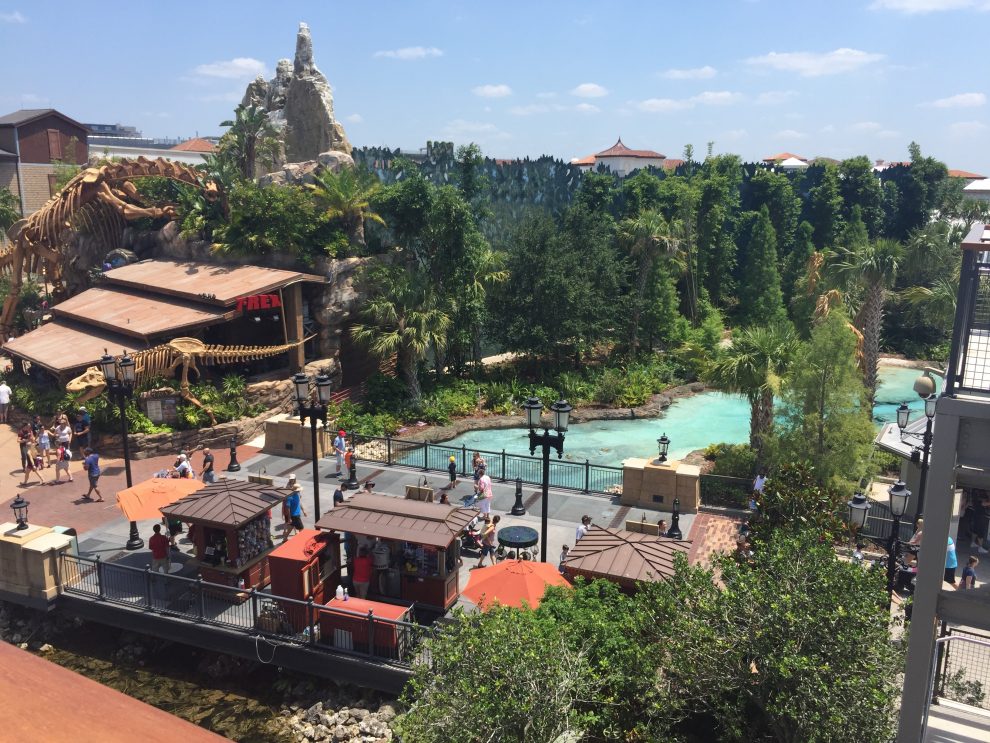 After our meal, we took a brief tour of the restaurant including the third floor outdoor bar area. The views were gorgeous! What a great place to meet up with friends or take a shopping break! The inside of the restaurant was fabulous as well! I especially enjoyed the unique light fixtures and wall decor.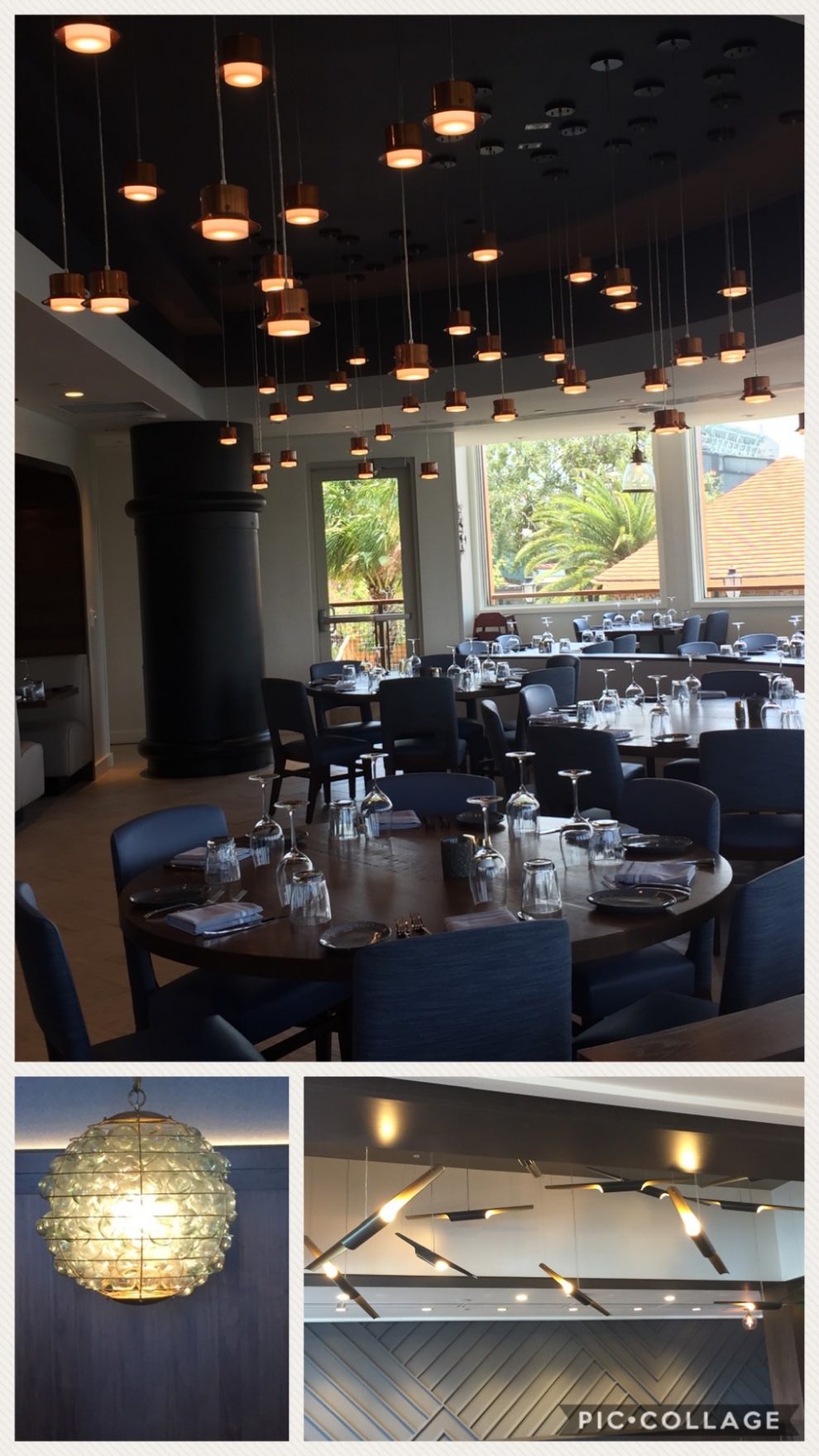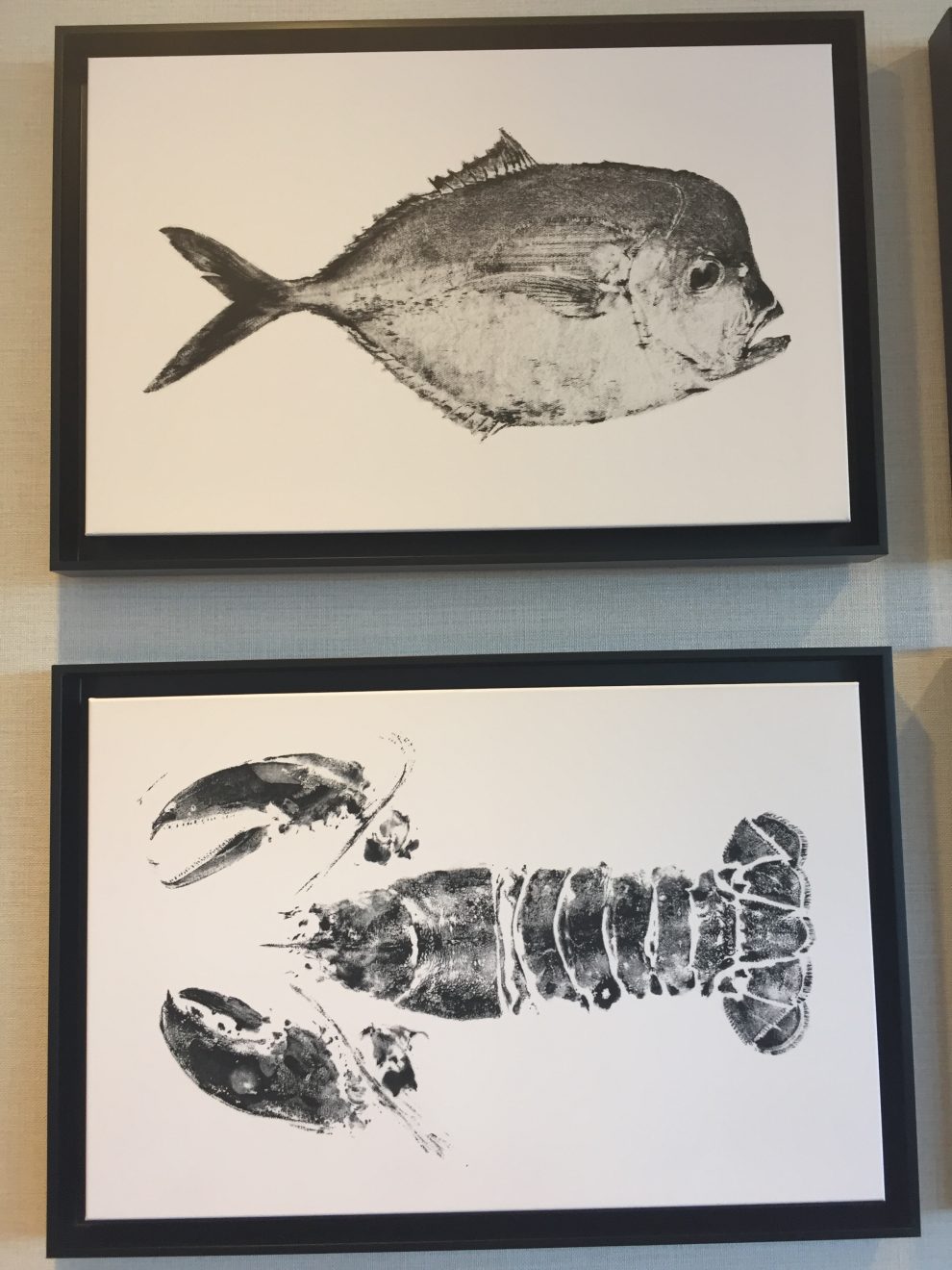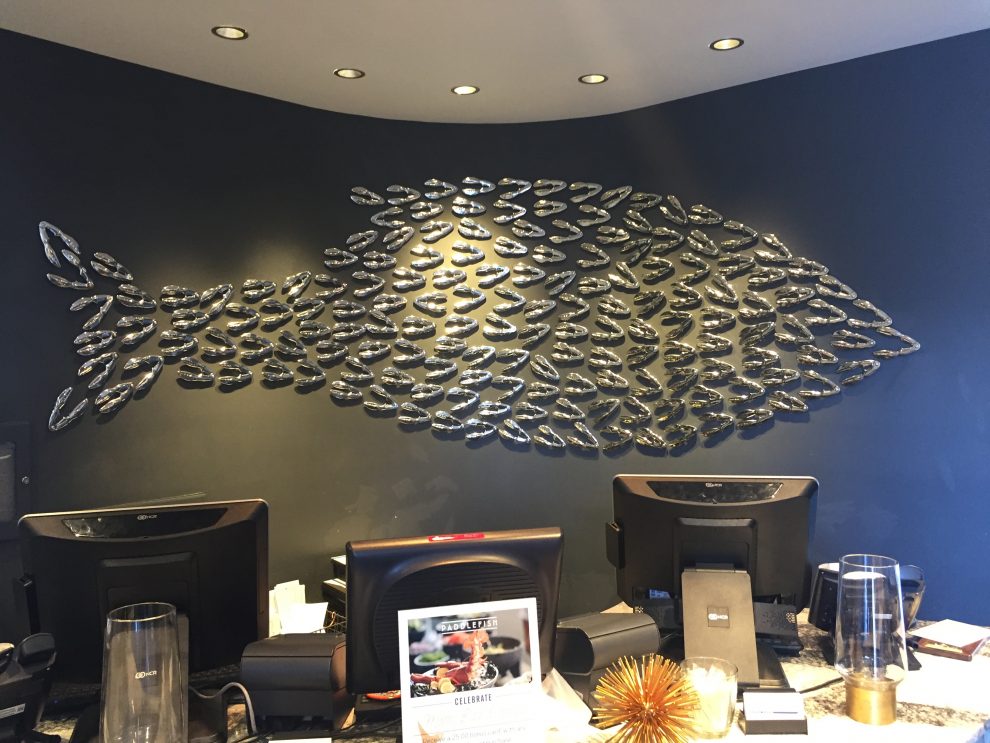 Although I was a little unsure going in, Paddlefish completely won me over with their amazing food and service! This restaurant is two table service credits if you are on the Disney Dining Plan. If you're not, most entrees range from $20 to $50. Definitely give it a try on your next trip; you won't be disappointed. And if you see someone eating several orders of Fried Green Tomatoes, stop by and say hi to me!
Disclaimer - As an Amazon Associate, I earn from qualifying purchases.
---
Thank you for visiting the Disney Fashionista website. Be sure to sign up for our Daily Newsletter where we deliver the best in Disney Fashion, Travel, Makeup and More to your inbox! You can find us all over the internet at Twitter, Facebook, Instagram, and even Pinterest!
Latest posts by Lindsay E
(see all)